FREE Spreadsheet and Printables
These products also help me!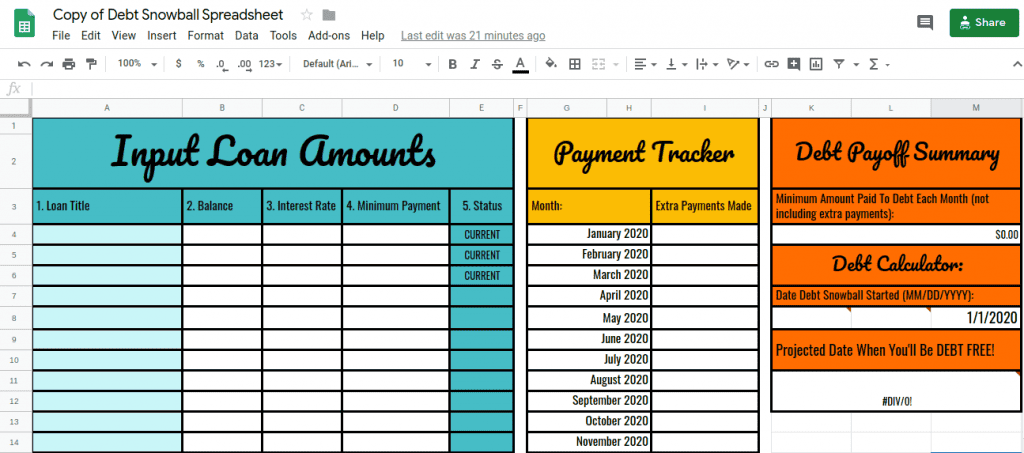 FREE Debt Snowball Spreadsheet using Google Docs
Thanks to Edrina Calderon for making this spreadsheet work and creating a tutorial for how to use the spreadsheet!! I am so excited to offer this FREE spreadsheet for those wanting to track their debt. You can do it! It is possible! Lets be debt free together!
FREE Printables
I want nothing more than to help you save money!!!!!! In order to save money on your groceries, you need to be organized! Here is my personalized grocery list that will help you from impulse buying, while getting your grocery shopping done!
Print enough for the month, never run out of what you need, and always stick to your list!
PRINT THIS GROCERY SHOPPING LIST SHEET – click this link
A lot of families don't feel the need to menu plan for breakfast and lunch because they stick with basics for breakfast like cereal, eggs and toast, and for lunch it's typically a sandwich with chips and fruit/veggies. That is why this dinner menu planner is perfect! You can easily set up your dinner menu for the whole month and never miss a beat!
PRINT THIS MONTHLY DINNER PLANNER – click this link
The weekly menu planner is perfect for all those that are detailed planners! This printable has really saves me during those breaks when my kiddos are home from school. I need to meal plan when the whole family is home or I get lost in the chaos!
Also, utilize the fact that you can meal prep to the side. For instance, if you need to meal prep something certain days of the week, then write it in and highlight it when you complete it!
Every week I make my husband breakfast bars, so as soon as I finish them, I highlight that meal prep item to let me know it's done. If you need to make a big batch of oatmeal, write it down so you don't forget. Use that section to your advantage, so you don't forget and struggle to come up with your meal. Meal prepping is key to making your life 10 times easier!
PRINT THIS WEEKLY MENU PLANNER – click this link
Please Note: The links in this post are affiliate links, and I will receive a small compensation when you use my links to make a purchase. I would appreciate your support, as this website helps support my family.