Kitchen Tips That Save You Money
Homemade Muffin Mix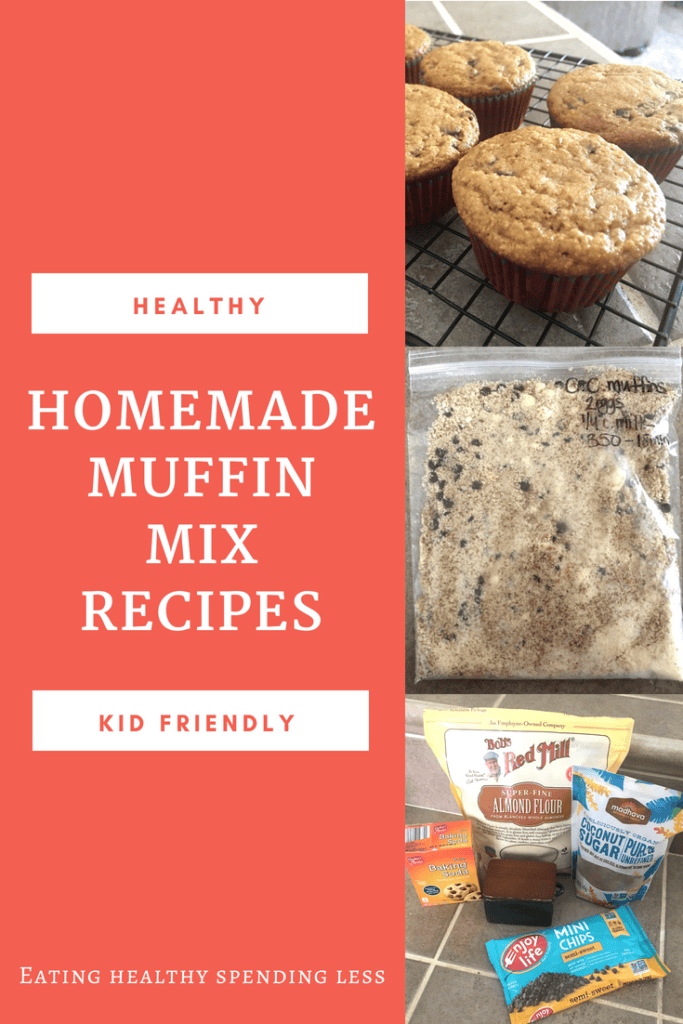 Healthy Homemade Muffin Mix Recipe
My kids love going with me to Walmart, because they know I typically let them pick out a Martha White Muffin Mix, you know the "just add water" mixes… Well, it's easy for them to make all on their own, and they REALLY enjoy it! Mom guilt was setting in though. Here I eat like a rabbit, and I'm allowing my kids to eat this junk called PRESERVATIVES!!! I finally got pretty disgusted with myself, and said I can make them HEALTHY muffin mixes! That's when this recipe was born.
I didn't come up with a "just add water" recipe, but it's pretty darn easy, and they can definitely handle it! When we baked up our first batch, we all SQUEALED! They tasted fabulous and the best part, they are super easy to make! Seriously, you could make bags and bags of this mix without a sweat!
This mix can be switched up into a million different ways, to give you that same great flavor that Martha White mixes have. You could even use banana powder (yes, it's really a thing and you can buy it at Walmart!) to make the banana nut flavor… or just throw in a real banana. Of course my flavor combinations have ZERO artificial flavors and are the real deal good for you! Enjoy the recipes my friends, and get those kids in the kitchen!
Want to see more muffin recipes:
Healthy Homemade Muffin Mix Recipes
First, you will see the basic muffin mix recipe, them below that you will see several different flavor combinations.
Ingredients
Basic Muffin Mix Recipe
1

cup

Bob Red Mill's Super-Fine Almond Flour

1/4

cup

coconut sugar

1/2

tsp.

baking soda

1/8

tsp.

salt
Chocolate Chip
1/4

cup

mini chocolate chips
Snickerdoodle
2

tsp.

cinnamon

extra coconut sugar and cinnamon for the top

(1 Tbsp. coconut sugar & 1 tsp. cinnamon, sprinkle mixture on top of muffin batter before going into the oven)
Banana Nut
1/4

cup

chopped pecans

(add 1 mashed banana to wet batter)
Blueberry
1/4

cup

dried blueberries

(or use fresh blueberries added into wet batter)
Lemon Poppyseed
1

tsp.

poppyseeds

1

Tbsp.

lemon juice (added into wet batter)

1

tsp.

lemon zest (added into wet batter)
Strawberry
1/4

cup

chopped dried strawberries
Apple Cinnamon
1

tsp.

apple pie spice

1/2

tsp.

cinnamon

1/4

cup

chopped dried apples (finely diced fresh apples will work, added into wet batter)
Instructions
Mix muffin mix ingredients together in a quart size freezer bag (I like the thicker bags to prevent tears)

Add in your favorite flavor additions to the basic muffin mix.

Write on the bag these directions: ADD 2 eggs (or flax seed replacement) ADD 1/4 cup milk (any kind) Bake 350 degrees 15-18 minutes
Please Note: The links in this post are affiliate links, and I will receive a small compensation when you use my links to make a purchase. I would appreciate your support, as this website helps support my family.