Main Dishes
Taco Casserole (Plant-Based)
When I first started eating plant-based I wanted a few good casserole dishes I could whip together in a matter of minutes for a quick weeknight dinner. Well, my search came up empty.
I knew the missing component to most casserole dishes was the creamy dairy ingredients like sour cream and cheese, so I bought this Trader's Joe's Fiesta Dip and it was the PERFECT substitute.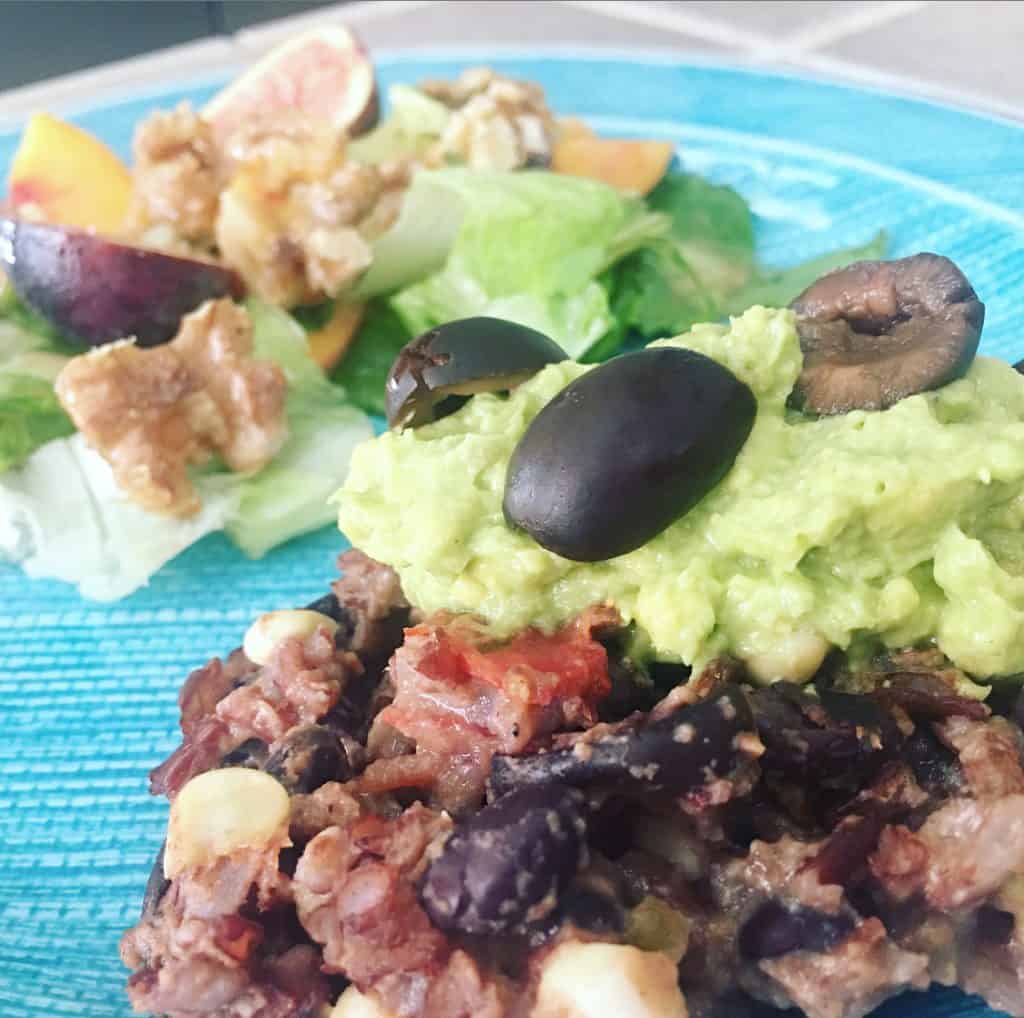 This plant-based taco casserole is creamy and packed full of flavor. It's great as leftovers too, or for meal prepping and enjoying all week for lunch.
In these recipe photos I used red rice, but brown or white rice works beautifully too.
Can't Find Cashew Fiesta Dip?
The cashew fiesta dip really is the BEST in this recipe because of it's flavors, but if you can't find it here's what you can do.
Make a homemade creamy cashew fiesta sauce:
First, soak 1/2 cup raw cashew pieces in boiling water for 10 minutes.
Drain cashew pieces and add them to a high speed blender
Also add, 1 cup fresh water, 2 Tbsp nutritional yeast, 1/2 tsp cumin, 1/2 tsp chili powder, 1/2 tsp garlic powder, salt and pepper.
Blend until smooth, then add to the casserole recipe.
Plant-Based Taco Casserole
Ingredients
3

cups

cooked brown rice

1

can

drained black beans

1/2

cup

frozen corn

1/2

cup

chopped tomatoes or red bell pepper

1/2

can

sliced olives

1

container

Trader Joe's Cashew Fiesta Dip

1/2

cup

salsa

1

tsp.

cumin

salt and pepper to taste
Instructions
Preheat oven to 350 degrees.

Mix all ingredients together, pour into your 8X8 or 9X9 baking dish, and bake for 30-45 minutes.

Serve with guacamole, the rest of the olives, and a side salad. Enjoy!
Please Note: The links in this post are affiliate links, and I will receive a small compensation when you use my links to make a purchase. I would appreciate your support, as this website helps support my family.