Grocery Hauls
Aimee's $120 Grocery Haul and Menu Plan
Aimee's $120 Grocery Haul and Menu Plan
We just completed a 1 week pantry challenge where we did not go grocery shopping until Friday, and we ate 3 meals from our pantry, without heading out to the grocery store. We had food we needed to eat up, and doing a pantry challenge is one of the only ways I can really motivate myself to eat it all up.
By Friday, I was feeling the tension from my family, saying that we needed more food, more fresh produce to be exact, so I headed to the store and stocked-up on the necessities, and few "fun" items. Here's what I got:
Aldi's Trip: Spent $90.90
Favorite Deals:
GF Raisin Bread: $2.59
Oyster Crackers (my kids favorite snack): $.79 each!
Large Canister of Oats – $1.99 each
Eggs, 1 dozen: $1.09 each
I cannot say I found just amazing deals, but what's great about Aldi's is that their prices are generally AMAZING!!!!! all the time! This is the store I come to to get my pantry stocked and ready for the week.
I do have to say though, I was not impressed with their meat this week. No "great" deals to shout about, so I headed over to Sprouts to get my meat.
Sprouts Trip: Spent $27.05
Favorite Deals:
Ground Beef: $2.99/lb
Chicken Breasts: $1.99/lb
I picked these products over Aldi's because the quality just looked so much better!!!
I didn't think this meat would be enough to last us all week, but we are going out to eat a few nights this week, so I think we will have enough. I almost ran to Costco to grab a ham, but I don't think we will need it. One night this week my husband and I are going on a date, and the next night we are taking our kids to the county fair! I am super excited for that, and the memories that will be made.
GRAND TOTAL: $117.95!!!! Wow, so close to $120!
I am super excited with my purchases and the fact that my fridge and pantry are stocked!
_________________________________________________________________________
Weekly Menu Plan:
Breakfasts:
Lunches:
cooked hamburger patties and chicken with baked potatoes and veggies, pb&j sandwiches with chips and fruit, SONIC trip, leftovers, salad
Dinners:
Super easy tip: marinate your chicken breasts in DRY seasoning packets, like ranch dressing mix or Italian dressing mix. It makes the chicken even more flavorful than using a bottled wet dressing.
BBQ Ranch Chicken with sweet potato and apple hash, and broccoli with cheese
Italian Chicken with pasta and green beans
Date Night – means grilled pb&j's for the kids with fruit salad
Fun Family Fair Night – dinner at the fair – turkey legs, corn dogs, fries, funnel cake (aka: all the junk food!)
Dump Stew and biscuits
Baked Potato Bar with bacon, cheese, sour cream, and veggies
Corn and Potato Chowder with grilled cheese sandwiches
If you liked this post, you might also like: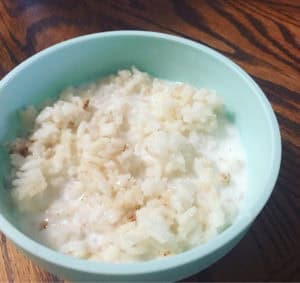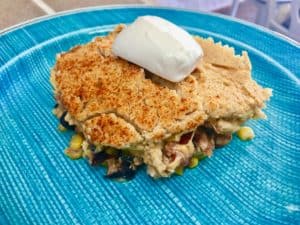 Low-Carb Enchilada Bake Recipe
Please Note: The links in this post are affiliate links, and I will receive a small compensation when you use my links to make a purchase. I would appreciate your support, as this website helps support my family.