Grocery Hauls
Aimee's Weekly Grocery Haul and Menu Plan
Aimee's Weekly Grocery Haul and Menu Plan
This week is different because my husband is out of town, and my mother-in-law is here to visit and help me. We decided to create a menu plan of meals that my husband would generally not want me to make (SEAFOOD!!!). This is also a Whole30 Approved menu plan! Check out my favorite deals that I got this week, then scroll down to the bottom to see my menu plan. Enjoy!
99 Cent Store Trip: Spent $11.50
Favorite Deals:
Ghirardelli Caramel Chips – $.50 per package (my husband likes these in his breakfast bars)
Coconut Sugar – $.99 this is an amazing deal!!!!!
Pamela's Organic Gluten-Free Mac N Cheese – $.99 each (these are normally over $4.00 each!)
Trader Joe's Trip: Spent $12.97
Favorite Deals:
Coconut Aminos – $2.99 each (these are $10 on Amazon!)
Aldi's Trip: Spent $86.77
Favorite Deals:
Avocados – $.29 each!!!
YoCrunch Yogurt, 8pk – $2.49 (summer treat for my kids)
Bread – $.69 with $1.00 off stickers on them!
Seedless Watermelon – $1.99 each
Eggs, 12ct – $.99 each!
Grand Total For The Week: $111.24 to feed 6 people for a whole week!!!!
_________________________________________________________________
Weekly Menu Plan:
Breakfast:
Warm rice cereal, yogurt and toast, eggs and toast, strawberry smoothies and granola bar, breakfast sausage and toast
Lunches:
Peanut butter sandwiches with fruit and chips, sauteed coleslaw mix and shrimp, chopped chicken salad, lazy bell pepper wrap, hot dogs for the kids, leftover grilled chicken and roasted veggies
Dinners:
Grilled chicken, homemade BBQ sauce, roasted potatoes, and steamed broccoli
Roasted potatoes, zucchini, red bell pepper, and chicken bake
Shrimp scampi with zucchini noodles and regular noodles for the kids
Egg roll in a bowl made with ground beef
Chicken, apple, onion, sweet potatoes, and cabbage skillet
Breakfast stuffed sweet potatoes with scrambled eggs, bacon, and avocado
Scallops with lemon sauce with riced cauliflower (rice for the kids), and steamed green beans
If you liked this post, you might also like: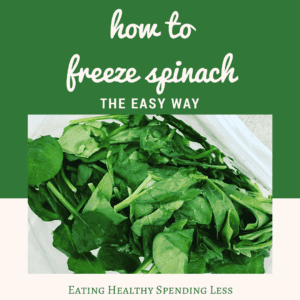 How To Freeze Spinach The Easy Way – click link here
Little Bites Oatmeal Pancake Mini Muffins – click link here
Instant Pot Applesauce – click link here
Please Note: The links in this post are affiliate links, and I will receive a small compensation when you use my links to make a purchase. I would appreciate your support, as this website helps support my family.