Dessert
Chocolate Almond Flour Cake with Broiled Peanut Butter Frosting
Chocolate Almond Flour Cake with Broiled Peanut Butter Frosting
This cake reminds me of my days in Texas. My bosses wife taught me how to make a quick chocolate cake with broiled peanut butter frosting, but it was a gluten cake and packed full of sugar. I have used that inspiration, and that wonderful cake to create this grain-free and refined sugar-free version.
The cake is sweetened with honey, and the frosting is sweetened with coconut sugar. These are both great sweetener options. Honey is considered a super food, because of its antioxidant qualities; and coconut sugar has a low glucose level making it a great substitute for diabetics or those just trying to watch their sugar in take. I love coconut sugar because it does NOT taste like coconut! It has a flavor like brown sugar! It's great!
Frosting to me is a major part of the cake, however I am not a fan of making frosting! Quick frosting recipes like this one are just awesome! This cake recipe is definitely a family favorite and one of my favorite cakes to make for my birthday! I hope you enjoy it!
Chocolate Almond Flour Cake with Broiled Peanut Butter Frosting
Ingredients
Chocolate Cake Ingredients
1

cup

almond flour

1/4

cup

cocoa powder

1

tsp.

baking soda

1/4

cup

melted butter

or coconut oil

1/3

cup

honey

3

eggs

1

tsp.

vinegar

1

tsp.

vanilla
Broiled Peanut Butter Frosting
1/4

cup

butter

softened

2/3

cup

coconut sugar

or packed brown sugar

1/4

cup

all natural peanut butter

or any nut butter works

2

Tbsp.

almond milk

or regular milk
Instructions
Preheat oven to 325 degrees.

Using an 8X8 square baking dish, add all of your dry ingredients.

In a small mixing bowl add the wet ingredients and stir. Be careful that your melted butter isn't too hot, or your eggs will cook in the butter (not good!).

Add the wet ingredients to your dry ingredients, in the baking dish, and mix well using a small whisk or a fork. Make sure to get all the clumps out of the cocoa powder.

Bake for 30-35 minutes.

While the cake is baking, mix together your frosting ingredients in a small mixing bowl.

Once cake comes out of the oven, pour frosting ingredients over the cake, spread evenly.

Set your oven on broil, and place the warm cake back in the oven. Let the frosting broil, but keep an eye on it! It will only take 10-15 seconds!!! Don't let the frosting burn.

Take it out of the oven, and let the cake cool a bit. It's best to eat warm, but even cold is delicious! Enjoy!
Notes
If you liked this recipe, you might also like: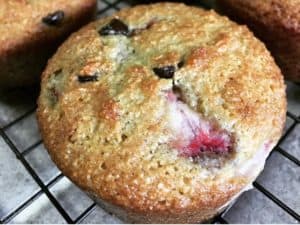 Protein Packed Muffins using almond flour - click link here
Honey Peanut Butter Oatmeal Cookies - click link here
Almond Flour Dumplings in Chicken Soup - click link here
Please Note: The links in this post are affiliate links, and I will receive a small compensation when you use my links to make a purchase. I would appreciate your support, as this website helps support my family.