Main Dishes
Italian Sausage and Sweet Potatoes
Italian Sausage and Sweet Potatoes
This is a 3-ingredient dish that you will love. When I first went grain-free, I thought my life was over! I had to cut so much out of my diet, including fruit, just trying to find relief from my health issues.
How in the world am I suppose to do all of this on a budget?!? Eat lots of meat and veggies….? So I got creative in the kitchen, and realized that even though meat was a major part of my diet, it didn't have to be the main focal point of each meal.
So I get it… Italian sausage and sweet potatoes don't just naturally go together, but it was all I had in the house and I needed to go grocery shopping, so I thought "why not?"
Well, it's one of my favorite dishes and it's so easy to make! I just take the sausage out of the casing a little at a time and make "meatballs" out of them. It's perfect and easy!
I hope you enjoy this dish as much as I do. It can also be easily made in the oven, just bake at 400 degrees for 30-40 minutes. Enjoy!
Italian Sausage and Sweet Potatoes
Ingredients
1

onion

chopped

1

pound

Italian sausage links

6

cups

sweet potatoes

cubed
Instructions
Heat a skillet over medium heat, add 2 Tbsp. olive oil.

Next, add onion and cook.

As the onion is cooking, pull sausage out of casing, but you want them to come out like meatballs. Don't pull the whole thing out at one time.

Add the sausage "meatballs" to the skillet and cook on both sides until cooked through.

Once sausage is cooked, place sausage and onions in a dish, and add the sweet potatoes to the skillet.

Add 2 Tbsp. water to the skillet, cover and cook the sweet potatoes for 10 minutes, or until fork tender.

Add the sausage and onions back to the skillet and cook until sweet potatoes are golden brown.

Do not stir the sweet potatoes in the skillet, or they will become mushy. Just let the potatoes crisp up, then turn gently with a spatula.

Add a little salt and pepper and enjoy!
Notes
If you liked this recipe, you might also like: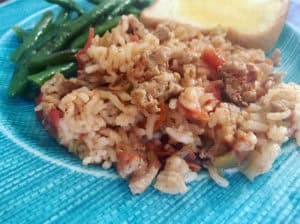 Texas Hash - click link here
Grain-Free Gluten-Free Dumplings in Chicken Soup - click link here
Cheap Instant Pot Taco Pasta - click link here
Please Note: The links in this post are affiliate links, and I will receive a small compensation when you use my links to make a purchase. I would appreciate your support, as this website helps support my family.