Breakfast
Green Eggs and Ham Casserole
Happy Birthday Dr. Seuss! We love your books and we love the whimsical adjectives you use that make your books come to life! What I love more than just books, is making food for my kids that goes with the book! Seriously! You know that book, When You Give A Moose A Muffin, then you make muffins for your kids?!?!?! Ok, well I am SO THAT MOM!!! I thrive on that!
What better way to celebrate Dr. Seuss, than by reading Green Eggs and Ham and making GREEN EGGS AND HAM CASSEROLE?!?!?! WOW! It's so fun, and this dish is delicious! My kids love how green it is, and I love how healthy it is for them!
This casserole is very easy to throw together and only takes a few steps. First, you just need to shred 3 zucchini, and I like using the OXO brand shred and slice pictured above. I decided to use zucchini here instead of hash browns to give it more of a green look, and BONUS, it's healthier too!
Next, layer the ham on top. So easy, and the kids can help too!
Now, blend the eggs, milk, and spinach together. This is where you get the beautiful and nutritious GREEN eggs!
It's time to put it in the oven, and when it's done you can top it with cheese. Enjoy!
Green Eggs and Ham Casserole
Ingredients
3

medium

zucchini

shredded

2

cups

ham

diced

12

eggs

1/4

cup

milk

any kind

5

cups

spinach leaves

1

tsp.

onion powder

1

tsp.

salt

2

cups

monterey jack cheese

shredded
Instructions
Preheat oven to 350 degrees and grease a 9X13 baking dish.

First, shred zucchini and place as your base layer in the casserole dish.

Next, add ham on top of zucchini in an even layer.

In a blender, mix the rest of the ingredients (minus the cheese). Blend for 1 minute.

Pour egg mixture over ham and zucchini.

Bake for 35-40 minutes, or until the center of the casserole no longer giggles when you move it.

Top with cheese and put in the oven for an additional 2-3 minutes, or until the cheese melts. Add fresh or dried parsley if you'd like, and serve!
Notes
If you liked this recipe, you might also like:
Sweet Golden Oatmeal - click link here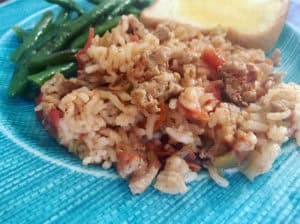 Cheap Texas Hash - click link here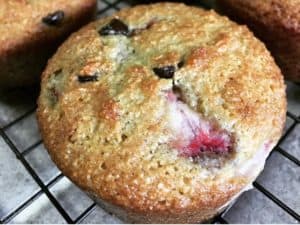 Protein Packed Muffins - click link here
Please Note: The links in this post are affiliate links, and I will receive a small compensation when you use my links to make a purchase. I would appreciate your support, as this website helps support my family.