Main Dishes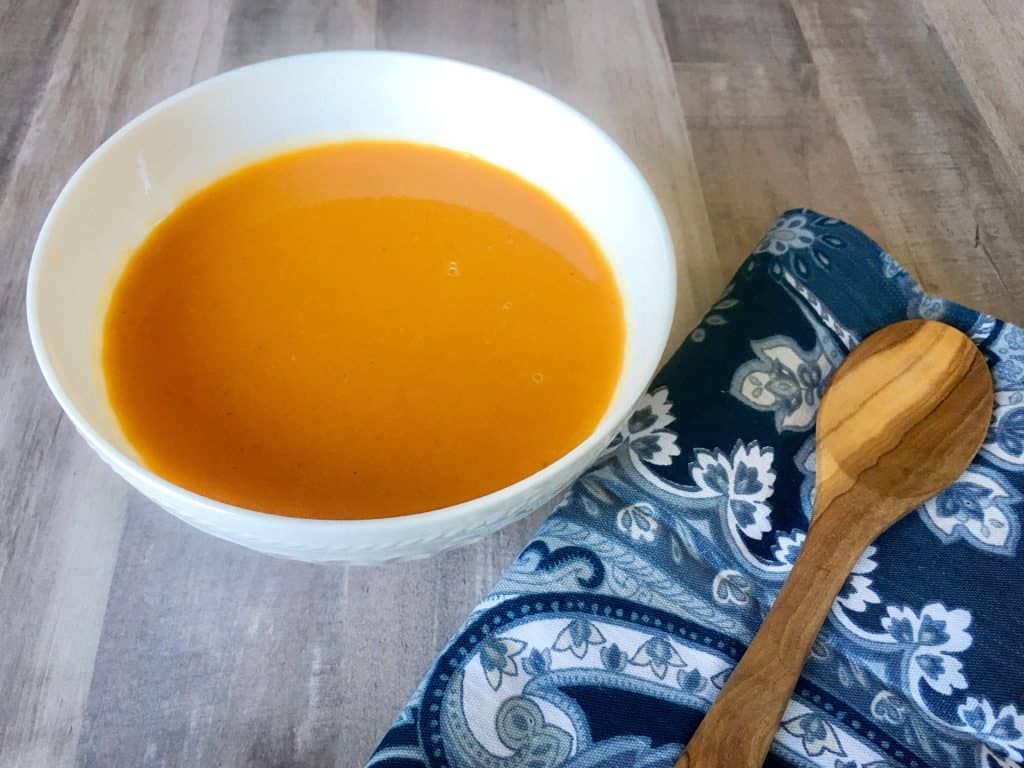 Butternut Squash Soup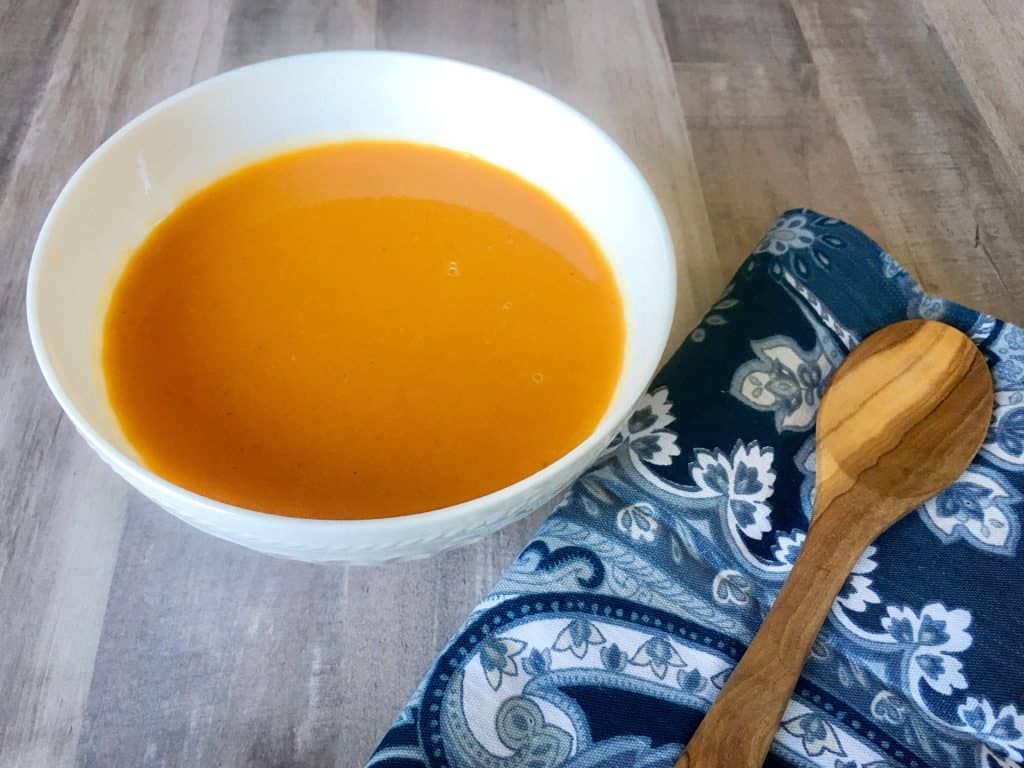 This orange colored butternut squash soup was created with these 3 very delicious veggies: carrots, sweet potatoes, and butternut squash. You can feel good about eating this nutritious soup because of all the vitamins and minerals it contains.
Need A Quick Fix Soup Recipe?
On busy nights when I don't have a lot of time to throw dinner together, but I still want it to be healthy for my family, I will make this butternut squash soup with sandwiches. It's ready in about 25-30 minutes, and it tastes like you've been cooking all day. The vegetables do not need to be diced finely, because you're going to blend them up, so make life easy on yourself and just do a rough chop.
I like to keep a bunch of frozen veggies in the freezer at all times, and that's what makes this soup come together so easily. Butternut squash is something that I always keep on hand in my freezer, and it's very inexpensive to buy at Walmart ($2-$3). If you don't have frozen butternut squash, you can always use fresh butternut squash or even frozen pumpkin, also found in the freezer section at Walmart.
One easy tip that I love is to keep celery chopped up in the freezer, because it always seems like when I need some, I don't have any. If you'd like to read more about freezing celery, click the link below.
HOW TO FREEZE CELERY – click this link
This Recipe Is VEGAN!
This recipe is dairy-free and gluten-free. All it basically is, is veggies and broth. The flavor of this soup is amazing!
Side Notes:
6 cups of broth is just right, 8 cups makes the soup very watery.
You can also add frozen cauliflower to the soup as well for a creamy element.
If you don't have an immersion hand blender, you can let the soup cool down a bit and use a standard blender.
Serve this soup with sprinkled pumpkin seeds on top, or Parmesan cheese.
Instant Pot version: add all ingredients to an Instant Pot and cook on MANUAL for 12 minutes. Allow to cool for 10 minutes before quick release. Blend and serve!
Other Soup Recipes You Might Like:
Butternut Squash Soup
Ingredients
1/2

onion

chopped

3

celery stalks

chopped

1

large

sweet potato

chopped

3

carrots

chopped (leave skin on)

2

(10oz) bags

frozen butternut squash

or pumpkin

1 1/2

(32oz) cartons - 6 cups

vegetable broth

2

tsp.

salt

1

tsp.

turmeric powder

(optional)

1

tsp.

garlic powder

(optional)

1

tsp.

onion powder

(optional)

1/2

tsp.

black pepper
Instructions
In a large pot, add all vegetables, seasonings, and broth. Bring to a boil, and simmer for 20-25 minutes, or until veggies are tender.

Once veggies are tender, use a stick immersion hand blender to blend the soup until smooth. If you notice the soup is too thick, add a little more broth, but be careful. You do not want the soup to be runny and watery.

Pour into bowls and top with a little Parmesan cheese and/or pumpkin seeds. Enjoy!
Please Note: The links in this post are affiliate links, and I will receive a small compensation when you use my links to make a purchase. I would appreciate your support, as this website helps support my family.