Appetizers/Snacks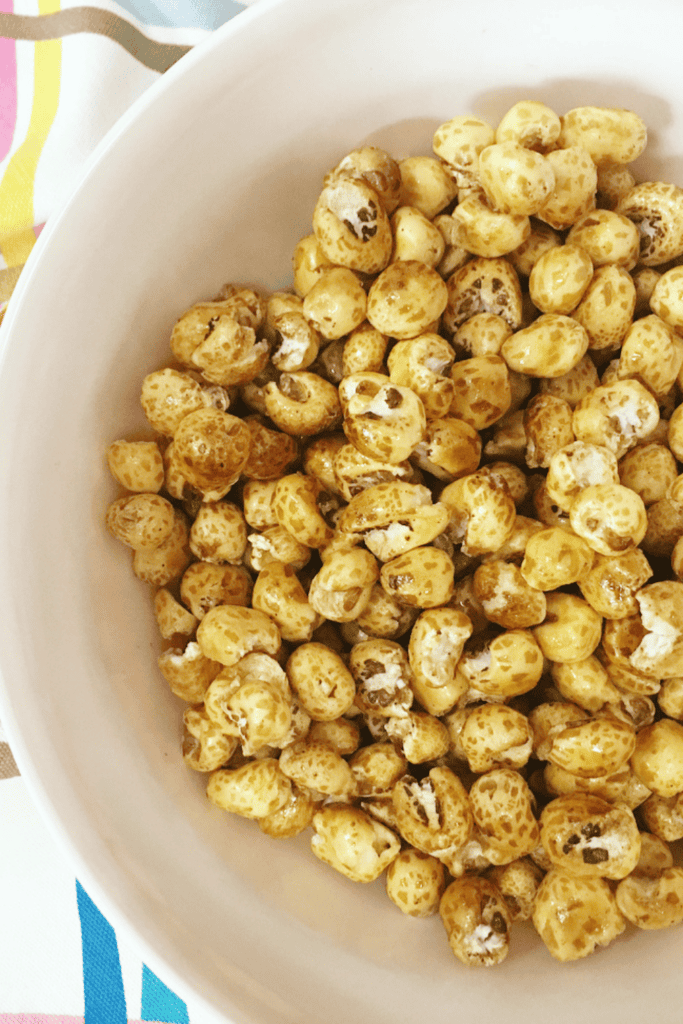 Healthy Snack Kettle Corn
This healthy snack kettle corn recipe is a huge hit in my family and very cheap to make! All you need is a bag of puffed corn, which I find at my local Sprouts. I love this because it just proves once again that you can make delicious and easy snack foods at home without spending a lot of money.
Where To Buy Puffed Corn
Puffed corn can easily be found at a health food store like Whole Foods and Sprouts. If you don't have these stores near you, never worry. You can easily purchase puffed corn on Amazon, however, it is more expensive to buy online.
If you are unable to find this product, you can also make this same recipe with Cherrios! Get creative using this easy technique and make this healthy snack recipe your own.
Many moms get hung up with buying convenient snack foods for their kids, and they grocery budgets suffer. That is why I am on a mission to prove that you can make healthy snacks at home, like this kettle corn twist.
How To Make Healthy Kettle Corn Snack
All you need to do is add 4 cups of puffed corn to a mixing bowl.
Pour in a few tablespoons of pure maple syrup, and mix in.
Add some cinnamon and salt, continue stirring.
Bake in a 350 degree oven for 5-8 minutes. It's that easy. Prep time is maybe 2 minutes and bake time is under 10 minutes.
If you wanted to eat this as a cereal you can, just leave out the salt. Also, to dress this snack up for adults, you could add a little smoked paprika and cayenne to the mix with some nuts.
The possibilities are endless with this recipe. Give this a try, then add your own flare to make it unique to your liking.
Want more snack recipes? Try these:
Healthy Kettle Corn
Ingredients
4

cups

puffed corn

I use Arrowhead brand

3-4

Tbsp

pure maple syrup

dash of cinnamon

dash of salt
Instructions
Preheat oven to 350 degrees and line a baking sheet with parchment paper.

In a mixing bowl, mix together all the ingredients, and pour puffed corn onto the baking sheet.

Bake for 5-8 minutes, or until corn is lightly brown on top. Sprinkle with a little more salt while it's hot.

Allow to cool, then enjoy! *Kettle corn doesn't have a long shelf life. Store in an air tight container for 1-2 days.
Pin For Later!
Please Note: The links in this post are affiliate links, and I will receive a small compensation when you use my links to make a purchase. I would appreciate your support, as this website helps support my family.