Dessert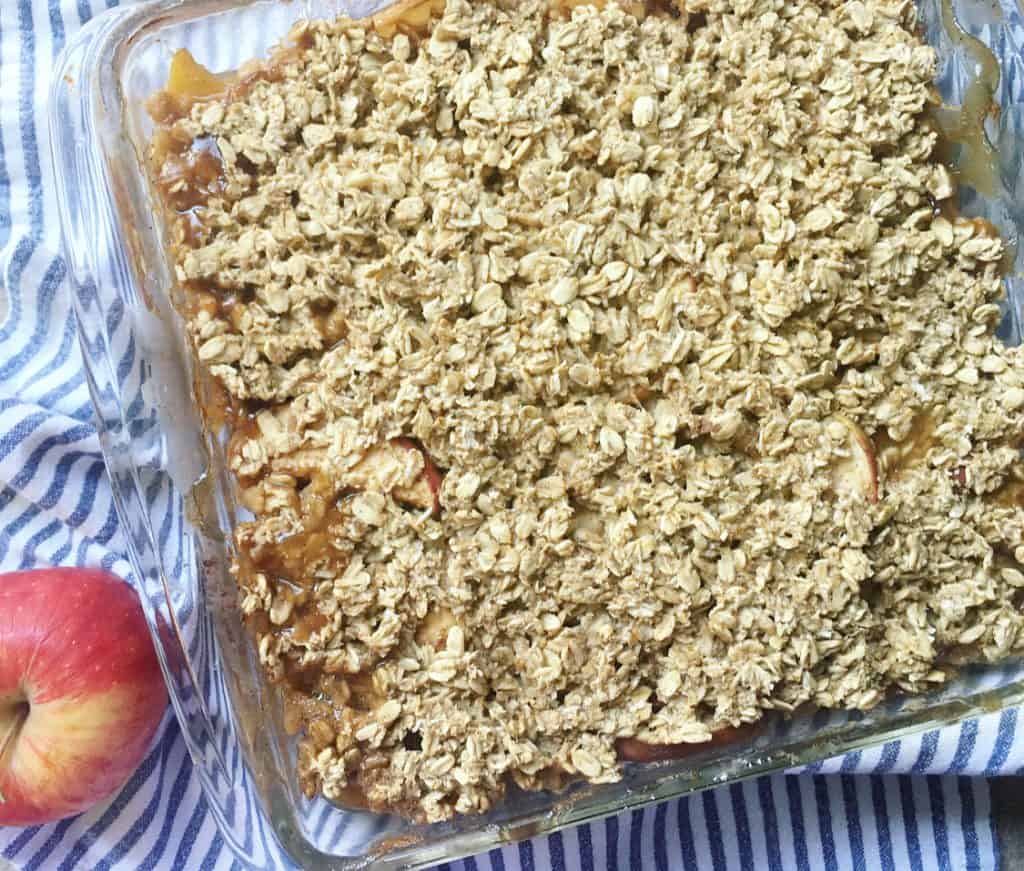 Recipe For Apple Crisp Easy and Healthy
Here is my apple crisp easy and healthy recipe for you. Apples are in season, which means they are readily available at their lowest possible cost. Stock-up on apples now, and enjoy their long shelf life.
Why I Leave The Skins On…
Apple skins hold the nutrients to an apple. Like most fruits, the skin is where so many good vitamins and minerals are. Apples are filled with phytonutrients, which help ward away heart disease, diabetes, and cancers. Eating apples can really help prevent these diseases, but without the skins you are giving up over 50% of their phytonutrients!
If you are able to afford organic, buy organic apples. They are not sprayed with pesticides that damage these nutrients, and most of the time they also are not sprayed with wax that give an apple that fake shine. You will not notice the skins in this apple crisp easy and healthy recipe because the skin becomes very soft once baked.
Once you thinly slice the apples, simply combine all the apple filling ingredients together and mix to combine. I decided to mix it all together in the baking dish… I do not recommend doing this. It was very hard to think the coconut sugar from following out!
A few subsititutions:
Coconut sugar can be substituted for regular brown sugar.
Corn starch can easily be substituted for arrowroot starch. I would not use tapioca starch because it will make the filling gummy.
Why It's Important To Pre-Bake The Apples
This apple crisp easy and healthy recipe does have a 2 step baking process. The oat mixture bakes up rather quickly, while the apples need more time. To avoid any issues, you could cook the apples on the stove first, however, I think it's much easier to do a quick pre-bake in the oven. You are able to walk away from the apples and not worry that they'll burn.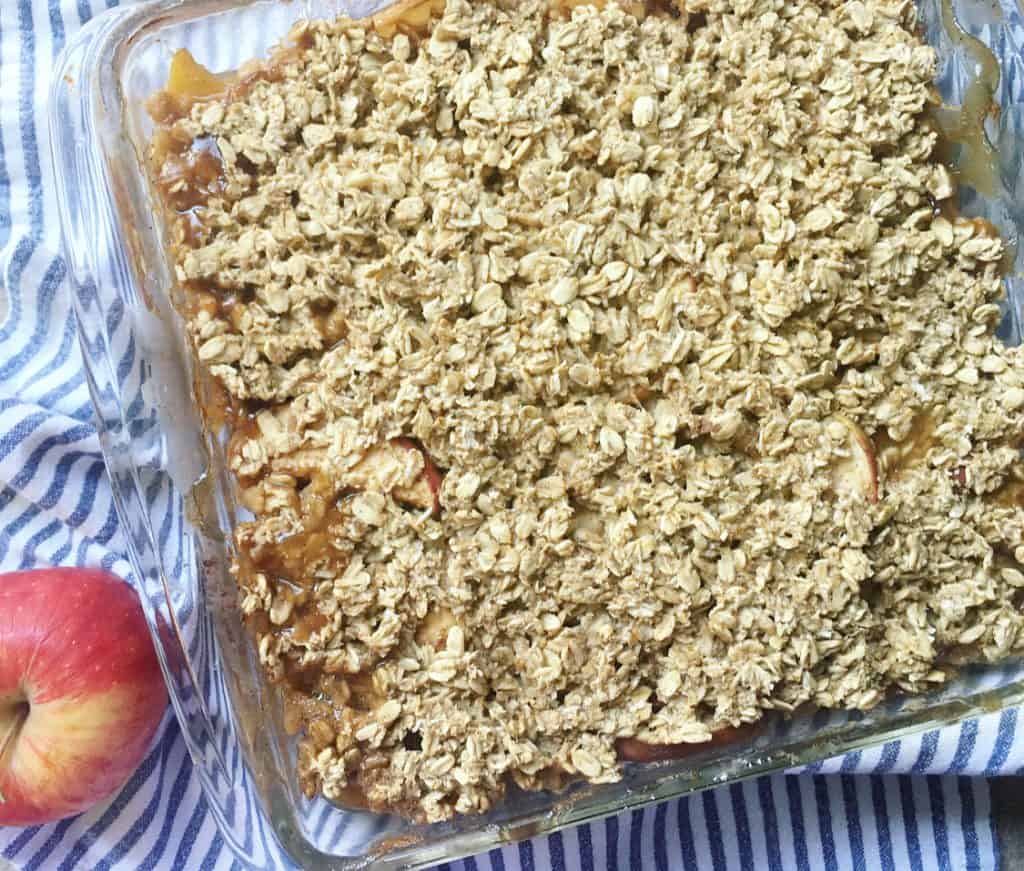 The oat mixture is simple. It takes very little effort to create and bakes like a baked oatmeal on top of the apples. Because we are not using a fat like butter, the oats do bake differently. This is not a bad different. My family absolutely loves this recipe, and I highly recommend it. It's HEALTHY. You can't get much healthier than this apple crisp easy and healthy recipe.
More Apple Recipes You'll Enjoy:
Apple Crisp
Ingredients
Apple Filling
8-10

medium size apples

1

cup

apple juice

1/2

cup

coconut sugar

or brown sugar

2

Tbsp.

corn starch

or arrowroot starch

1/2

Tbsp.

cinnamon

pinch of salt
Oatmeal Topping
2

cups

old fashioned oats

1

cup

water

1/2

cup

pure maple syrup

1

tsp.

vanilla

1/2

tsp.

cinnamon

1/2

tsp.

baking powder
Instructions
Preheat oven to 350 degrees.

Thinly slice apples and place in a mixing bowl.

In a mixing bowl, add the rest of the apple filling ingredients to the apples and stir well to combine all the ingredients.

Transfer the apple mixture to an 8X8 baking dish, and bake for 30 minutes.

While the apples are baking, make the oatmeal mixture.

Top the oatmeal mixture onto the apples, and spread the mixture evenly over the apples.

Bake for an additional 20 minutes. Enjoy!
Please Note: The links in this post are affiliate links, and I will receive a small compensation when you use my links to make a purchase. I would appreciate your support, as this website helps support my family.