Kitchen Tips That Save You Money
How To Freeze Spinach The Easy Way
How To Freeze Spinach The Easy Way
When Pinterest first came around and became popular, I remember seeing posts on freezing spinach by first blending it in a blender with water and freezing in ice cube trays. I was one that followed in this habit and did it too. However, that is just way to time consuming for me now that I am a mother of 4 kiddos.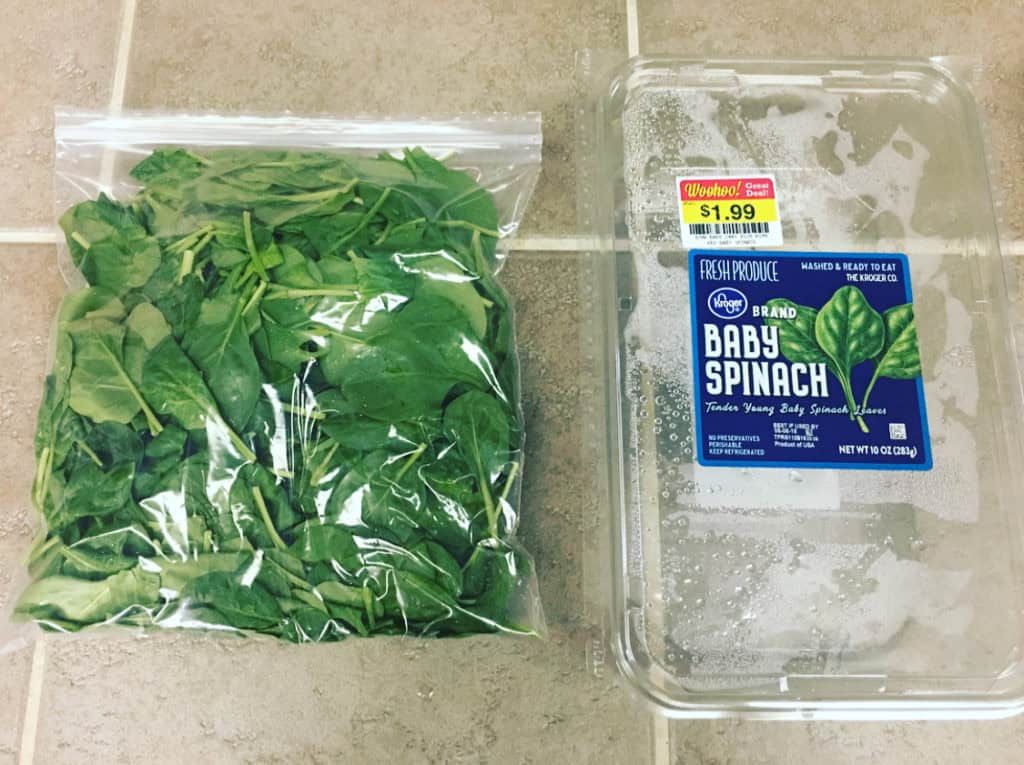 I had seen smoothie bags being made by just placing spinach inside the bag, and thought, why can't I just freeze a big ol' bag of spinach for any use?!?
So I did, and it WORKED!!! It worked perfectly actually… I can easily just freeze the whole bag, and use it for smoothies, soups, stir-frys, and sauces, and more! The possibilities are endless. Whenever I make a meal, I tend to throw in a big handful of spinach, so my kids are getting veggies, and they don't even realize it.
Also, if you notice your bag of spinach is going bad in the refrigerator, no problem. Just stick the bag in the freezer! Seriously friends, the spinach just comes right apart, and doesn't stick together like some big mess.
If you liked this freezer tip, you might also like:
How To Freeze Ginger Paste – click link here
Little Bite Pancake Mini Muffins (Freezer Friendly) – click link here
Bacon Zucchini Boats – click link here
Please Note: The links in this post are affiliate links, and I will receive a small compensation when you use my links to make a purchase. I would appreciate your support, as this website helps support my family.