Menu Planning
Inexpensive and Easy Dinner Ideas For Others
Inexpensive and Easy Dinner Ideas For Others
One of the greatest gifts we can ever give to others is blessing them with a meal. It's the one thing that bears a burden on a mother's heart when she isn't feeling well or isn't able to cook her family dinner. Dinner can be a serious burden to others, even when we are feeling great! So, lets take the opportunity to be a blessing to those around us, when they are in need, we can provide them with a hot and delicious meal.
Often times these meals, however, can be very costly. When we want to be a blessing to others, it can take a serious chunk out of our wallet to do so. It doesn't have to be that way, and we don't have to just say "whatever" and not consider the financial consequences for not considering a better route. We are called to be good stewards of the money God has given us. Lets take the opportunity to be the best stewards we can be. There are several different recipes and options out there where you can provide a meal and it doesn't severely affect your grocery budget. Below I am sharing my go-to meal. It's easy, semi-homemade, and fun for the family receiving it.
As I get the opportunity to bless others with meals, I will share them below. I will also share links to recipes on my blog that are inexpensive to make. Enjoy!
This is my go-to favorite meal to take others. There is a lot here, but it's so easy to put together. Here's the breakdown of this fun semi-homemade dinner:
Rotisserie Chicken – get the jumbo one from Smart & Finals for $6.99 or one from Costco or Sam's Club for $4.99
Bagged Salad mix with dressing – around $2-3
Loaf of Bread – around $1-1.50
Homemade Flavored Butters – 1 stick of butter mixed with honey and cinnamon for the sweet potatoes, and roasted garlic and rosemary for the bread.
Baked Potatoes – I baked purple sweet potatoes from Sprouts, they are fun, different, and a real treat
Triple Chocolate Brownies – boxed brownie mix with chocolate chips, and 1-minute stove top chocolate frosting. (The frosting recipe is on my website on my Honey Almond Cake with Chocolate Frosting recipe.)
Local Bakery Item – I always try to include a breakfast item for the next morning. These local cinnamon rolls from Hodel's are a family favorite, and I was taking this meal to my niece.
Special Gift For Big Sister (or Brother) – my niece has a 2 1/2 yr old daughter, so she needed a new coloring book, I'm just sure of it. 😉
I also love taking my friends build your own taco salad ingredients, or baked potato bar with fun add-ins. Think outside the box, but also make it easy for them to enjoy.
More ideas for taking a meal to others include:
Instant Pot Pork Gravy and Mashed Potatoes – one pot meals are my favorite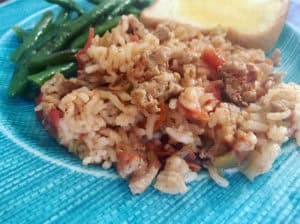 Texas Hash Casserole – an easy ground beef and rice casserole dish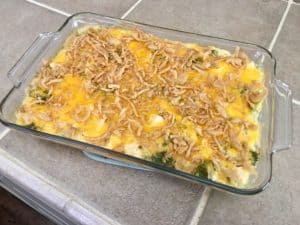 Chicken and Broccoli Casserole – this is my husband's favorite casserole dish
Gluten-Free Morning Glory Muffins – these are packed full of fun add-ins and are a great breakfast item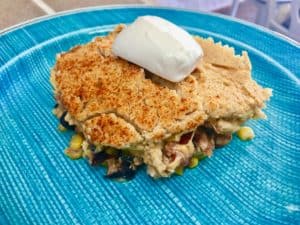 Easy Tamale Pie – get away from the traditional enchiladas and try this fun dish
Bacon Zucchini Boats – a fun and healthy dish using bacon instead of Italian sausage
Taco Pasta – a fun and delicious dish
Homemade Granola Bars – a fun treat for the whole family
Please Note: The links in this post are affiliate links, and I will receive a small compensation when you use my links to make a purchase. I would appreciate your support, as this website helps support my family.