Frugal Ideas
Bulk Buying Food Can Save You Money
I have found that if I go do a "bulk buying food" shopping trip at the beginning of each month to buy staple ingredients that we use the most, like peanut butter, oats, maple syrup, frozen fruit, etc. Then, my weekly grocery shopping trips are much more tolerable!
We are creatures of habit, and we enjoy eating many of the same foods week after week. If you are like that too, then doing a monthly bulk buying food trip may be helpful for you.
Bulk Buying Stores
There are 3 stores I shop the most for bulk items, they are Costco, Winco, and Walmart. Most of these items cannot be bought in bulk form, like whole sale size packages. However, the point is I'm buying what we use in high quantity to get us by for the month.
If I notice we have a high amount of an item at the end of the month, then I of course, adjust my next months buying to use up what we already have.
Why I Buy Mostly Organic
Before we can proceed, let me explain why I buy organic. Because we are a plant-based family, eating grains and beans are staples for us. These foods that are NOT organic, are sprayed with glysophates.
Glysophates comes directly from weedkiller sprayed on the non-GMO crops before harvesting. Glysophates are known to cause chronic health problems, which is why we choose to avoid them as much as possible.
Organic is definitely more expensive, so I pick and choose the products that mean more to me being organic, and I try to stick to the dirty dozen list.
What I Buy At Each Store
I want to break it down for you and show you exactly what I buy. I have a list of every month items, every other month items, and as needed items.
Costco
I personally LOVE Costco. I enjoy walking through the warehouse and I love stocking up on a lot of their organic items at really good prices. Plus, when I do my monthly shopping trip here, I like to buy all our produce for the week here. I splurge a little because their produce is always very tasty!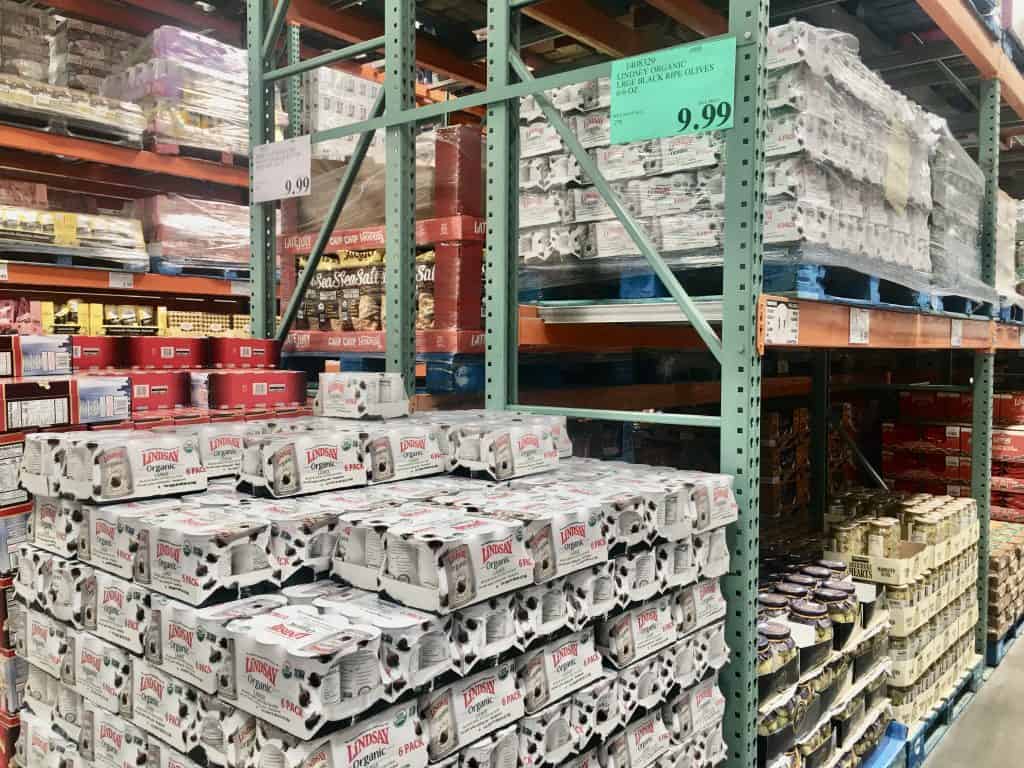 Every Month Items:
Kirkland's Organic Peanut Butter, 2pk – $9.99
S&W Organic Black Beans, 8pk – $6.89
Kirkland's Organic Pure Maple Syrup – $10.79
Kirkland's Central Valley Raw Honey – $9.99
Lindsey Organic Black Olives, 6pk – $9.99
Every Other Month Items:
Vita Coco Organic Coconut Sugar – $8.99
Kirkland's Almond Flour – $10.99
Kirkland's Pink Himalayan Salt – $6.69
Nutiva Organic Chia Seeds – $9.99
Manitoba Harvest Hemp Seeds – $13.59
Walnuts – $12.39
Organic Frozen Broccoli – $7.99
Kirkland's Organic Frozen Corn – $6.99
Canned Tomatoes and Paste when available
Organic Pickles when available
As Needed Items:
Navitas Organic Cacao Powder – $8.99
San Francisco Pretzel Company Organic Sourdough Pretzels – $6.99
Kirkland's Spices – prices vary
Winco
Winco is our most popular bulk buying store here in Bakersfield. The size of their bulk section is huge and filled with great deals! The first item we started bulk buying each month was organic oats. We easily go through a 25-pound bag in a month!
We don't stock-up on too much each month from Winco, but here's what we do buy.
Every Month Items:
Organic Rolled Oats, 25/lb bag – $26.78
Organic Brown Rice – $2.25/lb
Pacific Organic Oat Milk – $2.89 each (unless Amazon has a deal)
King Arthur Unbleached Flour, 5/lb bag – $3.48 (if I could buy a 25/lb bag of this flour I would!)
As Needed Items:
Mayo Coba (Peruvian beans), 25/lb bag – $37.00
Any other beans like black beans or pinto (prices vary)
Red and black rice (prices vary)
Walmart
Walmart has my favorite frozen fruit and chocolate chips. Yes, I could buy frozen fruit at Costco, or even Winco, but my personal preference is Walmart's frozen fruit. I normally head to Walmart during the week. I LOVE frozen wild blueberries because they are much cheaper than regular frozen blueberries. They have a higher antioxidant profile compared to a regular blueberry.
Frozen mango and cherries are my favorite added treat during the month. Seriously, the prices are just too good and we love having these readily available at home. We put the mango in our breakfast bowls, on tacos or taco salad, or we make mango pudding and ice cream. We love putting cherries in our breakfast bowl, ice cream, or a quick oatmeal cobbler.
Every month items:
Wild Blueberries, Great Value, 40oz – $4.88
Mango, Great Value, 48oz – $6.47
Sweet Dark Cherries, Great Value, 40oz – $8.47
Enjoy Life Dark Chocolate Chips – $4.88
Total Cost For Bulk Buying
The exact amount of money I spend on bulk items for the month is between $300-$350. This may seem like a lot, but we eat every meal at home. No eating out for us… We also spend about $400 each month on other groceries.
I hope this article on bulk buying food inspires you to really think about what you eat, and how you can save money by stocking up on those items at the beginning of each month!
Other Articles You May Enjoy:
Pin For Later!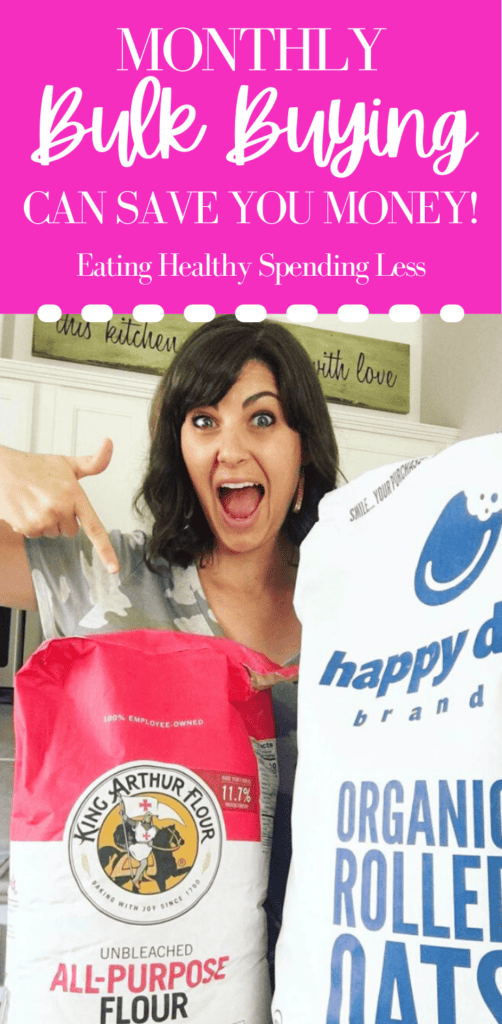 Please Note: The links in this post are affiliate links, and I will receive a small compensation when you use my links to make a purchase. I would appreciate your support, as this website helps support my family.