Grocery Hauls
My Azure Standard Review First Time Buyer!
Today I am so excited to share with you my Azure Standard Review! I am a first time buyer of Azure and I have learned a lot in the last few weeks that I'd love to share with you. So I'm sure you're asking, WHY AZURE STANDARD?
I am going to give you a list of 5 reasons why I chose to purchase from Azure Standard. I just want to say that first and foremost supporting families is so important to me, but this family also shares my same faith. They are Christians. I think you will really like this company! Let me know in the comments below if you have any further questions, and if you're an Azure Standard customer let us know why you like it!
1. You Can Purchase Items In Multiple Sizes – Including Bulk
If you've read my blog post or seen my YouTube video on my monthly bulk buying, then you know that at the beginning of each month I like to purchase all of the items we typically eat in a month. These are items like peanut butter, maple syrup, oats, flour, nuts and seeds, rice and beans. Instead of purchasing these items in smaller packages at high prices, I like to purchase them in larger bags at a discounted price.
I'm sure you have items that you buy every month too! If you could purchase enough to last you all month, at a discounted price, would you purchase that item in bulk? That's the question I asked myself, and I obviously said YES!
This Azure Standard review is going to give you an idea of what items we buy regularly. I highly suggest making a list of items you purchase monthly too and start shopping around for the best prices.
2. Organic Grains and Legumes
We are a predominatly plant-based family. My husband and kids are not 100% plant-based, but that's pretty much all I cook at home. Because of this we eat a lot of grains and legumes. These food items typically contain glyphosates, which are very harmful for our bodies. Organic grains and legumes do not contain this herbicide, which is way better for our health. If you google this you will find a plethora of information! It's a really big deal and greatly effects our gut health.
Organic is definitely more expensive. I can buy 1 pound of black beans at Winco in the bulk section, not organic, for about $.85/lb. I can go to Sprouts and buy 1 pound of organic black beans in the bulk section for $3.99/lb. That's a HUGE leap in price. Azure Standard has the best price on organic black beans. I purchased the 25 pound bag and only paid $1.59/lb! I am very grateful Azure Standard offers great prices on organic foods.
3. 1 Time Monthly Pick-Up + Free Delivery
This was the semi-truck that delivered our items and it was incredible! The Azure Standard truck driver stood on the back of the truck and would one by one bring the items to the back end and call out our names. When you heard your name, you'd grab your item. My husband and another gentleman with put items in a pile for those that weren't there to get their items yet. It was a very efficient process and everyone was very friendly and happy to help.
I live in California, and Azure Standard headquarters is located in Oregon. If you like on the West Coast, then you get free delivery. The farther east you live, you will see a delivery charge. The charge varies upon your location, but I have heard from those on the east coast that the price is still worth it.
4. Community Growth With Like Minded People
If you are looking for community, then you may find a great group of people at the Azure Standard pick-up. I made effort to talk to as many people as I could to get to know them. You immediately have something in common with the people there, so step out of your comfort zone and make a new friend.
Questions you can ask those at the pick-up:
Is this your first time ordering with Azure Standard?
What kind of items do you order?
How do you store your items?
How often do you place an order?
Have you ever had a bad experience?
Do you feel like you're saving money?
Can I help you load your items in your car? (My husband asked this a lot)
When I was a foster parent, I found great comfort and instant friendships when I met other foster parents. We immediately had a bond because we could relate to one another. The same is true with ordering from Azure Standard. There is an immediate similarity that you can build from.
5. Online Ordering Helps Keep Your Budget In Check
If you've ever bought your groceries online and had them delivered, or done Walmart grocery pick-up, then you know already that online grocery ordering can save you money. As you add items to your cart you are able to see your subtotal. This helps you determine if you need an item or not, and keeps you always checking to see if you're in budget.
For me personally, I love that I can adjust over the next 3 weeks, and constantly monitor my subtotal to stay in budget. Also, this gives you time to see if their are lower prices anywhere else. I went to Costco a few weeks before my first order and found that organic frozen blueberries were cheaper at Costco than at Azure Standard. I was able to also see that dried dates were cheaper, as well as peanut butter and maple syrup. Keep your eyes open and look for the best prices for your family.
What I Bought From Azure Standard
For my first order I spend $766 because we just moved into our new home, and after living with my parents for 2 1/2 months, we needed food.
This list does not include every single item. I made a You Tube video featuring every item, so you can refer to that if you'd like.
rolled oats, organic, 50 pound bag

black beans, organic, 25 pound bag

pinto beans, organic, 25 pound bag

basmati brown rice, organic, 25 pound bag

raisins, organic, 10 pound box
jasmine brown rice, organic, 10 pound bag

kidney beans, organic, 10 pound bag

dried chickpeas, organic, 5 pound bag

small red beans, organic, 5 pound bag

and so much more!
Will I Be Buying Again From Azure Standard
The answer is YES. I am very happy with my order and I already am planning out my next order.
How Long Do Bulk Items Last
My hope is that the grains and legumes will last us 3-6 months. Because I am new to purchasing from Azure Standard, I don't have much experience. This will be a learning experience for me. We eat these items everyday.
My hope is to update this post once I know the answer.
***Disclaimer: I was not paid to say anything from Azure Standard, This is not a sponsored post. All these words were written by myself. I do have a referral link if you'd like to sign-up with Azure Standard using my link. Here it is: AFFILIATE LINK
Pin for later!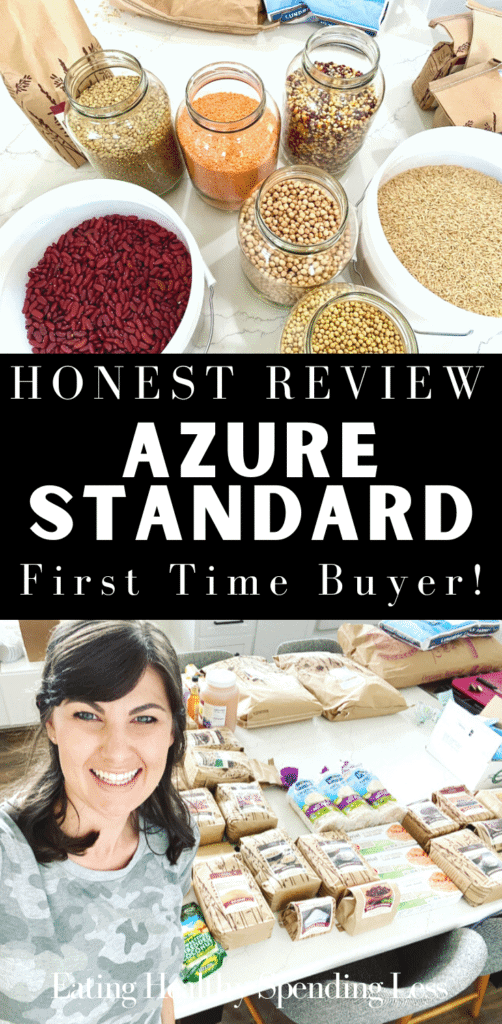 Please Note: The links in this post are affiliate links, and I will receive a small compensation when you use my links to make a purchase. I would appreciate your support, as this website helps support my family.