Frugal Ideas
8 Ways To Eat Healthy On A Budget
Let me show you 8 ways you can eat healthy on a budget. Eating healthy is easy to do these days, and if you're wondering how to eat healthy on a budget, then you've come to the right place.
1. Buy Food In Bulk
Buying food in bulk can save you so much money, even if you're just buying for yourself. It doesn't matter how many people are in your household, you can buy food in bulk. If I want to buy dried pinto beans, I can go to the dried bean section of a store and purchase 1 pound of dried pinto beans for around $1.00. The better option though is to go to a store with a bulk section, and scoop 1 pound of dried pinto beans into a bag, label it with the proper item #, and pay around $.65-$.85 per pound.
For my family, I prefer buying organic grains and legumes. In order to get these items at great prices, I purchase them in bulk. I purchase enough to last us roughly 4-6 months, and that saves my family a lot of money. 1 pound of dried black beans from Sprouts is $3.99 per pound, where on Azure Standard's website, I can purchase that same bean for $1.59 per pound. That's a huge savings for our family of 6.
2. Buy In Season And Readily Available Produce
During the fall months I focus on apples and pears, squash and sweet potatoes. These produce items are at their cheapest prices because there are copious amounts of them. It's very easy to google search in season produce each month to make sure you are purchasing produce at its cheapest price.
Also, purchase cheap produce each month. Produce is readily available to most all of us, so take advantage of these great prices and buy cheap produce every week. But beware, just because you bought the produce doesn't mean you're healthy, you must eat it. Only buy what you need, freeze leftovers or make smoothies, and eat up the produce you purchase.
Cheap Produce Options:
Carrots
Cabbage
Potatoes
Peppers
Bananas
Watermelon
Spinach
3. Buy Frozen Fruits and Vegetables
Buying frozen can definitely be a money saver! For instance, I can buy a bag of fresh green beans for roughly $4-$6 depending on the time of year, or I can buy a bag of frozen green beans for $1-$2. It's a huge money saver to buy certain vegetables frozen instead of fresh. Plus, always look on the bag for "picked at the peak of freshness." This insures that the bag of frozen green beans is full of great nutrients that you don't need to spend a bunch of money on.
Also, lets talk pre-packaged mixed vegetables. Above I have a recipe for Healthy Vegetable Stir Fry using simple store bought ingredients. This recipe makes a lot and costs so much less than getting take-out. Lets not dismiss the advantage you can take in purchasing pre-mixed, pre-washed, pre-chopped vegetables. This is definitely a money saver and one you should take advantage of.
4. Eat Real Whole Food Ingredients, Not Pre-Packaged Convenience Foods
As soon as you enter the middle aisles of the grocery store, your grocery bill will go up. The cheapest sections of the grocery store are definitely on the outskirts. I'm sure you've heard this before, and it's true. Once you enter those middle aisles you have to start paying for packaging, the production of making the product, preservatives (yes you are paying for those in your health and with your wallet), and transportation of the product. I do understand we pay for transportation with all food items, but with pre-packaged items the prices add up.
Whole foods are going to offer you more fiber and nutrients, which is going to keep you fuller longer. In turn you will eat less and save money on groceries.
For more information, check out this article I wrote to give you more inspiration. Cheap Healthy Foods To Integrate Into Your Meal Plan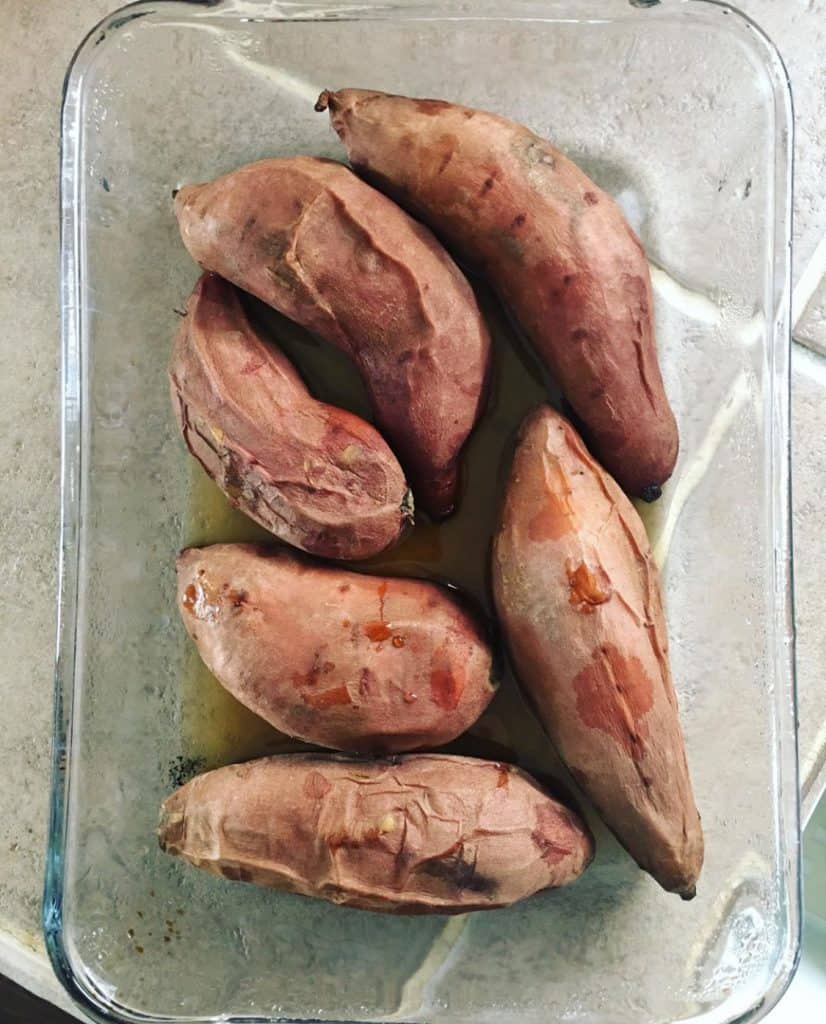 5. Cook Basic Simple Foods At Home
We get so caught up in thinking our meals have to look Pinterest worthy that we forget what we're actually trying to do, eat healthy on a budget. Lets stop and actually enjoy the ingredients we are preparing. It's so simple to bake up a bag of sweet potatoes and serve them with a little salt and cinnamon.
Sometimes at dinner I will just serve a big salad with only 2 toppings. These 2 toppings very, but most often include sliced carrots and cucumbers. We really enjoy sliced pears and raisins or dried cranberries too. Think simple. It's much easier, less stressful, and very nutritious to eat this way.
6. Learn To Make Favorite Foods From Scratch
What items are you constantly buying at the grocery store that costing you a lot of money. These could be granola bars, gummies, fruit leathers, yogurt, applesauce pouches, crackers, frozen meals, etc. Could you try to make at least one of those items from scratch that would help you eat healthy on a budget? Breakdown the cost to see if it would be cheaper to make the item instead of purchasing it already made.
A few items I make are crackers, breakfast bars (instead of Cliff bars), soy yogurt, and bread. These items I don't make all the time at once, but I definitely enjoy making them frequently. Homemade tastes so much better, so take advantage of the savings and make something from scratch. Your wallet and your family will thank you.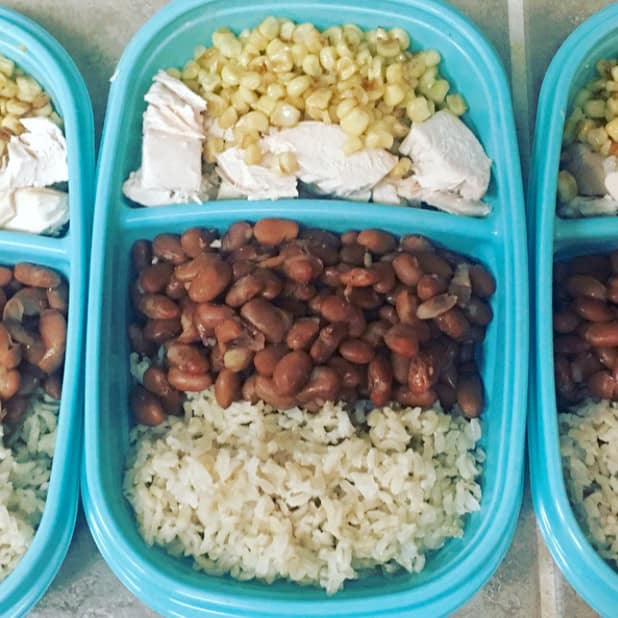 7. Eat More Rice and Beans To Help You Eat Healthy On A Budget
As we all know, rice and beans are cheap. The best part is that rice and beans, when eaten together, create a complete protein. Rice and beans are really good for you and help you eat healthy on a budget! Did you know that people who eat 1 cup of beans per day are able to add 3 years of life expectancy for themselves? I learned that from reading Blue Zones. It's a great book that I highly suggest looking into.
We eat rice and beans every week in many different ways. I created this article Rice and Beans Recipe Collection to give you many ideas on how you can incorporate more rice and beans into your meal plan.
8. Stop Looking On Pinterest For Inspiration If You Can't Afford It!
Many beautiful Pinterest worthy recipes have several ingredients that do not help you eat healthy on a budget. For every ingredient you add to a dish, it is costing you money. Many times I have bought certain ingredients that we never use again, because I only them for that one recipe I saw on Pinterest.
If you want to use Pinterest as a recipe finder, then look up easy or cheap recipes. Another great search topic would be "depression era recipes." You will find many cheap to make recipes that don't require too many ingredients. Another great way to make cheap recipes is by looking up 5 ingredients or less recipes. Just pick any number and I'm sure you'll find something. As always, remember that simple recipes are cheaper and much less stressful to make.
Other Articles You Might Enjoy:
Pin For Later!
Please Note: The links in this post are affiliate links, and I will receive a small compensation when you use my links to make a purchase. I would appreciate your support, as this website helps support my family.