Breakfast
Sourdough Cinnamon Swirl Bread Recipe
This is the easiest sourdough cinnamon swirl bread recipe you will try. Instead of multiple steps, this sourdough recipe can easily be made without much effort.
Many times, sourdough bread recipes have many steps that need to be done, like several stretch and folds. This cinnamon swirl bread recipe only requires you to mix the ingredients the night before, then a few steps the next day and you're done.
Sourdough Starter
Before we can make a loaf of this cinnamon swirl bread recipe we need a sourdough starter. Head on over to my Sourdough Starter Recipe and create a beautiful and bubbly starter first. Sourdough starter is a key ingredient that helps the bread rise before and during the baking process. All you need to make a sourdough starter is flour and water. It's very cheap to make. Just make sure you never use it all. Always reserve 1/4 cup of starter to continue feeding to make more sourdough recipes.
How To Make This Cinnamon Swirl Bread Recipe
The night before, knead together a few simple ingredients, including starter, water, flour, honey, salt, and raisins (optional).
Allow the dough to sit overnight on the counter.
The next morning, take the dough out of the bowl and place on a well floured surface.
Divide the dough in half, this recipe makes 2 loaves of bread, and proceed with your pre-shaping.
Pre-shaping is an easy step of folding the dough to create a round disc. Cover the dough with a towel, and allow it to rest for 20 minutes.
Next, roll out each disc of dough out into a rectangular shape, making sure the dough doesn't stick to the surface.
Spread applesauce all over the dough, then sprinkle with a brown sugar of your choosing, which can include brown sugar, coconut sugar, sucanat, or even cane sugar would work.
Add a generous amount of cinnamon on top.
Roll the dough like a cinnamon roll, then place in your loaf baking pans.
Let the loaves of dough rest for 1 hour.
Preheat your oven to 400 degrees and add a tray of water to the bottom rack. This allows steam to build up and gives the sourdough a wonderful texture.
Bake loaves for 40 minutes, then allow to cool for 10 minutes before taking out of the loaf pans.
Slice and enjoy!
Why Sourdough Bread
Sourdough is a gift to my family. My husband and I were gluten-free for 7-8 years because of a gluten sensitivity, we do not have celiac's disease. Being gluten-free is much easier these days, though wheat products always taste better. Last year I learned that sourdough could be a great option for us.
During the fermentation process of making a sourdough starter, gluten is broken down by up to 90%. Those with gluten sensitivities can often tolerate sourdough with no problems, so my husband and I gave it a try. After a few weeks, we were able to tolerate sourdough bread with no side effects. Sourdough bread is now the only bread we eat. We are still gluten-free in other areas, like with pasta and crackers (unless I make our delicious Sourdough Crackers Using Nut Butter.) For the most part though, sourdough has taken over our families kitchen, especially with this cinnamon swirl bread recipe. However, I still have a huge love of using oats. Oats are naturally gluten-free and very cheap, so you will find copious amounts of oat flour recipes on this website.
The Easiest Sourdough Instructions
Typically when you make sourdough bread the instructions tell you to stretch and fold several times to make the bread extra fluffy. This is a key technique when making my Sourdough Bread Recipe. For this recipe though, I wanted an easy cinnamon swirl bread recipe that could be make with little effort. That is why I created a simple dough recipe that can be make the night before, and simple steps to follow the following morning.
If you rise early enough, you can definitely eat this bread for breakfast. Just note that there is a 20 minute and a 1 hour rising step that you don't want to miss. Sourdough needs time to rise, since this recipe doesn't require the use of dry yeast packets, which would not be good for those of use with gluten sensitivities. We need the sourdough to ferment and break down gluten. This gives the bread its wonderful tangy taste and gut health benefits.
Sourdough Cinnamon Raisin Bread
The easiest sourdough cinnamon swirl bread recipe you will make. It does require a little bit of prep the night before, but the effort is well worth it with this beautiful loaf of bread.
Ingredients
300g

(1 1/4 cup)

sourdough starter

600g

(2 1/2 cups)

water

1000g

(8 cups)

flour

80g

(about 4 Tb)

honey

2

tsp.

salt

1

cup

raisins
Filling
1/2

cup

applesauce

(divided into 1/4 cup per loaf)

1/2

cup

sucanat, coconut sugar, or brown sugar

(divided into 1/4 cup per loaf)

cinnamon powder
Instructions
The night before, make the dough. Measure out all ingredients in a large mixing bowl, then use a wooden spoon to incorporate the ingredients.

Once the dough becomes slightly stiff, stop and empty the bowl onto a clean work surface.

Knead the dough for 3-5 minutes. The dough will be quite sticky, so have a bowl of flour nearby to sprinkle flour onto the dough. The goal is to knead together a dough that is not sticky at all.

Once the dough has come together nicely, place the dough back into the bowl and cover the bowl. I like using 2 layers of clip wrap.

Set the bowl aside for the night. If your house is cold, you can place an oven mitt under the bowl and lay a dish towel over the top.

The next morning, using a bench scraper, scrap the dough out onto a well floured surface. Depending upon the heat in your home, the dough might be a bit stick again, that's okay.

Divide the dough in half. Use a kitchen scale to measure out the dough into equal halves, or just eyeball it.

It's time to do your PRE-SHAPING.

Starting from the North side, grab the dough and fold it into the center. Now take from the South side and fold that end of dough into the center. Now the sides, then the corners, always working from opposite sides.

Make sure the underside is floured, but do not flour the top side, or the pieces of dough will not stick to each other.

The goal now is to create tension on the under side. To do this you pick up the dough and place it on its side and tuck the dough under. Continue this process of tucking the dough all the way around. Now place the dough tucked side down, with the nice smooth side facing up.

Use your hands to turn the dough ball in a circle cupping the dough with your hands and tucking any loose ends under.

Repeat the process with the second half of the dough.

Place the damp towel over the 2 dough balls and let them rest for 20 minutes.

Once the timer goes off, take a dough ball, flip it upside down, and place of a well floured surface.

Sprinkle flour on top of the dough and flour a rolling pin.

Carefully roll the dough out in a rectangular shape. The dough is pretty pliable and can easily be manipulated into the proper shape. Make sure the dough does not stick underneath. Add flour where you need to, and constancy rub the flour into the dough.

The dough should be about 1/2 inch thick, and about the width of your loaf pan.

Spread 1/4 cup applesauce evenly on the top surface of your dough.

Sprinkle with 1/4 cup brown sugar of your choice.

Sprinkle the top with cinnamon, as much as you'd like.

Starting on the shorter end, carefully roll your bread like a cinnamon roll.

Place your loaf of bread in your desired loaf pan. If using a non-stick pan or glass pan, grease it first or place a piece of parchment paper along the sides and bottom of the pan.

Repeat with the second dough ball.

Once both pans are filled with cinnamon swirl loaves, place a towel over the top and let them rest for 1 hour. Do not shorten or skip this step, or you will have tiny loaves.

While the loaves are resting, preheat your oven to 400 degrees. Also, put a 9X13 pan filled with water in the oven. Do not use a glass dish!

If your loaves split at the top, you can skip this step. If you have nice smooth loaves with no cracking on top, then take a sharp knife, lame, or x-acto knife, dip in flour, then run the knife over the dough in a diagonal line to the bread. I make a top, middle, and bottom slit into the dough. This allows steam to escape during the baking process.

After the 1 hour is up, place both loaves in the oven. Bake for 10 minutes.

Lower the temperature to 375 degrees and bake an additional 30 minutes.

Pull loaves out of the oven and allow them to cool for 10 minutes before removing from the loaf pan.

Once completely cooled, store bread in bread bags for up to 4 days on the counter. Sourdough bread can be stored in the refrigerator, but it will harden and dry out. `
If You Liked This Recipe, You Might Also Enjoy:
Pin For Later!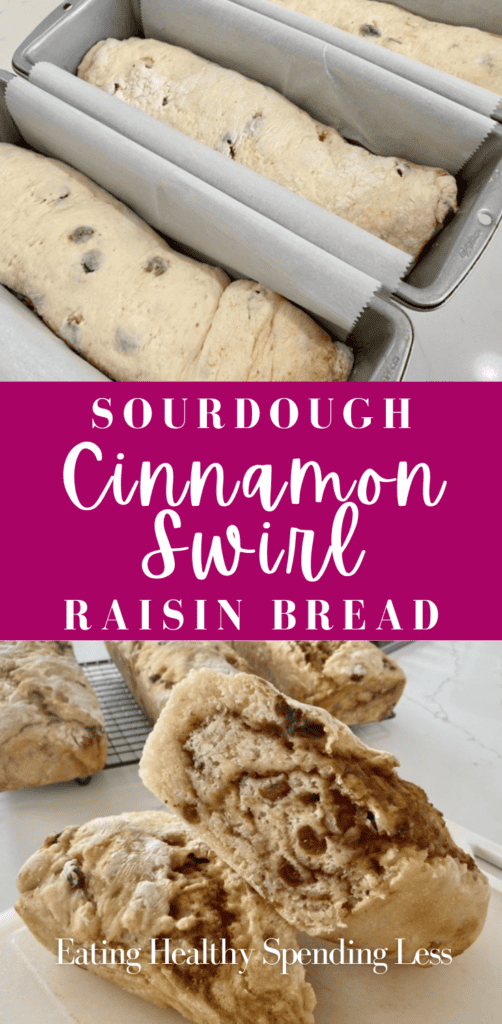 Please Note: The links in this post are affiliate links, and I will receive a small compensation when you use my links to make a purchase. I would appreciate your support, as this website helps support my family.