Main Dishes
Enchilada Filling Using Red Lentil Recipe
This enchilada filling using this red lentil recipe is just delicious! It's an easy combination of red lentils, salsa, and water. The flavor is outrageously good and the red lentils disintegrate into a creamy filling.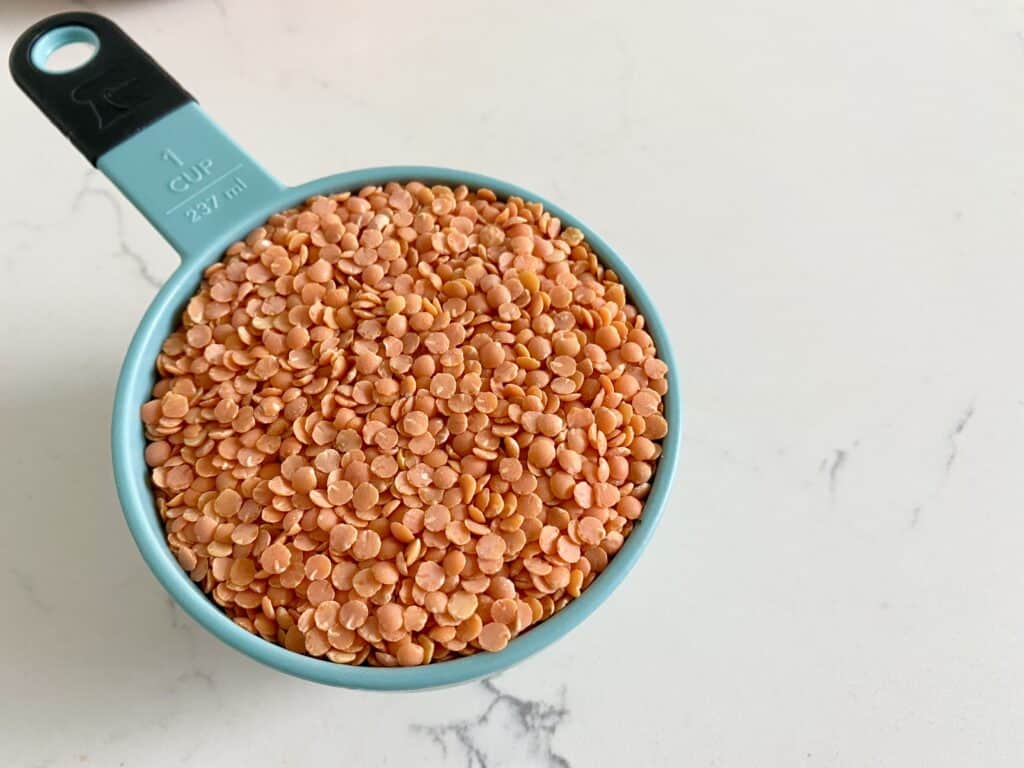 Red Lentil Nutrition
Red lentils are a great meat substitute because they pack a protein punch to your meal. In 3/4 cup cooked red lentils you get 13 grams of protein. That's a great source of plant based protein, and you'll also get 9 grams of fiber!
Did you know meat contains no fiber? Eating fiber rich foods that also have a protein punch is like the best of both worlds.
Red lentils are also high in iron, zinc, selenium, and vitamin B1. These are great nutrients, and definitely beneficial ones needed to balance out your diet. You will for sure want to make this red lentil recipe.
Where Can I Purchase Red Lentils?
Red lentils can be purchased at most major retailers. I personally like to buy red lentils in bulk through Azure Standard. Azure is a co-op company that sells a multitude of food items at amazing prices, and they carry organic grains and beans at unbeatable prices! Definitely check them out so you too can make this delicious red lentil recipe.
Also, if you have Walmart, Winco, Albertsons/Safeway, and quite possibly Target, you should be able to purchase them there as well.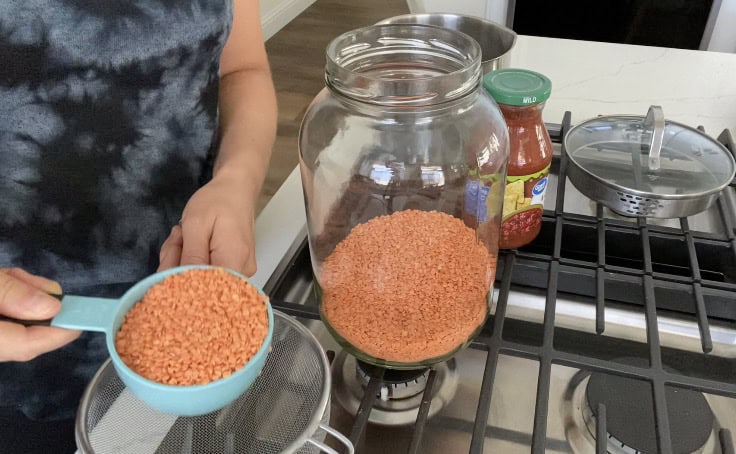 How To Make Red Lentil Enchilada Filling
It only takes 3 ingredients to make this red lentil recipe:
First, you need 1 cup of red lentils, rinsed and added to a medium size saucepan.
Next, add 1 1/2 cup salsa to the lentils.
Last, add 2 cups water to the lentils.
Cover the pan with a lid and bring the mixture to a boil.
Lower the heat and cook for 15-20 minutes, or until the lentils are soft.
Other Ways To Use This Red Lentil Recipe
This salsa red lentils would be a great taco meat substitute, and perfect in taco soup. You could even make the enchiladas into a casserole by leaving the tortillas flat and using them like lasagna noodles. Whatever enchilada recipe you use, just replace the filling with this recipe.
Another great idea would be to fill zucchini boats with this mixture and top with enchilada sauce and cheese. The possibilities are endless, so have fun making this quick and easy recipe.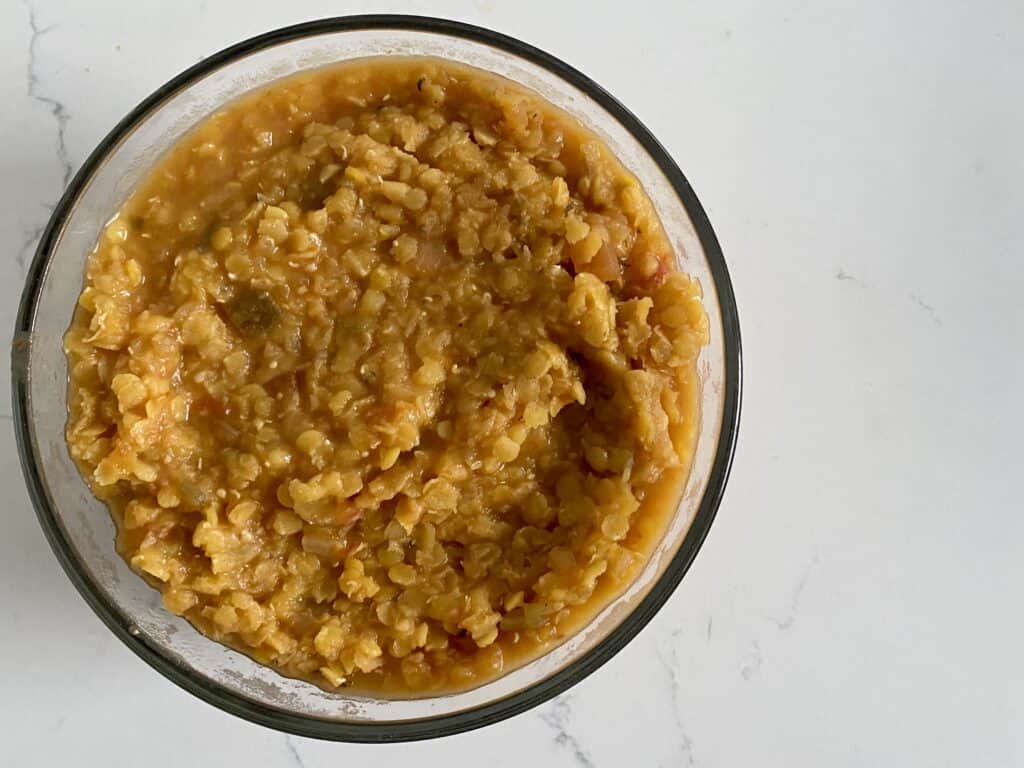 Can I Use Any Lentils In This Recipe?
No. Red lentils versus brown or green lentils are very different. Any red lentil recipe that you choose to make is going to have different directions than brown or green lentils because the cooking methods are different. Brown and green lentils are cooked like pasta. When you cook pasta, do you measure out the water exactly? I know I don't. That's how you cook brown and green lentils, cook like pasta, then drain the water off. With red lentils, you cook them like rice. Measure out a precise amount of liquid, and your red lentils absorb all the the liquid.
Enchilada Filling Using Red Lentils
This 3 ingredient red lentil mixture is easy to make and tastes flavorful and delicious. Add the filling to your favorite enchiladas, in tacos, in casseroles, inside zucchini boats, and just eat with some chips.
Ingredients
1

cup

red lentils

1 1/2

cups

your favorite salsa

2

cups

water
Instructions
Rinse lentils in a mesh colander to remove any dust or debris.

Put lentils in a medium or large saucepan along with salsa and water.

Cover with a lid and bring the mixture to a boil.

Once it starts boiling, lower the temperature to low and simmer for 15-20 minutes, or until red lentils are soft.

This red lentil mixture can be used to make your best enchilada recipe, or you can use it in tacos, casseroles, zucchini boats, nachos, etc.

If making enchiladas, add between 3 and 4 tablespoons of this lentil mixture to a warmed corn or flour tortilla. Make your enchilada recipe per your usual way. This lentil mixture has a great flavor and is creamy. With enchilada sauce and some cheese or cashew cream sauce, these enchiladas will taste amazing.
If You Enjoyed This Recipe, You Might Like:
Pin For Later!
Please Note: The links in this post are affiliate links, and I will receive a small compensation when you use my links to make a purchase. I would appreciate your support, as this website helps support my family.