Budget
Rice and Beans Recipe Collection
Rice and Beans Recipe Collection: How to enjoy eating rice and beans several times per week.
Rice and beans, beans and rice the famous words of Dave Ramsey. That is if you are trying to get out of debt or become financially free, then the grocery budget needs to reflect that by eating cheaper foods. Today you are going to find a wonderful rice and beans recipe collection.
We all know that rice and beans are cheap! That is why they have their own expression, when people say "I am on a rice and beans budget." However, we also know that rice and beans can be boring and mundane and tiring to constantly eat. So how can we break this cycle of wanting to eat cheap but not knowing how to eat cheap? We figure out how to like eating rice and beans!
There are so many different varieties of rice and beans, you've probably never heard of most of them. The best way to learn about them is to head to your grocery store and look in the bulk section. This is where you can be inspired to cook different foods for the same cheap cost. The same meal of white rice and pinto beans is gone! It's time to liven up that menu plan and enjoy all the different varieties that God gave us to eat.
Health Benefits of Eating Rice and Beans Together
A fascinating fact about rice and beans is they benefit your body even more so when eaten together! According to Marie Dannie from livingstrong.com she says:
"One of the benefits of eating beans and rice together is that they contain all of the essential amino acids present in protein. While beans and rice, individually, are low in certain types of essential amino acids, each offers what the other lacks."

livingstrong.com
Isn't that cool? I love the science around food and how food affects our bodies. It's just like spinach. Everyone grabs spinach first because it's easy, pre-washed, ready to eat. However, beet greens, kale, bok choy…. these are also great greens that should be in our diet as well. If we get stuck on spinach, we miss the opportunity to enjoy the vitamins and minerals that other greens have to offer.
One other thing I want to discuss briefly is the benefit of eating ORGANIC grains and legumes. This of course is a personal choice, but recently I was told about the pesticide use of Round-Up on grains and legumes sprayed on these foods prior to harvest. It really got under my skin that the healthiest of foods we eat the most often, actually could be harming our bodies. So, I have recently made the switch to organic grains and beans. It actually doesn't cost too much more, and it's something that gives me peace of mind.
Grains and legumes are God given foods that help sustain us, and the last thing we need are harmful chemicals sprayed on them… just my 2 cents. Lets move on….
How To Cook Rice and Beans
Today you are going to see a huge rice and beans recipe collection. There are several ways to cook rice and beans, however, these are my favorites!
Beans can also be cooked in the slow cooker or on the stove, however, the instant pot is so fast! It's the only way I cook beans now!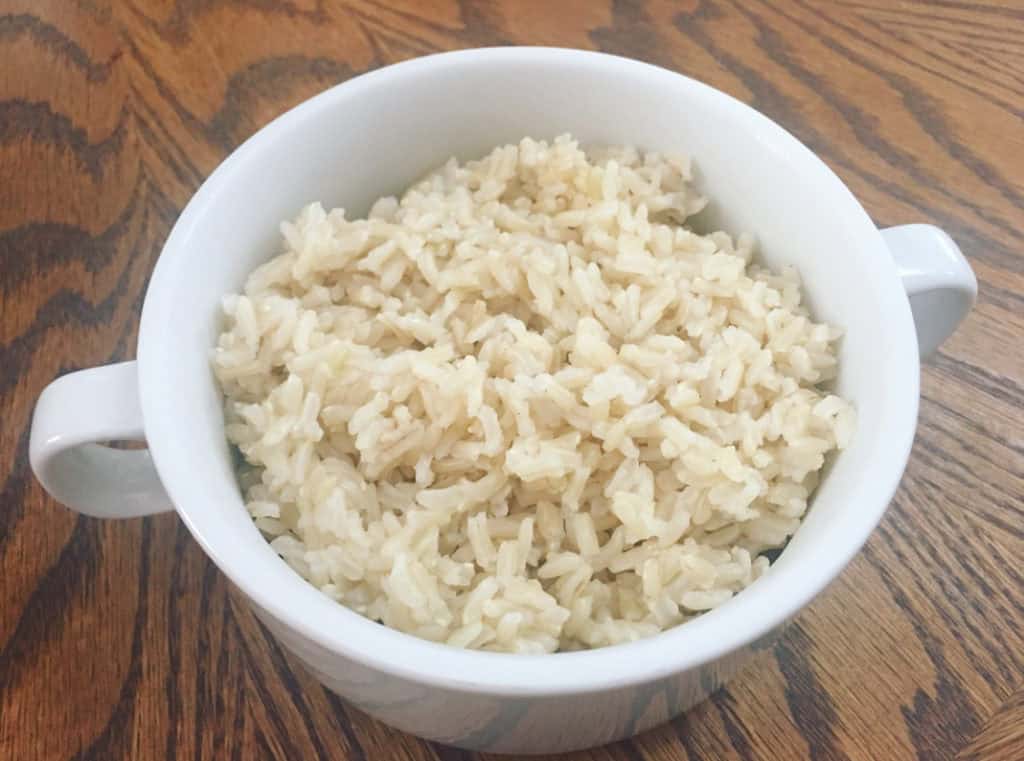 Rice and Beans Meal Ideas
What you've all been waiting for! Recipe ideas! I am so excited to give you a list of meal options. We eat rice and beans probably 3-4 times per week in our home, in all of these different and fun ways. Let me know if the comments your favorites, enjoy!
Breakfast Recipes
Lets start with breakfast first! This does not involve beans, but it does most certainly involve rice! And since my family eats this so very often, I just have to share it with you.
Warm rice cereal is a classic. We typically eat brown rice, but occasionally we enjoy white jasmine rice. Any leftover rice is generally used for breakfast to make this sweet and delicious meal.
Main Dish Recipes
This instant pot vegan black bean soup is just so good and very simple to make! You can definitely serve this with any kind of rice, but for today we changed it up and made these delicious oatmeal cornbread muffins! Recipe here.
Plant-based eat loaf is seriously delicious! It uses white beans and oats, with veggies, to create a show stopper! Serve this with a side of rice and your family will be very pleased!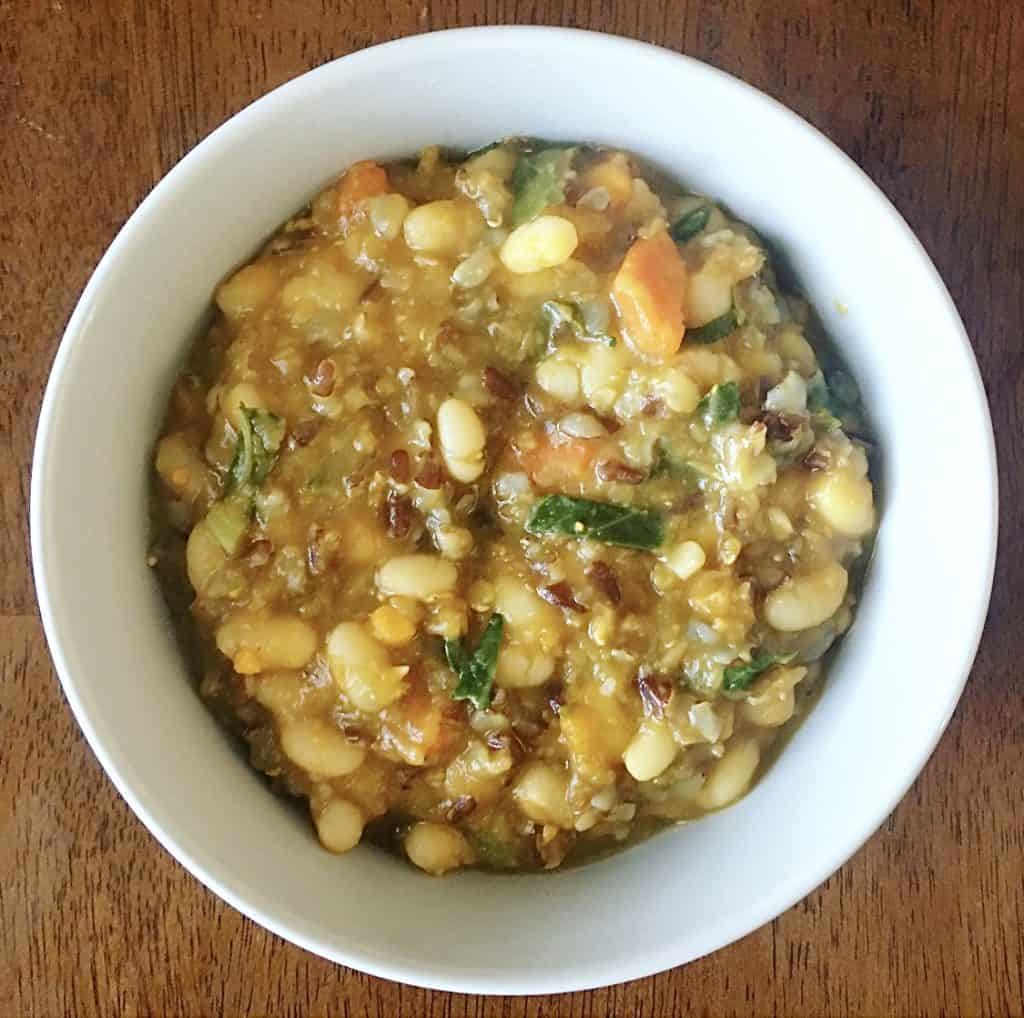 One of my favorite soups by far! White bean and red rice soup is different, chowder like, and cheap to make. Enjoy the versatility of this recipe and the burst of flavors you will taste.
Red beans and rice is not a typical dish you hear of in California, like you do in the south. These red beans are smoky and so very filling!
Tip: any time I'm heating up leftovers, I typically take a pile of spinach and add it to the dish just before heating.
These are THE BEST plant based burgers ever!!!! I have been playing around with these burger patties and the consistency is perfection. I like to freeze these are pop them in the toaster a few times. Man, what a quick and delicious lunch! These are definitely a must try!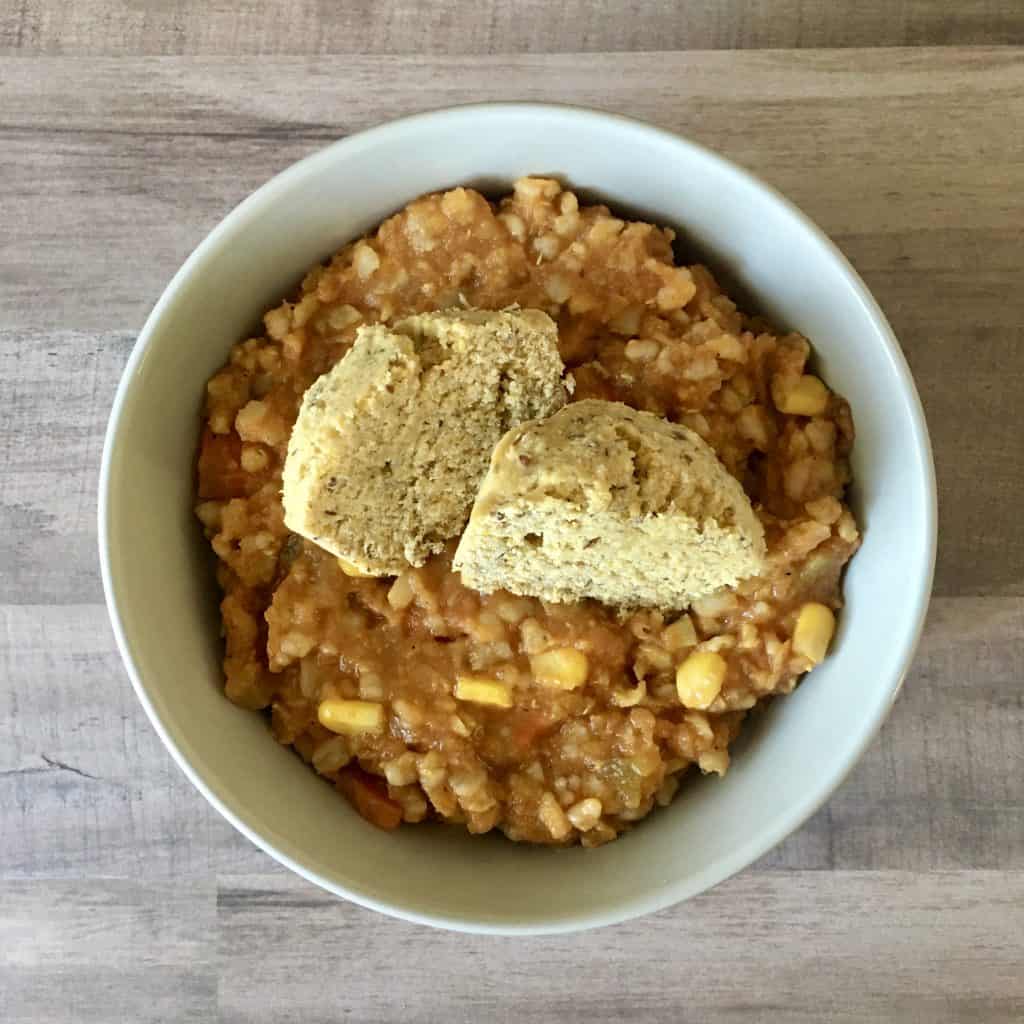 Here's a recipe that's a little different! Red lentils are amazing. They totally disintegrate into this soup, leaving the soup more of a chowder consistency. My family loves it with my oatmeal cornbread muffins.
No Queso Quesadillas
One of my families favorite quick fix meals are these no queso quesadillas. There is absolutely no cheese and dairy-free "cheese sauce" inside. It's a mixture of rice and beans, and a few other ingredients to make them super tasty!
Here's the recipe:
1 can refried beans (I buy fat free cans with no lard)
1 medium sweet potato, cooked
2 cups brown rice, cooked (quinoa works too)
1 cup frozen corn, thawed
chopped olives (a very important ingredient according to my kids)
In a bowl, mix all ingredients together. Spread the mixture onto your favorite tortillas and cook as usual. I do not spread any butter or oil on the tortillas, it's not necessary.
Brown Rice Pasta and Lentil Pasta Sauce
Here's a recipe you might not expect to be "rice and beans," but it is!!! Here I have some brown rice elbow pasta from Walmart. I think you can buy brown rice pasta in the bulk section at Winco as well!
Now comes the sauce. I like to use store bought pasta sauce. It's easy, cheap, and makes for a super quick meal to put together. First, lets cook the red lentils. These can be done on the stove top as well.
Instant Pot Red Lentils:
1 cup red lentils, rinsed
2 cups water
In your Instant Pot, combine the 2 ingredients together. Put the setting on MANUAL and cook for 4 minutes. Allow the instant pot to naturally release, or give it at least 10 minutes before you quick release. The lentils melt down into a mush.
Use at least half the mush, and add it to your favorite pasta sauce. Because I don't eat oil, I use Trader Joe's pizza sauce, and add a teaspoon pure maple syrup since it can be a little tart.
Burrito Bowls
I know burrito bowls are a staple to so many frugal people, but lets think outside the box a little bit. Burrito bowls do not need to include expensive cheeses or sour cream.
We like to add roasted sweet potatoes and some sort of greens to our bowls. If you don't like steamed spinach, then add lettuce to bulk up your bowl. Then, top it with your favorite salsas and seasonings. Here's my recipe for salsa, and it makes a big batch! Our favorite store bought salsas come from Trader Joe's. They are about $2.00 each and our favorite is the Salsa Verde. Our favorite seasoning is Trader's Joe's Chile and Lime.
Dessert
If you have leftover brown rice in the fridge, you will love these brown rice pudding muffins. I know these can be made without eggs, but I haven't tried it yet.
These are my families favorite ways to eat rice and beans. We eat rice and beans several times a week and it helps keep our grocery budget low. My kids love taking rice and beans burritos to school in their lunches and we make nachos often as well.
Rice and beans are really good! They are filling, healthy, and cheap! Eat them all the time and enjoy!
Please Note: The links in this post are affiliate links, and I will receive a small compensation when you use my links to make a purchase. I would appreciate your support, as this website helps support my family.