Main Dishes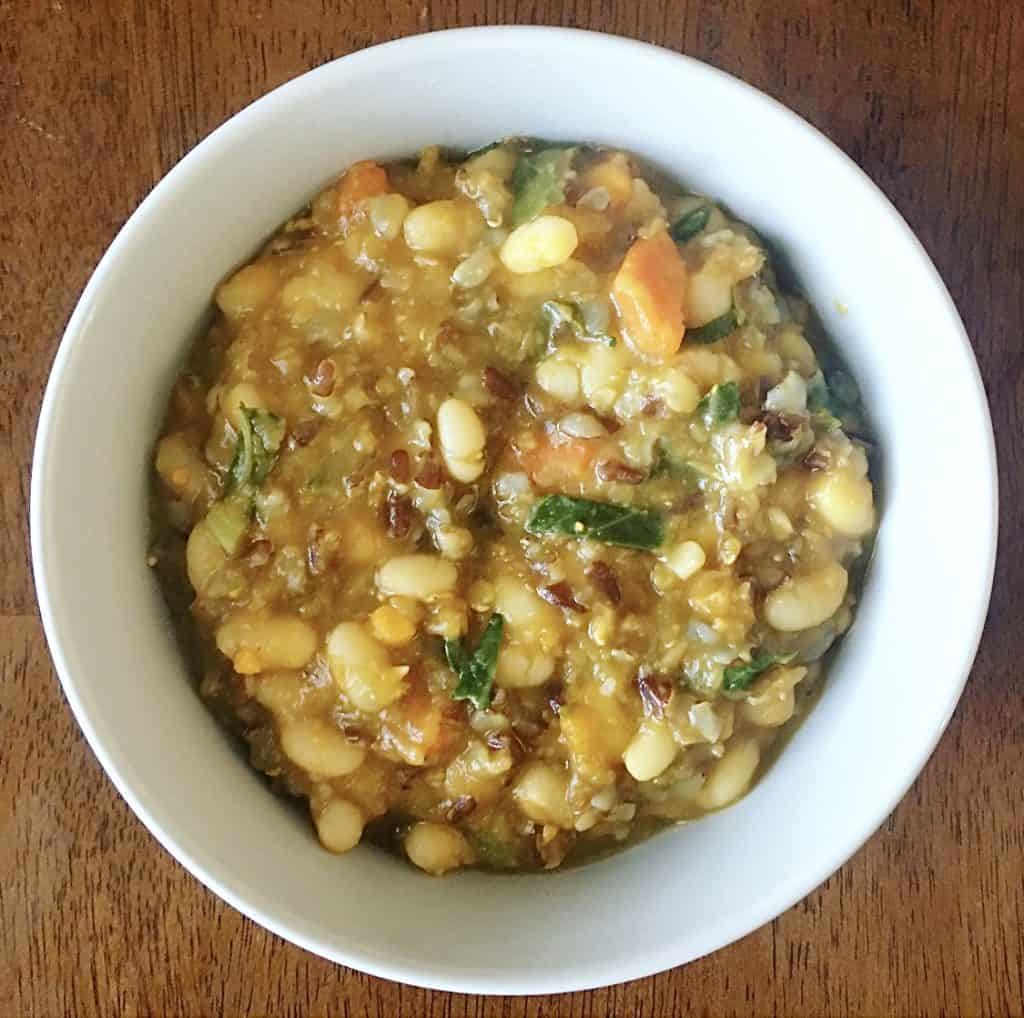 White Bean and Red Rice Soup (Plant-Based)
This is such a frugal soup to make! I came up with the recipe yesterday. I knew I wanted to make a white beans soup, but then I saw the red rice I had bought from Whole Foods a few weeks ago. I had a light bulb moment, and I thought that would make a great addition to this soup! Once the soup was in the making, I realized red lentils would make the soup have a chowder like consistency, and this soup was made! It's thick, hearty, flavorful, and one of my favorites!
Red rice can be tricky to find (can be found at Whole Foods, Sprouts, and Winco), so if you have trouble… no worries! A great alternative would be brown rice or a wild rice blend.
A great compliment to this soup are some biscuits! I made these biscuits and what a feast we had! The recipe is super easy to follow, so enjoy.
Note: Last thing I will add is, we try to eat greens everywhere possible in our diet, so when serving soup in general, I typically steam chopped kale or add chopped raw spinach to the bottom of the bowls, then ladle soup on top. It's a beautiful presentation, and it adds copious amounts of vitamins and minerals to our meals.
White Bean and Red Rice Soup
Ingredients
1/2

onion, chopped

2

celery stalks, chopped

3

carrots, chopped

3

garlic cloves, minced

1

medium sweet potato, diced into cubes

(leave the skin on)

1

pound

dry navy beans

1

cup

red rice

1

cup

split red lentils

3-4

cartons

veggie broth

my favorite is Pacific brand

1-2

cups

Swiss chard, chopped into small pieces

spinach or any other green works too
Instructions
First, sort and rinse beans. Then, soak beans over night for best results (water should cover the beans by 4 inches). If you are in a time crunch, sort, rinse, and place beans in a pot of water. Bring to a boil, then shut-off heat and let sit for 1 hour. Then proceed.

Preheat a large soup pot over medium heat, add onions, celery, carrots, and garlic to the pot. If onions stick, add a little water or veggie broth (no oil or butter needed).

Once onions are translucent, add sweet potato, soaked beans, rice, lentils and 3 cartons of broth. Bring to a boil, then cover the pot and lower heat to medium/low.

Cook for 1 - 1 1/2 hours, or until beans are soft. While it's cooking, if you think it needs more liquid, add more. You will not hurt anything by lifting up the lid to check.

Once beans are cooked through, add salt and pepper and chopped greens. Adjust the seasonings if need be. If you think it needs more flavor, add 2 tsp. garlic and onion powder.

If you are serving the soup later, you may need to add a cup of water or broth once you decide to reheat it. The lentils make this a very thick soup.
Please Note: The links in this post are affiliate links, and I will receive a small compensation when you use my links to make a purchase. I would appreciate your support, as this website helps support my family.