$5 or Less Recipes
No Bake Stovetop Bread Loaf Steamed
Looking for a simple bread recipe that you can make on the stove? This is the perfect steamed bread recipe that only requires 4 ingredients.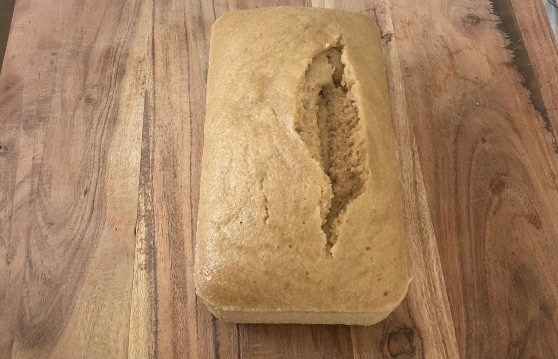 IS STOVETOP BREAD EASIER TO MAKE?
There is simplicity to steamed bread that I don't feel when making baked bread. Steamed bread requires few ingredients, less prep, less cooking time, and is a smoother process. I like making steamed bread for my family because it's effortless for me.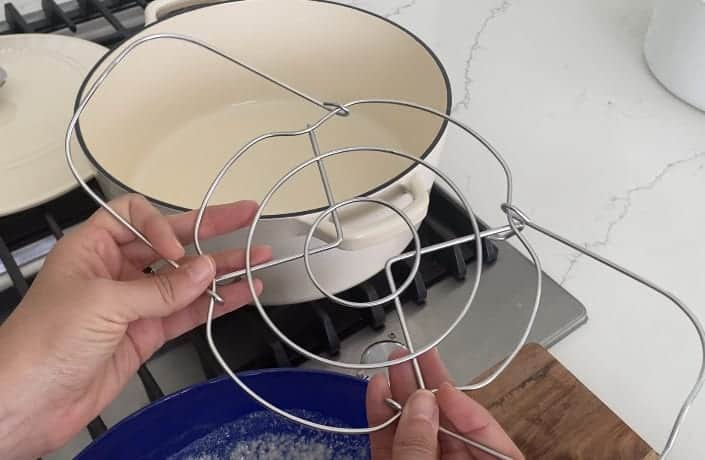 IS STEAMED BREAD HEALTHIER THAN BAKED BREAD?
Steamed bread can be healthier than baked bread depending on the recipes. Using few ingredients in cooking often means a recipe will be healthier because of not adding many processed ingredients.
What makes this bread and any bread recipe healthy is the ingredients and how they are sourced. I am now choosing to purchase organic hard white wheat berries and grinding my own flour. The process might seem dounting, but it's actually very easy! The whole process adds an extra minute to your prep time and the health benefits of freshly milled flour make this bread so much healthier for your overall health.
HOW TO MAKE STEAMED BREAD
The difference between steamed bread and baked bread really comes down to the way the bread is baked. The steaming process creates a much more moist and soft bread. The bread is literally crustless, which my kids absolutely love. The process of making steamed bread is quite easy too.
Add all 4 ingredients to a mixing bowl.
Whisk the ingredients together and pour into a greased loaf pan.
Add 2 cups of water to a wide dutch oven and place a trivet at the bottom.
Lower the bread pan into the dutch oven and cover with a lid.
When you hear the water bubbling, set a time for 20-25 minutes.
SIMPLE VARIATIONS TO STEAMED BREAD
*Instead of using apple juice, you could use a simple syrup to sweeten the bread. To make simple syrup it's an easy method of mixing equal parts 1 cup sugar and 1 cup water in a saucepan on the stove until the sugar has dissolved.
*If you like all the ingredients, but you want the bread to be sweeter, add 1/4 cup any dry sweetener to the recipe.
*Adding 1 tsp. vanilla with 1/4 cup of cane sugar makes this bread taste like a sugar cookie.
*Along with the apple juice, you could easily add 1 tsp. cinnamon and 1/4 tsp. nutmeg to give it a fall flavor.
*Add 1/4 cup raisins or other fruit to the bread.
*Using another flavor of juice like orange juice with some added sweetener and craisins would make a tasty bread for breakfast.
OTHER ARTICLES YOU MIGHT LIKE: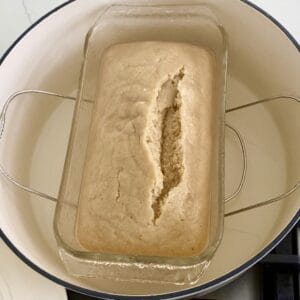 Steamed Bread Loaf
Bread can easily be steamed on the stove instead of baked in the oven. Bread steamed is much softer, has no crust, and is much more moist. I highly recommend steamed bread, especially if you need bread really fast!
Ingredients
2

cups

flour

2 1/2 cups flour for freshly milled flour

2

tsp.

baking powder

1 1/3

cup

apple juice

or simple syrup (equal parts sugar and water)

2/3

cup

milk

any kind
Instructions
Whisk all 4 ingredients together. Pour into a greased bread pan.

Fill a dutch oven with 2 cups of water. Cover with a lid and turn on your burner to medium.

Heat the dutch oven for a few minutes before adding the bread.

Place the bread pan on a trivet (I use my instant pot trivet) and lower it into the warm dutch oven. Cover with a lid.

When you hear the water bubbling, start a timer for 20-25 minutes. Leave the burner on medium heat.

You will see steam escaping and that's ok.

When the timer goes off, take the lid off and check to see if the bread is done.

Use a toothpick to see if it comes out clean, if it does not put the lid back on a let the bread continue to cook for 5-10 more minutes.

You will not overcook the bread! The steam is a great way to keep the bread moist, so please do not worry.

Once the toothpick comes out clean, remove the bread from the dutch oven carefully with oven mitts. Let the bread cool for 10 minutes before removing from the bread pan.

This bread is best stored in the fridge or it will mold in just a few days on the counter.

This is a soft, cake like bread. It's perfect for sandwiches, toast, or even for dessert.
Please Note: The links in this post are affiliate links, and I will receive a small compensation when you use my links to make a purchase. I would appreciate your support, as this website helps support my family.