Breakfast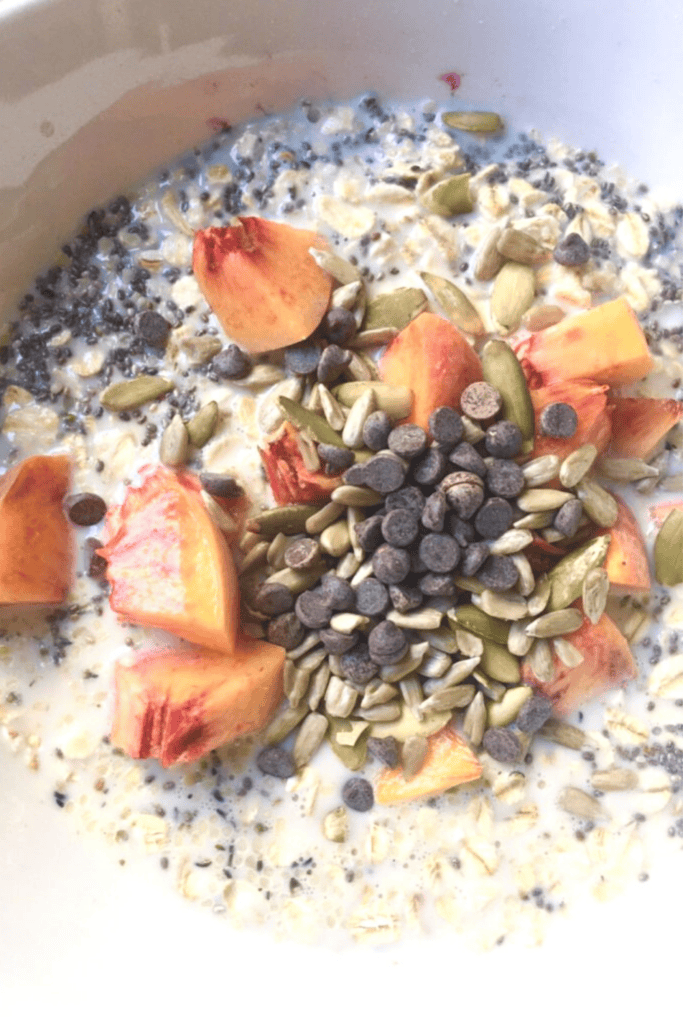 Raw Oatmeal
Start your day with a fiber fueled breakfast of raw oatmeal. This is a flavor packed bowl of fruit, seeds, raw oats and filled with protein. You will feel fueled and ready for a busy day.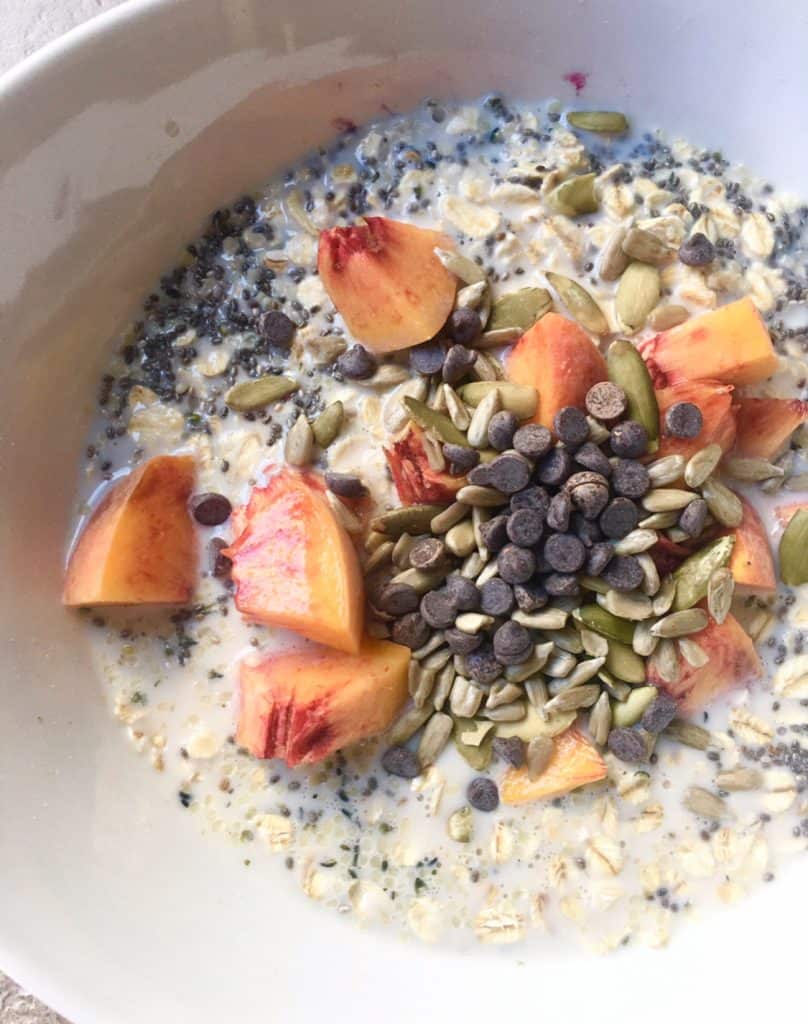 Raw oatmeal bowls are our favorite breakfast to eat every day 6 days per week. On Saturdays, we like to make oatmeal pancakes or waffles, but raw oatmeal bowls are my favorite.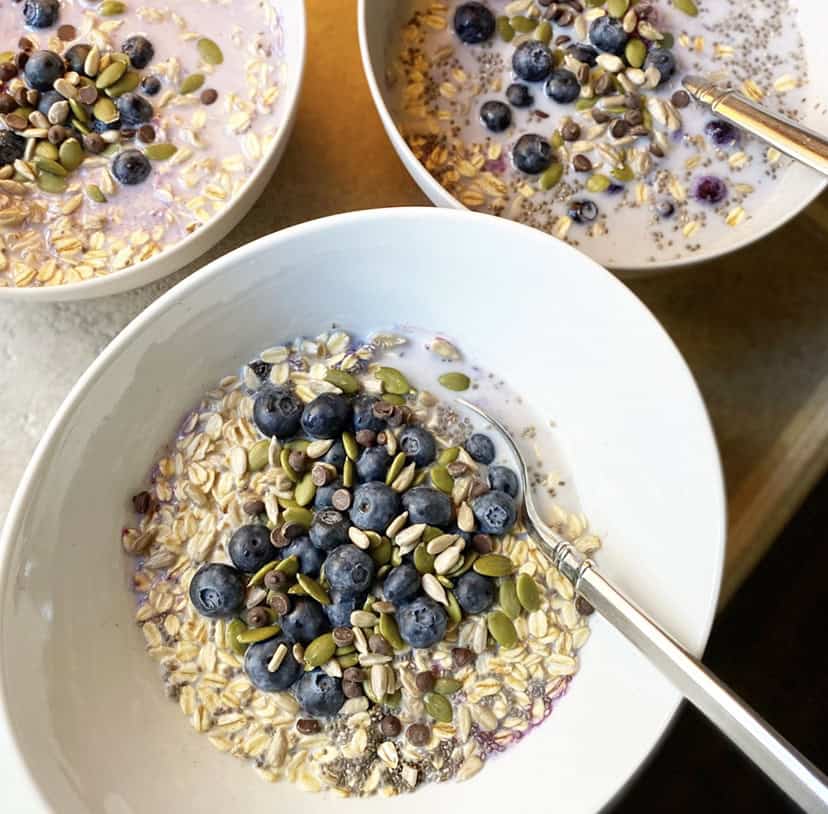 My 4 kids also enjoy eating raw oatmeal with me. It's so easy to put together that our oldest daughter often times makes this for this kid's breakfast before I get out to the kitchen. It's nice having such an easy breakfast that she can make them.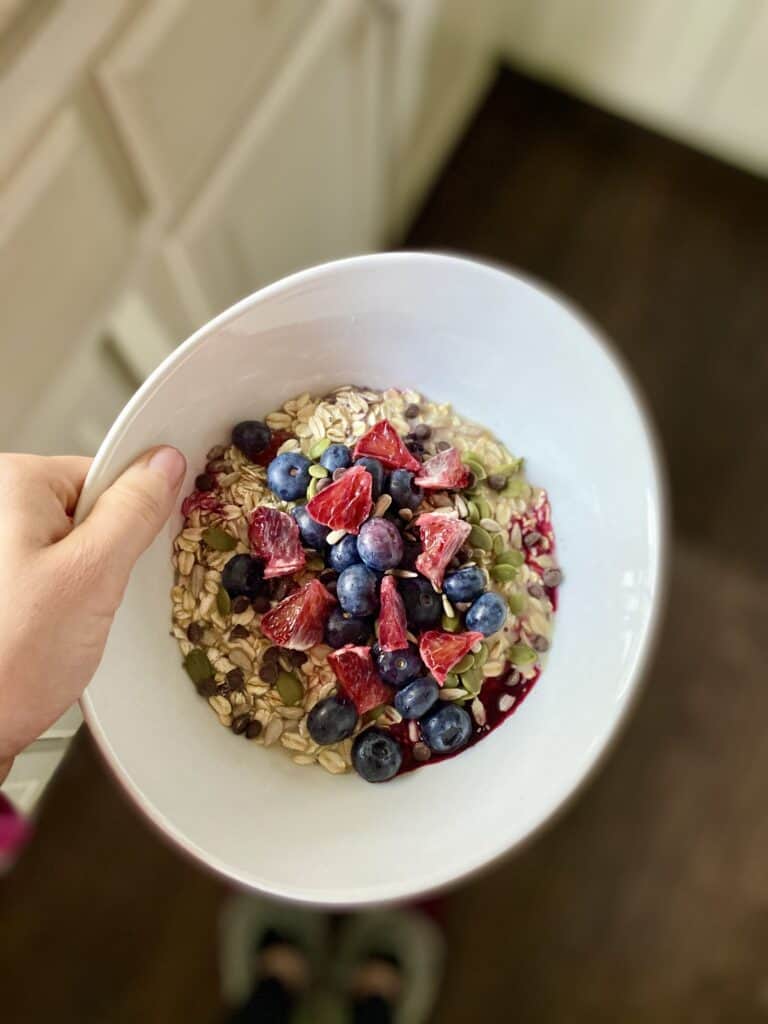 How To Make A Bowl of Raw Oatmeal
Fill your bowl with 1 cup of frozen fruit and microwave for 2 minutes. (If you don't like using the microwave, you could always thaw them out the night before in the refrigerator or heat on the stove.)
Pour 3/4 cup of raw old-fashioned oats over the warm fruit.
Add 1 Tbsp. flax seed meal or chia seeds on top.
Pour milk over the top. Just enough to cover the oats and seeds.
Top with fresh fruit, nuts, seeds, mini-chocolate chips, etc.
Allow the oats to absorb the milk for about 10 minutes before eating. It's SO GOOD!
Why We Buy Organic Oats, Not Gluten-Free Oats
Oats are often grown near wheat patches. When the wind stirs up, there can be cross contamination of wheat particles found on oats (or groats). There is where the cross contamination comes from. Oats do not have gluten in them, only wheat berries do. For this reason, if you have celiacs disease, you should make sure to buy certified gluten-free oats, which have been grown far away from wheat patches.
Because we simply have gluten sensitivities, but not celiacs, we are able to tolerate regular oats. I do believe in the importance of organic oats. Organic oats are not sprayed with pesticides containing glyphosates. These glyphosates, over time, cause trauma to the gut. Since we eat our weight in oats each month, 25 pounds to be exact, we stay away from glyphosates as much as possible.
Where We Buy Organic Oats
Check out my video and blog post explaining what we bulk buy each month. Organic oats is one of the items we purchase.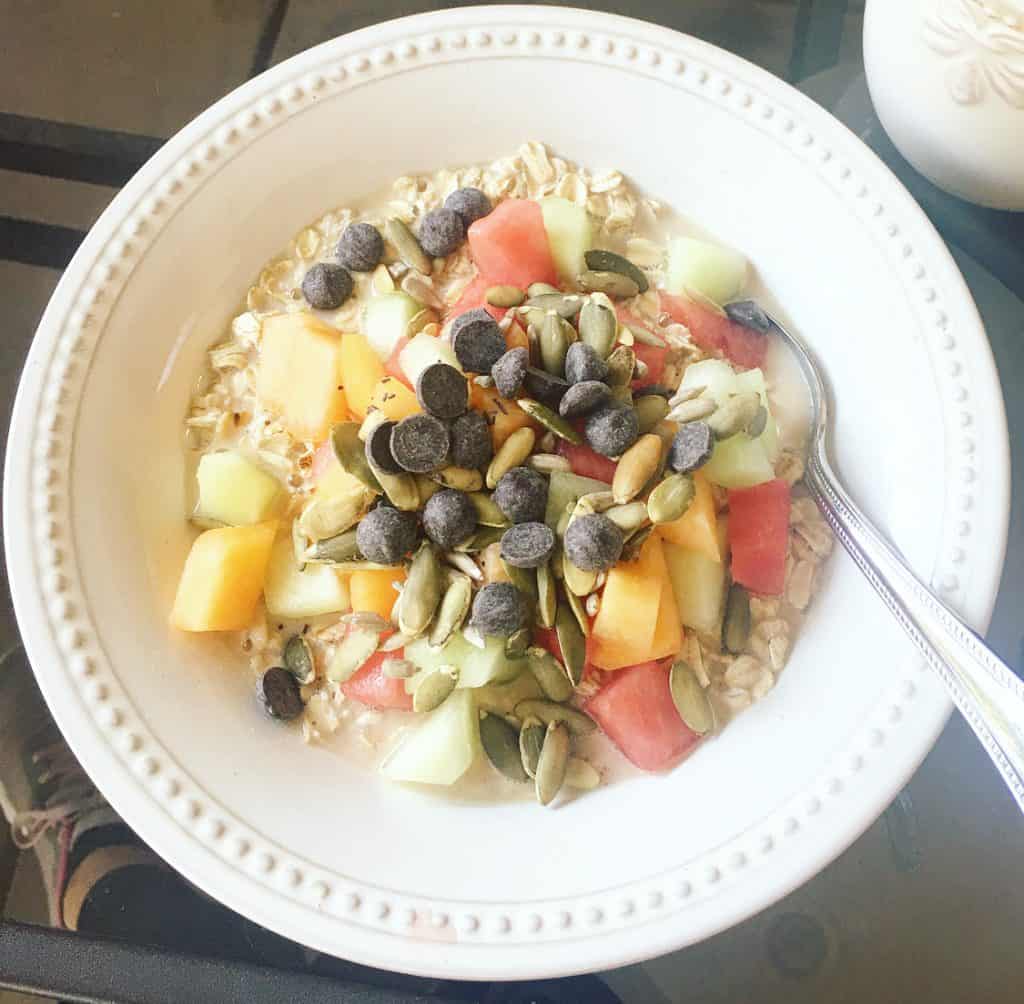 Other Breakfast Recipes You Might Enjoy: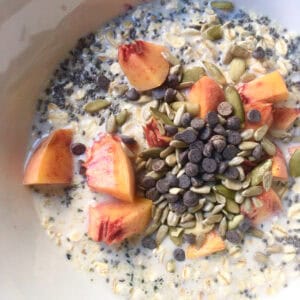 Raw Oatmeal
Ingredients
1

cup

frozen fruit: blueberries, cherries, triple berries, and/or mango

3/4

cup

raw old fashioned oats

1

Tbsp.

flaxseed meal, chia seeds, and/or hemp seeds

1

cup

milk of any kind

garnish with fresh fruit

sprinkle raw pumpkin and sunflower seeds

sprinkle with chocolate chips

optional
Instructions
In a microwave safe bowl, pour 1 cup of frozen fruit into the bowl. Microwave for 2 minutes. If you don't want to microwave, thaw fruit the night before.

Take fruit out of the microwave and add RAW oats on top of fruit.

Next, add flaxseed meal, chia seeds, and/or hemp seeds.

Pour your desired amount of milk over the top. I like to barely cover the oats.

Top with a little fresh fruit of your choice. Grapes cut in half are my favorite!

Sprinkle some raw pumpkin seeds, sunflower seeds, and chocolate chips on top.

Let the oat bowl sit for 3-5 minutes before eating. This gives the oats a chance to soften and absorb some milk. Enjoy!
Pin For Later!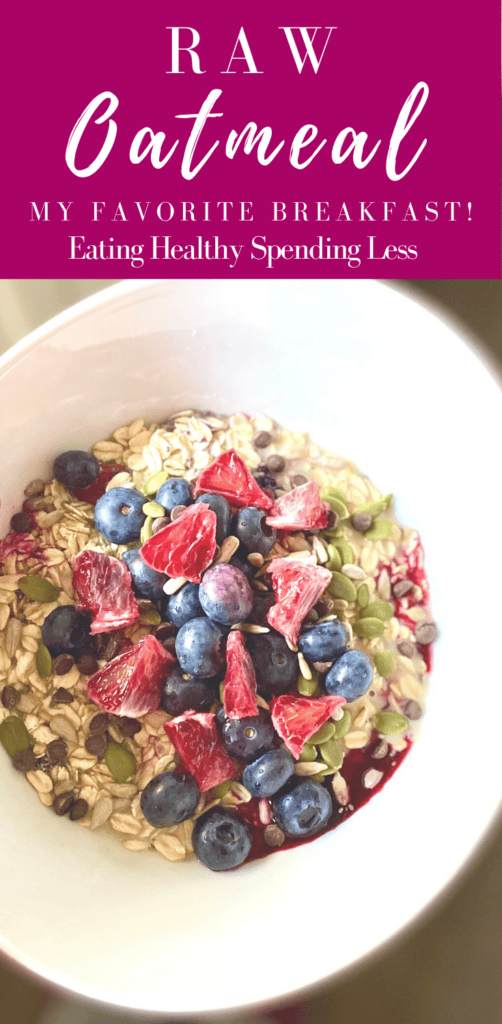 Please Note: The links in this post are affiliate links, and I will receive a small compensation when you use my links to make a purchase. I would appreciate your support, as this website helps support my family.