Main Dishes
Potato Tacos
Potato tacos are one of the cheapest and most delicious quick fix meals you can make. We enjoy eating potato tacos with fresh salsa and creamy guacamole.
Probably everyone in my family would tell you that our favorite food is tacos! It's a serious obsession of ours. Since going plant-based though, that kind of changed things. Well, my husband and I were reminiscing over a favorite Mexican restaurant of ours in Fort Worth, TX and they always put chopped potatoes in with the meat. So we thought it would be good to try making potato tacos, and they're a huge hit!
The potatoes really are the "meat" of these tacos, and have AMAZING taco flavor. We love these potato tacos so much, we could eat them weekly and never grow tired of them.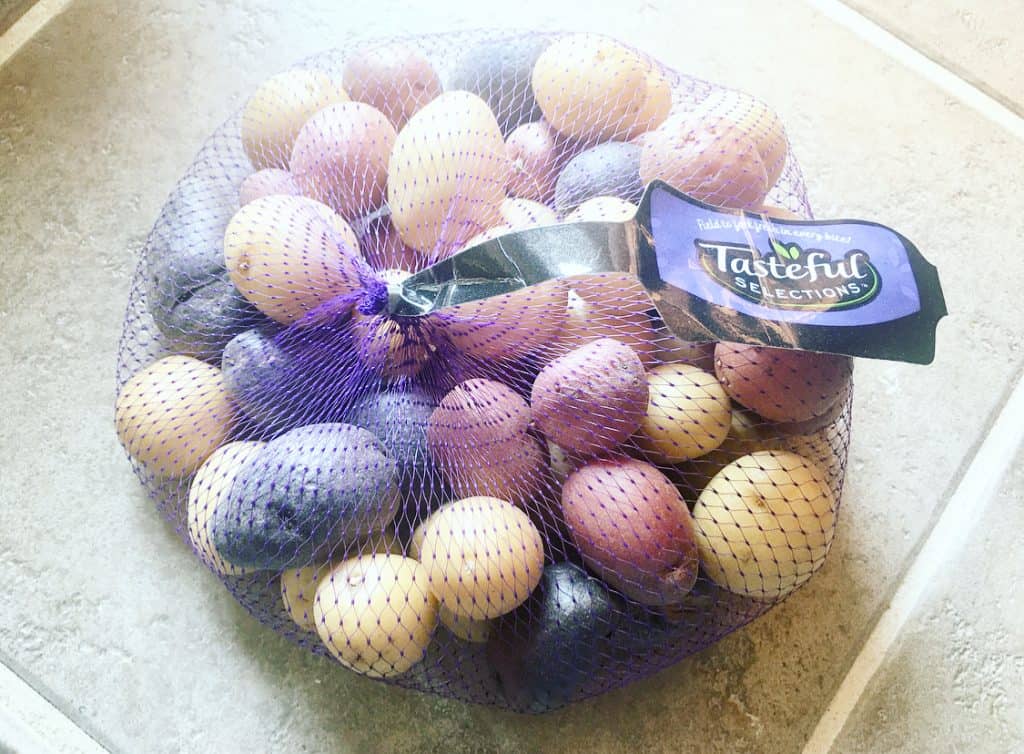 To add to the ambiance, I bought this 1 pound bag of tri-colored potatoes from Aldi's. I thought the kids would love the different colors, and actually we do too!
Soaking Potatoes In Water
Cut the potatoes into quarters and place in a bowl of water. There is no particular ratio of potatoes to water, just enough to cover the potatoes with water is fine.
Let the potatoes soak in the bowl of water for at least 10 minutes to pull out some of the starch. This will make the potatoes much crispier once baked.
Homemade Taco Seasoning
Drain the potatoes, no need to dry them, and immediately place them in the bowl of seasonings. This is a simple seasonings recipe. Coat the potatoes and make sure each potato piece has seasoning on it.
Place the potato pieces on a parchment lined baking sheet and spread out until they are in a single layer. Bake until golden brown and delicious!
Oil Is Not Necessary
My favorite part is that they puff up a bit in the oven. Totally different than when you use oil. Oil is NOT NECESSARY when baking potatoes! We do not miss using oil at all.
Once the potatoes are down baking, it's time to assemble the tacos. For the tortillas, we like to make sourdough tortillas, but when we don't have time to make homemade we also really enjoy Ezekiel brand tortillas or Trader Joe's corn tortillas.
How To Make Potato Tacos
Put a thin layer of refried beans as the base of your preferred tortilla (make sure they are fat free)
Top with some roasted taco seasoned potatoes
Add lettuce, salsa and olives.
For a creamy element, add guacamole.
The red salsa used here was a delicious cranberry salsa recipe from the Engine 2 Cookbook.
If you want to make your own refried beans, it's easy to do. Plus, I have several other recipes using beans here: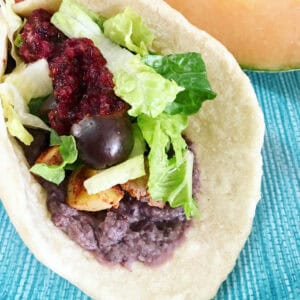 Potato Tacos
Potato tacos are a delicious alternative to meat filled tacos. The potatoes have a great taco seasoning on them and give you that hardy meaty substance that you're looking for in a taco.
Ingredients
Potato Ingredients
1

pound

baby potatoes

1

Tbsp.

garlic powder

1

tsp.

onion powder

1

tsp.

smoked paprika

1

tsp.

cumin

1

tsp.

salt

1/4

tsp.

black pepper
Taco Favorites
1-2

cans

fat-free refried beans

chopped romaine lettuce

1

can

olives

salsa

1-2

avocados, sliced

tortillas
Instructions
Preheat your oven to 400 degrees and line a baking sheet with parchment paper.

Wash the potatoes, then quarter them into bite size pieces.

As you're cutting the potatoes, put the cut pieces into a bowl with water. You want to soak the potatoes in water to release some of that potato starch.

Let the potatoes sit in the water for at least 10 minutes.

In a mixing bowl, stir together all the seasonings, then set aside.

Drain the potatoes from all the water, do not pat dry. Then add the potatoes to the bowl of seasonings, and mix well. Every potato piece should have some seasoning on it.

Place the potatoes in a single layer on the baking sheet. Bake the potatoes for 35-45 minutes, or until golden brown.

To assemble the best tasting potato taco, smear some refried beans on a tortilla, top with some potatoes, lettuce, salsa, and olives. It's delicious!
Pin For Later!
Please Note: The links in this post are affiliate links, and I will receive a small compensation when you use my links to make a purchase. I would appreciate your support, as this website helps support my family.