Grocery Hauls
Aimee's $120 Weekly Grocery Haul and Menu Plan
Aimee's $120 Weekly Grocery Haul and Menu Plan
My plans were to go to Sprouts and Aldi's…. yet I ended up getting my groceries at Walmart and Foods Co. this week… With Labor Day weekend, I just didn't get to the bank when I should have to pull our cash for the month. Which means I didn't have grocery money when I "needed" it. So I finally made it to the store on Tuesday and got what I needed. Thankfully I had already menu planned, so that made it easier.
I looked through my pantry and freezer as I was menu planning, and I decided to use up the meat that was already in my freezer, so that means I didn't need to buy meat!
I did use the Ibotta app to and saved $3.50 WOOHOO!!! Every little bit helps, right?!? If you have ever used the Ibotta app, I highly recommend it. It's an easy way to earn cash back! I have been using the app regularly and I'm so happy with how much money I have earned back! If you'd like to start using the app, please use my link to get started! You'll even get a $10.00 bonus!
This gives you an idea of how much I LOVE this app!!!! HEHE… 🙂
I do want to be completely honest with you all and say, we adopted our son from foster care, and he gets to keep his WIC until he turns 5. So for one more year we get free milk every week, which is a total blessing. Pictured below you will see cereal, bread, and milk. These items were purchase with a WIC coupon and not apart of my total grocery bill.
Foods Co. Trip: Spent $81.64
Favorite Deals:
Stayfree Pads – $2.99 sale price – used $1/1 digital coupon on Foods Co. app – used $1.50/1 up to 5 times on Ibotta = $.99 each!
Simple Truth Organic Yogurt Cups – $.49 clearance price – used $1/5 digital coupon on Foods Co. app – used $.25/1 Ibotta yogurt coupon = $.24 each
Simple Truth Organic Canned Beans – $1.00 each – used $.30/1 up to 5 times digital coupon on Foods Co. app = $.70 each!
Simple Truth Organic Frozen Veggies – $1.25 each – used $.50/1 up to 5 times digital coupon on Foods Co. app = $.75 each!
Walmart Trip: Spent $23.02
Unfortunately, I didn't get a picture of this trip. We had a BBQ at my parents house on Labor Day, so I needed to help bring some goodies. I brought cucumber slices and baby carrots with homemade ranch dip, and salami and cream cheese. I also bought organic milk because it's my favorite!!! I LOVE drinking a glass on organic milk in the mornings before I enjoy my coffee.
Grand Total For The Week: $104.66   That gives me $15.34 leftover in case I need to pick something up or if I forgot something, which does happen occasionally.
________________________________________________________________
Menu Plan:
Breakfasts:
cereal, bananas, eggs and sausage, toast, blueberry bagels, ham and eggs, oatmeal, breakfast bars
Homemade Breakfast Bars (CLIFF bars copycat) – click link here
I make these almost every single week for my husband. He loves to eat these for breakfast as he's heading out the door to work.
Lunches:
leftovers, bologna sandwiches, chips, fruit, carrots and cucumbers with ranch dip, salads, pasta
How To Make Jammy Eggs for Salads – click link here
Dinners:
Labor Day – hot dogs, chips, and fruit and veggies
Sopes with cantaloupe
Crockpot "Roasted" BBQ Rotisserie Chicken with broccoli and potatoes
Potato Corn Chowder and grilled cheese sandwiches
Eat Out
Instant Pot Salsa Chicken and Rice
If you liked this post, you might also like: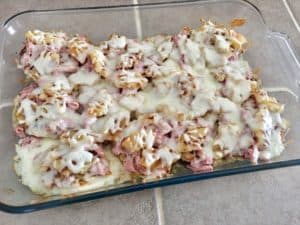 Hawaiian Chicken Bake – click link here
Gluten-Free Oatmeal Pancakes – click link here
Low-Carb Enchilada Bake – click link here
Healthy Homemade Grain-Free Sugar-Free Muffin Mixes – click link here
Please Note: The links in this post are affiliate links, and I will receive a small compensation when you use my links to make a purchase. I would appreciate your support, as this website helps support my family.