Back to Basics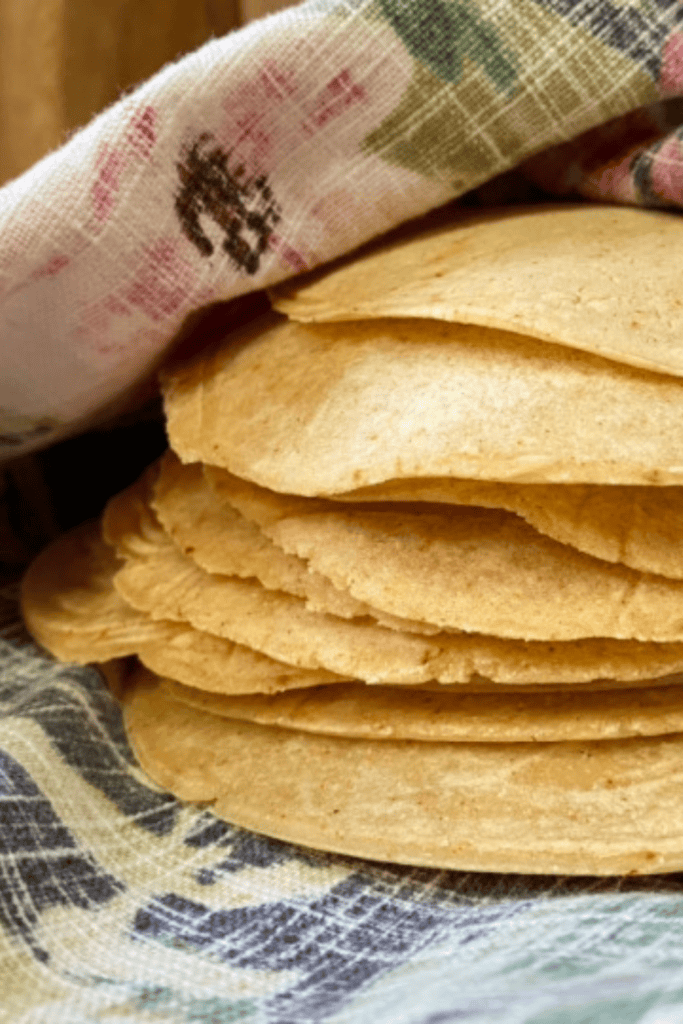 Corn Tortillas | Gluten Free
Homemade corn tortillas are gluten free naturally with only 2 simple ingredients, instant corn masa and water. Corn tortillas are simple to make and way cheaper than store bought.
Jump to Recipe
How To Make Corn Tortillas | Gluten Free
Corn is naturally a gluten free product. Gluten is only found in wheat products, not in corn. Thankfully, corn is a safe ingredient to use for those with gluten sensitivities. When my husband and I went gluten free we were very thankful to learn how easy it was to make our own homemade corn tortillas.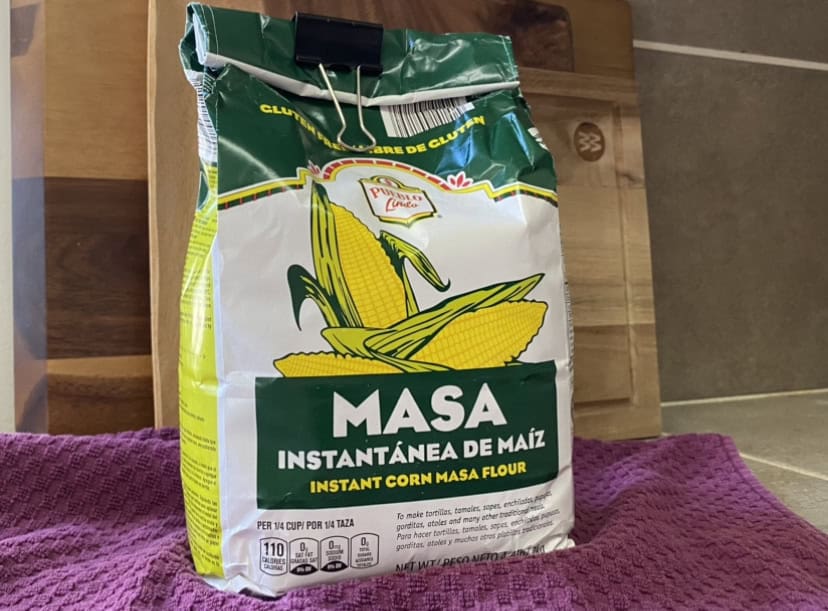 When you look at store bought corn tortillas there are so many ingredients listed on the package. Homemade tortillas only require 2 ingredients. Many people, however, add flour to their corn tortilla dough mixture to keep the tortillas from splitting after they have cooked. The gluten in the flour keeps the corn tortillas from splitting when you fold them. This is not a key ingredient though and 100% not necessary when making corn tortillas gluten free.
Ingredients in Corn Tortillas (Secret Ingredient)
Instant corn masa (yellow or white)
Water
Chile lime seasoning (optional)
The only ingredients you need to make corn tortillas gluten free are instant corn masa and water. You do not need wheat flour, any seasonings, or cornmeal. Instant corn masa is very cheap to buy and generally costs less than $2.00 per 4 pound bag. You can make a lot of tortillas with 1 bag.
The secret ingredient that makes these tortillas stand out is adding 1 Tablespoon of this chile lime seasoning from Trader Joe's. This adds so much more flavor and we really enjoy it. This ingredient is not necessary, but I think you'll find that making these corn tortillas without it isn't as tasty.
Difference Between Corn Meal and Corn Masa
The difference between corn meal and instant corn masa is very great. You can not use corn meal to make tortillas. Corn meal is a coarse cut of corn, where instant corn masa actually takes the corn kernels and soaks, cooks, cools, then grinds into a fine flour consistency. It's a heavy process, but one we are thankful for because these corn tortillas are just delicious!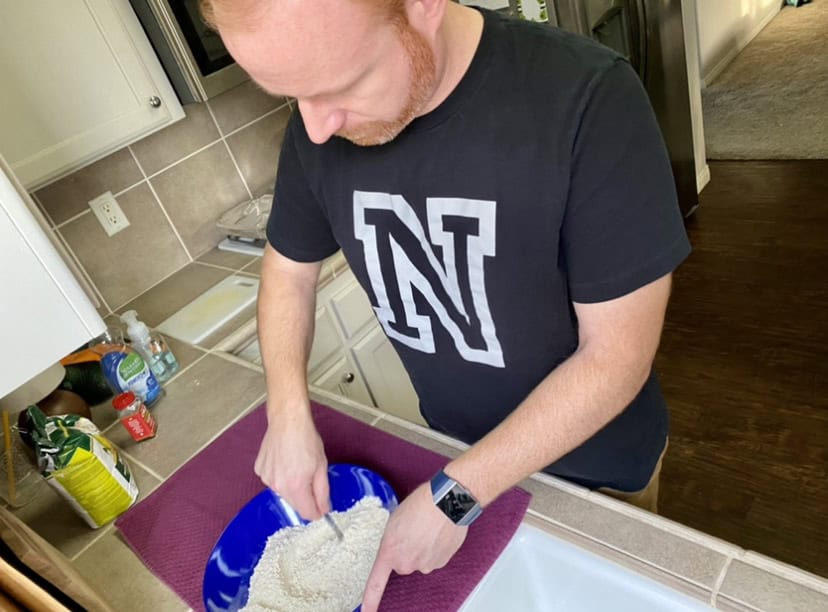 How To Make Homemade Corn Tortillas
Making corn tortillas is as easy as playing with play dough, that's the consistency you want your dough to be. My husband is the pro tortilla maker in our family because he really enjoys making them.
Simply add 2 cups of corn masa to a mixing bowl, the chile lime seasoning if you'd like, and roughly 1 cup warm water. Use a spoon or your hands to mix the ingredients together. If your dough is a little dry, add 1-2 Tablespoons of water at a time, until you get that play dough consistency. If you're dough is too watery, add a little more instant corn masa to the bowl. It's very hard to mess this recipe up because it can generally always be fixed.
Let the dough rest for at least 10 minutes, then you can start making tortillas. To make the tortillas, we need to have a tortilla press. Tortilla presses come in a range of sizes and prices. We started out with a small inexpensive one from Amazon, but as we developed our love for making tortillas we bought the creme de la creme of all tortillas presses! It's a beauty and something that we love using because we can make any size tortillas that we want.
Tortilla Press
You always want to place parchment paper, or cut up grocery bag on the tortillas press so that the dough does not stick to the press. In your hand, roll 2-3 Tbsp. of dough into a ball and place between 2 layers of parchment paper. Close the tortilla press and firmly press down on the lever. Open the tortilla press and you should have a nice round tortilla. Carefully peel it off the paper and place the tortilla on a hot skillet or electric griddle.
The hotter your pan, the better. You want the tortillas to build up some steam inside. If your tortillas bubble up, that's a great sign! If you're tortillas do not bubble up at all it's totally fine and you will have delicious tortillas to eat no matter what.
Cook the corn tortillas for about 1 minute on each side. When the tortillas are done cooking, place them on a plate with a towel over the top to lock in the heat and to keep them fresh without drying out. These corn tortillas can easily be stored in the refrigerator for 3-4 days and reheated on a skillet for a minute on each side.
Where Can I Buy Instant Corn Masa?
Instant corn masa can be purchased from commonly known grocery stores like Walmart or Aldi's. The only problem is that it's hard to find an organic instant corn masa, so I now purchase mine from Azure Standard where I purchase most all of my bulk food items. Azure Standard is a co-op that delivers groceries at a drop point every month. My towns drop point is very close to my house and I enjoy purchasing organic instant corn masa this way.
Other Recipes You Might Enjoy: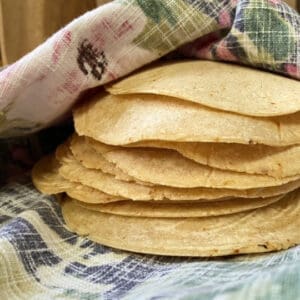 Homemade Corn Tortillas
It only takes 2 ingredients to make homemade corn tortillas, but let me show you a special way to make these tortillas by adding chile lime seasoning.
Ingredients
2

cups

instant corn masa

1

cup

water

1

Tbsp.

chile lime seasoning

(optional)
Instructions
Add the instant corn masa and chile seasoning to a mixing bowl and mix together.

Add warm water to the bowl and mix into the flour mixture to form a dough. I like to use my hands to incorporate the water, but a spatula would work too.

You want the dough to have a play dough consistency, so add a little more water if you need to to achieve that consistency. If the dough is too dry it will not form tortillas.

Once you have reached the right consistency, place a towel over the bowl and let the dough rest for at least 10 minutes, but you can wait as much as 30 minutes. Any longer and you'd need to store the dough in the refrigerator or the dough will dry out.

While the dough is resting, heat up a skillet or electric griddle pan. You want the pan to be very hot, a medium to high heat works.

Add between 2-3 Tablespoons of dough into your hand and roll it into a ball.

Place the dough ball onto a tortilla press, sandwiched between 2 pieces of parchment paper or use a cut up grocery bag.

Press the dough ball to create a nice flat tortilla shape.

Carefully peel off the parchment paper from the tortilla and place the tortilla on your hot skillet or electric griddle.

Cook the tortillas for about 1 minute on each side. Once the tortilla is done cooking, place it on a plate with a towel covering it. This keeps the tortillas warm and from drying out.

*Any leftover tortillas can be kept in the refrigerator for 3-4 days. Reheat tortillas on a hot skillet for 1 minute on each side.
Pin For Later!
Please Note: The links in this post are affiliate links, and I will receive a small compensation when you use my links to make a purchase. I would appreciate your support, as this website helps support my family.