Dressings and Sauces
Easy Marinara Sauce
This easy marinara sauce is homemade using simple ingredients to create a rich and robust flavored sauce. I am so excited to bring you this recipe because we use this for everything! It's great on homemade pizzas, in spaghetti, my stuffed shells, and calzones. The easiest of them all of course is when we make pizza toast! It's out of this world good and easy peasy!
Where I Buy Canned Tomato Products
I choose to purchase canned organic tomatoes. This is not necessary for the purpose of this recipe, however, it is something I choose to do. Organic tomatoes carry a high level of phenolic compounds, which means they have higher antioxidant levels. They are also not sprayed with synthetic pesticides, but a more natural solution.
Purchasing organic can definitely be more expensive, and at least are double the price of other canned tomato products. I purchase all my tomato products from Costco. Costco carries organic canned tomato sauce, diced tomatoes, and tomato paste.
Just Call It Magic Sauce
Eating good for you food and being delicious is a win win! What better way to fuel your family, than to add greens to as many meals as you can! Always, add kale or spinach to your marinara sauce. The flavor of the greens is completely masked by the sauce, and your kiddos won't even think twice about it.
This sauce can easily be made and frozen for later. If you'd like to double the batch and freeze, it will thaw beautifully! I hope you enjoy this sauce. Let me know in the comments 🙂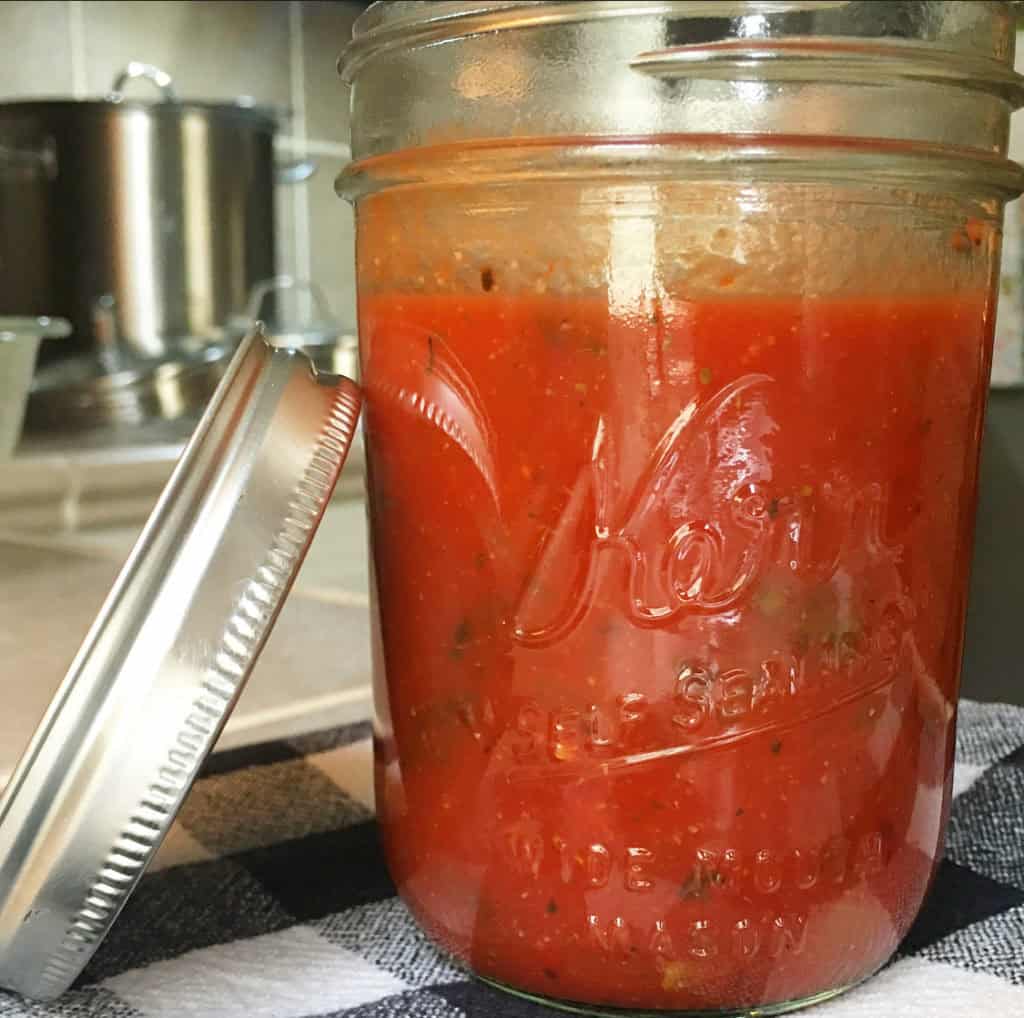 If You Like This Recipe, You Might Also Like:
Easy Homemade Marinara Sauce
Ingredients
1/2

onion, diced

2

cloves

garlic, minced

2

(15oz) cans

tomato sauce

1

(15oz) can

diced tomatoes

3

Tbsp.

ketchup

(optional, but I love it!)

2

tsp.

pure maple syrup

or sugar

1

tsp.

dried oregano

1

tsp.

dried ground rosemary

1

tsp.

dried basil

salt and pepper

2

cups

kale or spinach

stripped and chopped into small pieces
Instructions
In a large saucepan, add onion and cook until translucent. (It's best to pre-heat your pan, which will help the onion not stick.) Add 2-3 Tbsp. water or broth if needed to keep the onion from sticking.

Once the onion is cooked through, add the rest of the ingredients.

Bring the marinara sauce to a low boil, then simmer for 15-20 minutes. Stirring occasionally.

The sauce is ready to use however you'd like. Store and leftovers in the refrigerator for up to 1 week.
Please Note: The links in this post are affiliate links, and I will receive a small compensation when you use my links to make a purchase. I would appreciate your support, as this website helps support my family.