Organization & Cleaning
Home Reset – 3 Daily Tasks To Jump Start Your Day
The home reset is 3 simple daily tasks to help jump start your day. You will feel energized and joyful once your home reset is complete.
There is nothing like starting your day on the right foot. Everything is going your way, and you are sailing through with flying colors. I believe it all starts at home. It starts with how we begin each day, and that's by making our bed. The importance of making our beds can be backed by research, and studies show that the completing of 1 task, leads to another completed task. It's a domino affect in our lives, and it continues to build positive responses in us.
The same is true with the home reset, which does in fact include making your bed. These 3 easy tasks jump start my day, and fuel me for great success. This past year, I did a Q&A with my husband on YouTube. We answered your questions, and I was shocked to hear that my husband loves that I created the home reset. He says he loves how the house feels. How it's taken care of, and it's all based on the start of each morning.
Time Stamp: 26.18 minutes
As we care for our home, we notice the importance of caring for it more diligently, but in turn our home gives us a cozy and relaxing place to be. If we walk into chaos, then we disrupt the peace we so badly need. A well cared for home, provides that relaxation and peace.
3 Home Reset Tasks
Each day, before you leave the house, or begin your daily routine with your kiddos, complete these 3 tasks:
Make your bed
Start a small load of laundry
Clean the kitchen
We've already discussed the importance of making your bed, but if you need a little more convincing, check out this video here:
Doesn't this video make you want to jump up and make your bed? I have noticed in myself, that when I make my bed, I tend to get more done during the day. It's amazing how it triggers the mind to be more productive.
Keep Laundry Piles Small
Laundry is definitely a mother's nemesis… It's the dreaded task we all hate doing: wash, dry, fold, repeat. I have noticed that when I do a small load of laundry each day, it never seems to pile up. Around lunch time I typically throw the clothes into the dryer, and during quiet time I fold and put them away; or my daughter does it for me. Laundry does fall into chore tasks for our kiddos, which is one great benefit to having older kids in the house.
Daily Kitchen Reset
It doesn't matter if it's breakfast, lunch, or dinner the kitchen is a constant place were messes are made. I find that if I reset the kitchen after each meal, it never seems to get out of hand. Cleaning the kitchen is pretty manageable because I'm consistently resetting that space.
The kitchen is the heart of the home, but when it's messy, it's the last place you want to be. To create a welcoming space, make sure that each item in your kitchen serves a purpose. Unwanted clutter, clogs your space and even your mental energy.
A Daily Practice
The home reset may be difficult when you first start out, you might even forget to make your bed, but start practicing it. Everyday make yourself a note that says, "Home Reset." Put it in your planner, write it with a dry erase maker on your bathroom mirror. The more you practice it, the easier it becomes. The more often you do it, the cleaner your house will feel. Getting into bed at night in a tighty made bed, by the way, is seriously like walking into a hotel room. That bed greets you with open arms, so you can get up the next morning and do it all over again 🙂
If You Like This Article, You Might Also Like:
Pin For Later!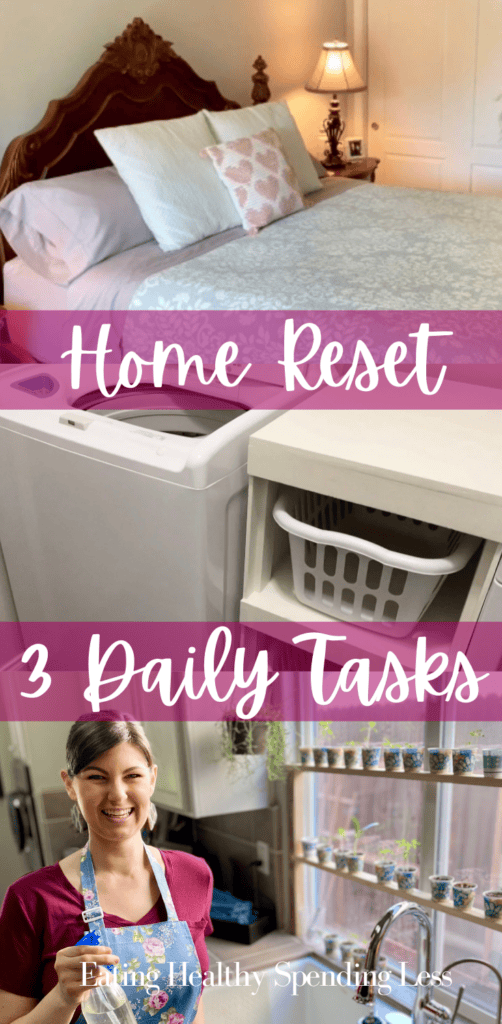 Please Note: The links in this post are affiliate links, and I will receive a small compensation when you use my links to make a purchase. I would appreciate your support, as this website helps support my family.