Budget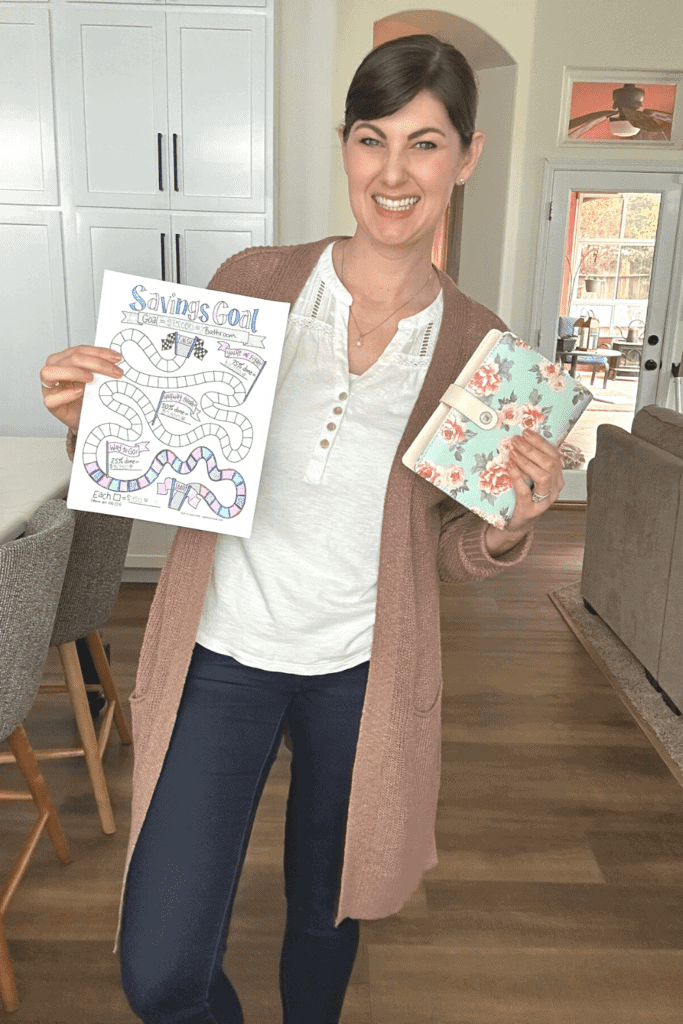 How To Create A Yearly Budget Using Sinking Funds
It's a new year and it's time to make some financial goals with a yearly budget. You get paid monthly, so you think it's okay to just plan for each month, but that's going to reck your budget.
Yearly Savings Goals
As the home economist, it is your job to sit down and run your household like a pro. Every business has an annual budget, and every home should as well. By creating a yearly budget, you are living intentionally and that will help you reach goals you never thought possible.
The first step in planning a yearly budget is figuring out how much you want to save this year. Think about your year as a whole and determine about how much money you forsee your family bringing in. How much of that money do you want to save or invest? Then, figure out how to goal pans out over the course of each month.
Expected Expenses Each Year
Every year we have expenses that we can expect between Christmas, birthdays, car registration fees, AC and furnace services, and so much more. It's time to look at your yearly budget first, then we can disect that down into our monthly budget. This way we are always planning ahead, we know what expenses to look for, and we can always feel prepared.
It's time to sit down and decide what we need to save for and what can be cash flowed each month. Make a list of your yearly expenses. In the back of my planner I have a year-at-a-glance calendar where I can write these out. If you don't have that, then buy a cheap calendar at Dollar Tree and write out your yearly expenses.
Yearly Budget Expenses
Here's an example:
January – stock-up on household cleaning products for the year, pay yearly blog fees to keep my website running
February/March – plan for kids to play track at school, pay fees to play
April – Purchase AC/Heating Package for 2 services per year, Easter baskets
May – Purchase pool filter for above ground pool, pay for 2 kids to go to summer sports camps, Mother's Day gift – including beauty products stock-up
June – Purchase peaches in bulk for deep freezer for the year, Father's Day gift
July – Purchase school supplies, back to school clothes shopping, pay car registration fees, big family summer vacation
August – Have carpets cleaned, pay AWANAS fees at church
September/October – nothing planned at this time
November – Thanksgiving family trip, Black Friday shopping – including DIME skincare stock-up
December – Christmas
Sinking Funds
Sinking funds are a great strategy for saving up money for a specific purpose. I have several sinking funds that I am constantly adding to. I purchased a binder that I keep many of my sinking fund envelopes in, however, I also have saving accounts online to also hold larger amounts of sinking funds.
If you are planning on have a sinking fund with over $1,000-$1,500 in it, then I would recommend an online savings account or money market account for that. We have a few money market accounts that we use for larger sinking funds that we've created for each of our children.
Here is a list of the sinking funds I have stored away in a safe place that I add money to each month:
Romantic Getaways – we take a 1 night trip away from the kids every few months
Summer Camps – 2 of our kids are in basketball and soccer camp each summer
Beauty – this covers my DIME skincare and cosmetic products
Vacation Cash – any cash we need to buy food or take excursions
Christmas – we have been gifting our kids experiences for Christmas and we love it!
Car Repairs – when we need a new tire or somethings wrong with my car, we have money for that
Amazon Membership – it costs $150 per year for Amazon and my mom and I share it
Easter Baskets – I like to gift my kids a few special things at Easter, but we keep it small
Birthdays – there seems to be a birthday to celebrate each month
Mother's & Father's Day – special treats like eating out and a gift
Clothes – clothes are a need and we save for it, we follow a 10-item wardrobe concept
Dream About Your Year
Sit back and dream what you want the end of the year to feel like. What financial goals do you want to have accomplished? This year we are saving to remodel our master bathroom. It's taking a lot of work to save up for this big expense, but it's something that needs to get done (half of our bathroom is gutted…). We also have another big financial goal and that's to open a ROTH IRA in my name. I hope to max it out this year.
So dreaming of December, I hope my bathroom will be remodeled, my ROTH IRA will be maxed out, my daughter's car savings (that we are saving for) will be maxed out, that we have taken an epic roadtrip with our kids over the summer, and that my husband and I were able to get away at least 4 times this year without kids.
I know next year my dreams and goals will be totally different, but I'm excited to see how we can live intentionally to tackle these savings goals.
Break It Down Into Your Monthly Budget
Let's break down your yearly budget into your monthly budget by dissectly your goals into a monthly savings plan. Once you've figured out your yearly goals, divide how much you want to save by 12 months and figure out if you are able to save that much on a monthly basis.
This is really the deciding factor to know if you can save for certain sinking funds. It's also a great way to get motivated to find ways to make more income each month.
How To Create A Cash System Budget
If you're saying "all of this sounds great, but I don't even have a budget!" No problem, because I have a full article for you explaining all the details: Budgeting 101: Setting Up A Cash System Budget.
My Favorite Planner
My favorite planner is the Simplified Planner. You can purchase it either at Target or on Amazon.
Target (affiliate link): https://shopstyle.it/l/bRgej
Amazon (affiliate link): https://amzn.to/3Zt89Qw
Favorite Sinking Funds Binder
Hobby Lobby Binder: https://bit.ly/3GYLogb
Plastic Zippered Envelopes (affiliate link): https://amzn.to/3IJkbiK
FREE Sinking Funds Labels: https://bit.ly/3GzMCNo
Cash System Wallet
My favorite cash system wallet is on Amazon. It comes with the laminated cash envelopes and is perfect for helping me stay in budget.
Amazon (affiliate link): https://amzn.to/3Xca0aI
DebtFreeCharts.com for Savings Goal Trackers
I absolutely love the website Debt Free Charts! You can find amazing savings and debt free goal trackers on the website for either FREE or for very cheap. This particular tracker I am using is FREE right now.
Savings Goal Tracker: https://bit.ly/3ZCIo00
Also Mentioned In The Video:
DIME Beauty Skincare
Use my code: AimeeG20 to receive 20% your order. DIME Beauty is my favorite skincare line on the market today. It's affordable, clean, vegan, and something that you can feel really good about putting on your face.
I have been using DIME for almost 2 years now and I plan to always use it. I spend my own money on the products, and I know you'll love them.
Here's my referral link: https://dime.crrnt.app/kM6jXp4-
Please Note: The links in this post are affiliate links, and I will receive a small compensation when you use my links to make a purchase. I would appreciate your support, as this website helps support my family.