Breakfast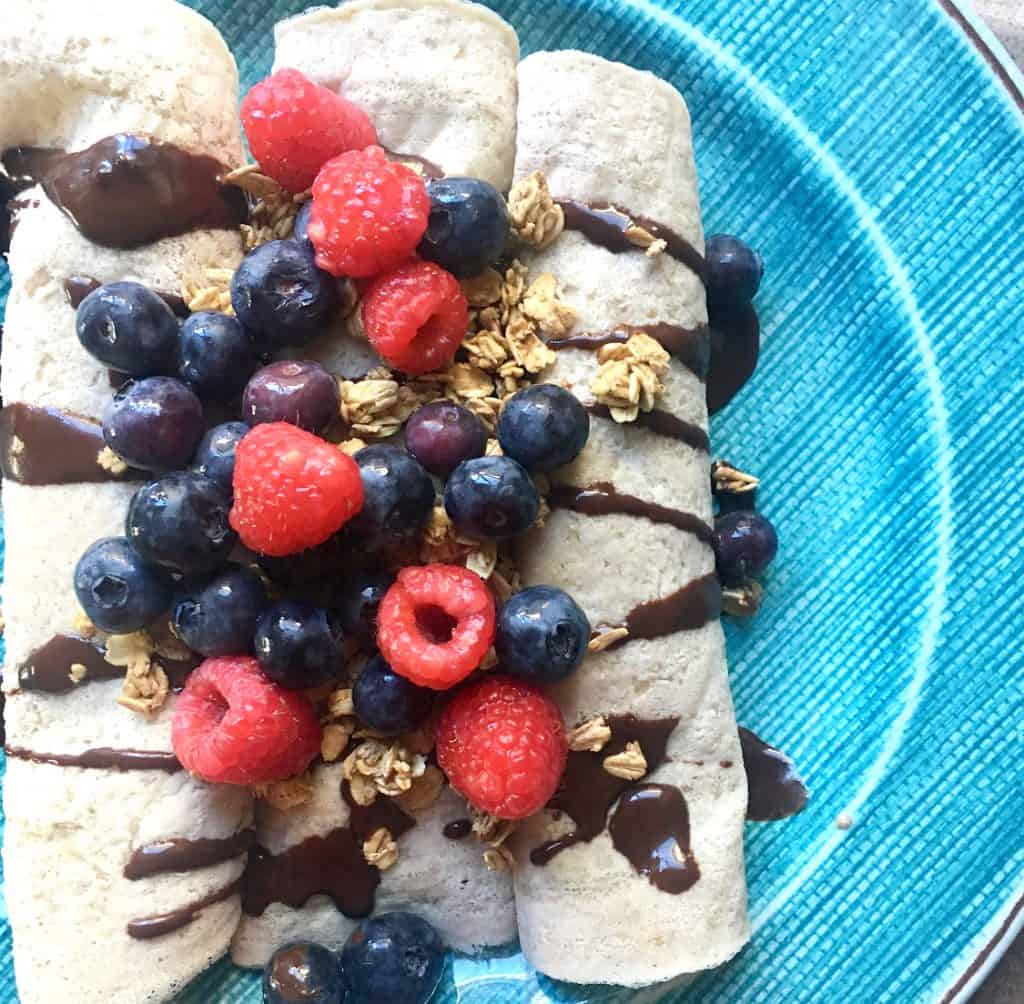 Oat Flour Crepes
Oat Flour Crepes
Crepes are one of the most decadent meals ever. They are like thin pancakes that can be filled with anything! My favorite is an orange chocolate yogurt.
Gluten-Free & Dairy-Free
Finding a crepe recipe that's healthy, gluten-free and dairy-free are important to me, so I hope you enjoy these as much as my family does!
If you find that your batter is getting too thick, just add a few tablespoons of water at a time to keep it thinned out!
Oat Flour Crepes
Ingredients
4

cups

oats

ground into flour

1/4

cup

ground flax seeds

(I prefer golden)

1/4

cup

tapioca flour

1/2

tsp

salt

4 1/2

cups

water

(more if needed)
Instructions
First, grind oats in a high speed blender, then pour oat flour into a mixing bowl.

Add the rest of the ingredients. Let batter sit for 5 minutes. This allows the oats to absorb a lot of the liquid.

Pour about 1 cup of batter onto a hot griddle, then take the bottom of the spoon and move the spoon in a circular motion to spread the batter out into a crepe like form.

Wait until the edges tip up a bit, then carefully flip crepe over. This will take about 2-3 minutes per side.

After about 3-4 crepes, check the batter. You may need to add a few tablespoons of water to thin out the batter.

Place crepes on a plate with layers of parchment paper between the crepes to keep them from sticking to each other.

Crepes can be stored in the fridge for 2-3 days, and in the freezer for 1-2 months.
Notes
Delicious Cream Filling:
8oz package cream cheese, dairy or non-dairy
1/2 cup plain yogurt, dairy or non-dairy
1 Tbsp. orange zest
1-2 Tbsp. honey
Mix ingredients together and use inside the crepes. It's rich and decidant. 
Please Note: The links in this post are affiliate links, and I will receive a small compensation when you use my links to make a purchase. I would appreciate your support, as this website helps support my family.