Appetizers/Snacks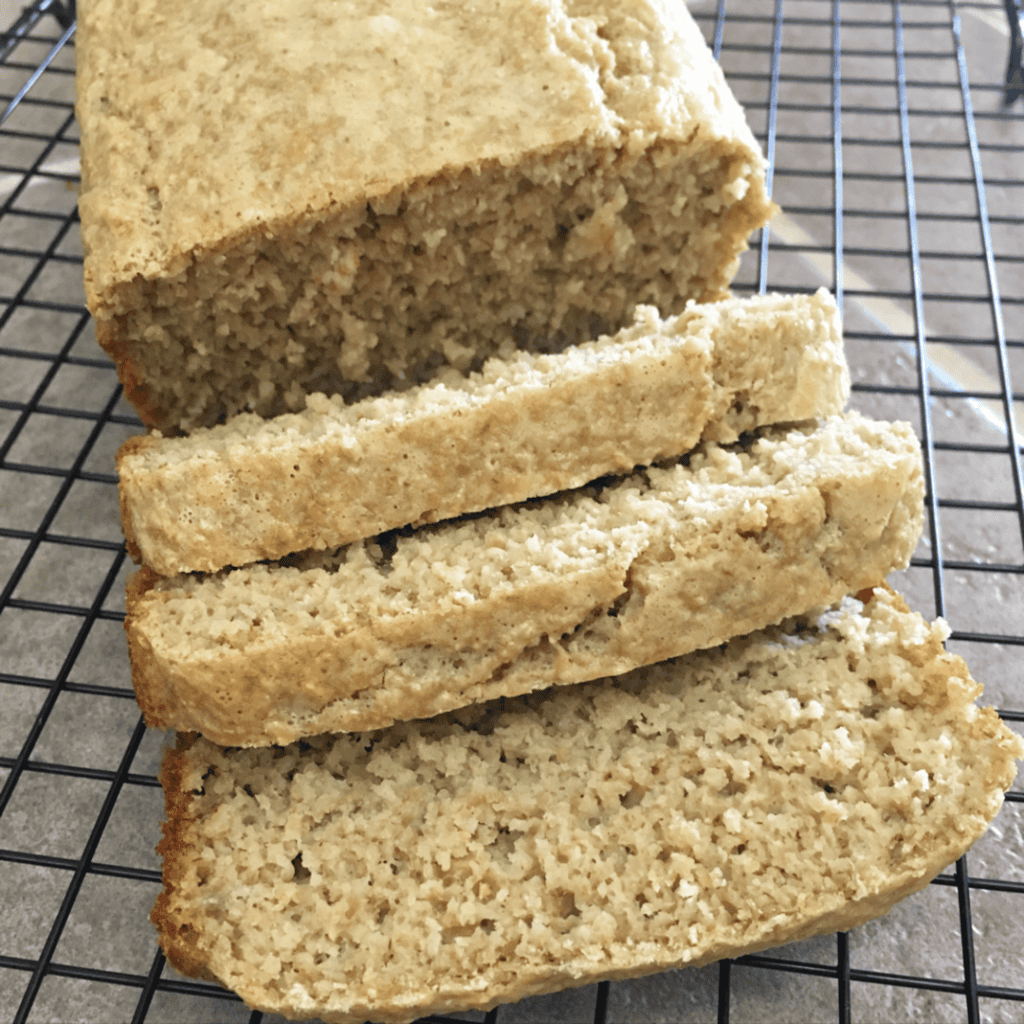 Quick & Easy Plain Oatmeal Bread
It's always a good thing to have a good ol' plain oatmeal bread recipe in your recipe binder. Sometimes I just don't want to make at pumpkin or banana quick bread recipe, I just want plain bread! Goodness… and that's exactly what this delicious bread is… so GOOD!!!!
You'd think by now I could come up with a better adjective, but nope. It's a simple bread, and it deserves a simple adjective to go right along with it. Enough said.
You will not be disappointed with this recipe. It's chewy, tasty, so very crumbly, and holds together so well in the toaster. Top with butter, mashed avocado, jelly, cream cheese, or whatever you'd like! Enjoy!
This bread recipe can be changed to make different flavors. Just take the sour cream out of the recipe and replace with mashed bananas, pumpkin, zucchini… the options are endless!
Banana Bread:
Replace yogurt with 2-3 mashed bananas and 1/4 cup coconut sugar. 1/4 cup mini chocolate chips are good too!
Pumpkin Bread:
Replace yogurt with 1 cup canned pure pumpkin and 1/4 cup coconut sugar, 2 tsp. cinnamon, and 1 tsp. pumpkin pie spice. 1/4 cup mini chocolate chips are good too!
Zucchini Bread:
Replace yogurt with 1-2 cups shredded zucchini (ring out zucchini in a towel to get out excess water) and add 1/2 cup coconut sugar, and 2 tsp. cinnamon. 1/4 cup chopped nuts is good too!
Quick and Easy Plain Oatmeal Bread
Ingredients
3

cups

oats

blended into a flour

3/4

cup

milk

any kind

1/2

cup

plain yogurt

or applesauce

3

eggs

(flax seed replacement works too)

3

Tbsp.

liquid sweetener

honey, pure maple syrup, agave nectar

1

tsp.

vinegar

1

tsp.

baking soda

1/2

tsp.

salt
Instructions
Preheat oven to 350 degrees and grease a loaf pan.

Grind oats into a flour, then mix all ingredients together.

Pour batter into your loaf pan, then let the mixture sit untouched for 5 minutes.

Bake for 35-40 minutes, or until golden around the sides and top.
Please Note: The links in this post are affiliate links, and I will receive a small compensation when you use my links to make a purchase. I would appreciate your support, as this website helps support my family.