Back to Basics
Quinoa How To Cook Perfectly For Any Recipe
Quinoa how to cook perfectly for any recipe is an easy method that everyone should know. Quinoa is a powerhouse food, which means it packs a huge amount of nutrients in such a small seed. We will answer the question, "is quinoa gluten free" and we will address the health benefits.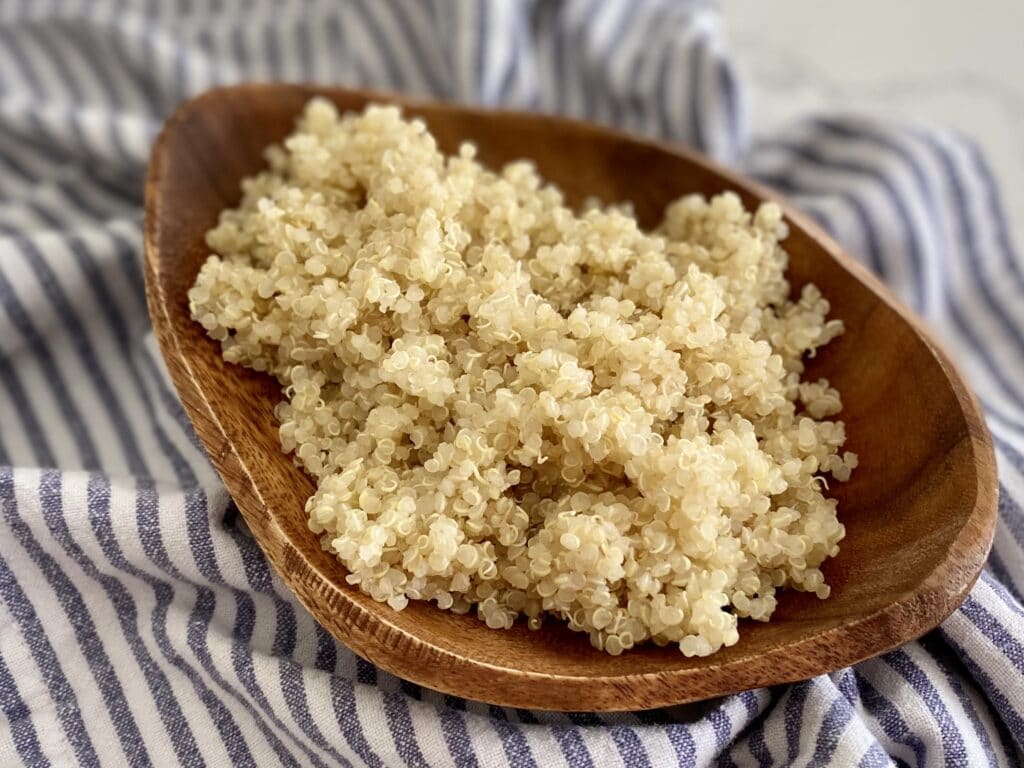 Did You Know Quinoa Is Not A Grain?
Did you know quinoa is not a grain, it's a seed? That's right! When I first went plant-based, I was not eating grains. Grains was something I had eliminated from my diet in an effort to heal my body, but I wasn't getting better.
After much research I learned that organic grains were really good for us, and that grains provided great nutrition for our bodies. However, with the absence of grains in my diet, my body had trouble tolerating them when I first introduced them. The doctor I spoke with said that was normal, but that I shouldn't give up trying.
I slowly, over the course of a few months, reintroduced grains back into my diet, specifically oats. We'll save that for another post, but oats are incredibly beneficial for optimal health as well. However, in the beginning I struggled to find foods I could eat since I had given up dairy and meat, in an effort to heal my body. The doctor suggested I eat quinoa, since it wasn't a grain. Sure enough he was right! Quinoa was amazing! I ate quinoa as my breakfast cereal, in salads for lunch, and as my "rice" for dinner. I even created a quinoa blueberry crisp! The recipe is on my website. I bought quinoa flour and made pancakes too (not my favorite), but at least I could eat them!
Is Quinoa Gluten Free?
You might be wondering, "is quinoa gluten free?" So many gluten free labels are on quinoa packages these days. Gluten only comes from wheat berries. Quinoa is a seed, so it is naturally gluten free. With that said however, sometimes wheat can be processed in a plant where other grains and quite possible seeds (like quinoa) are processed or cleaned for packaging. Also, wheat is often grown near other grain fields like oats and cross-contamination can occur there. My best advice, read labels.
If you are gluten sensitive you should be okay with eating quinoa. Always rinse the quinoa in a mesh colander before cooking. It comes in white, red, and even black varieties, and both are perfectly safe and gluten free.
Quinoa – How To Cook Perfectly
Quinoa how to cook for any recipe was important for me to learn. Since I was eating it so often I would make big batches and store in the refrigerator for easy meal prep. Learning to prepare quinoa is easy, and once you get the hang of it, you can enjoy quinoa anytime as well.
Cooking quinoa is similar to cooking rice or red lentils. You want the water to be completely absorbed by the seed, so that no water is present once the seeds have cooked, just like rice.
Quinoa – How To Cook Perfectly (1 part quinoa to 2 parts water):
Rinse 1 cup quinoa in a mesh colander.
Add quinoa to a medium saucepan with 2 cups water and cover with a lid.
Bring quinoa and water to a boil, then reduce the heat to low and cook for 15 minutes.
Once the time is up, do not lift the lid. Let the quinoa rest for an additional 10 minutes. This gives the quinoa time to absorb any additional liquid and fluffs the quinoa into the perfect texture.
Use immediately, or allow the quinoa to completely cool in the saucepan for salads.
Quinoa Benefits
Quinoa benefits prove to be astounding because the size of a quinoa seed to the amount of nutrients it holds is pretty spectacular! It's high in protein, fiber, iron, potassium, antioxidants and minerals.
1 cup cooked quinoa = 8 grams protein
Remember, quinoa does have carbs, but don't be afraid of these carbohydrates because there are so many quinoa benefits! Healthy carbs provide your body with energy. They're the gasoline needed to fuel your body for a long productive day. You will see that quinoa is low in calories and fat. Enjoy quinoa regularly to reap the benefits on a consistent basis.
Best Price On Quinoa
Quinoa, like other grains, is pretty inexpensive to buy, but the best prices are going to be when you purchase in bulk. Quinoa can be purchased from any grocery retailer now, but the most common stores would be Trader Joe's, Aldi's, Sprouts or Whole Foods, Walmart, Target, and Costco. Another great option would be purchasing through Azure Standard.
Azure Standard is a family owned co-op that sells a multitude of grocery and household products at unbeatable prices. I purchase the bulk of my beans, grains, and seeds through Azure. It's a monthly pick-up, offered all over the United States, and it's well worth it for my family. You can purchase quinoa in various sizes, but they also sell quinoa pasta and other quinoa products as well.
It is an affordable seed that we should eat often because of all its quinoa benefits. The cost is around $.75 per dry cup of quinoa if you purchase from Costco, which when cooked is about 2 cups worth. This is great! I can make enough to feed my family of 6 for about $1.50 total!
Other Recipes You Might Enjoy:
Easy Quinoa Recipe
A simple way of making quinoa for any recipe you might want to use it in. Quinoa is delicious in salads, as a warm cereal like oatmeal, or used as a topping for cobblers.
Ingredients
1

cup

quinoa

any variety

2

cups

water or broth
Instructions
Measure 1 cup quinoa into a mesh strainer and wash quinoa seeds.

Pour rinsed quinoa into a medium saucepan with 2 cups water.

Cover and bring mixture to a boil.

Once the water is boiling, turn the burner to low and cook for 15 minutes.

When the timer goes off, turn the burner off and let the quinoa rest for 10 minutes.

Fluff the quinoa with a fork and enjoy.

If using in a salad recipe, let the quinoa cool completely. Quinoa will last in the refrigerator for 4-5 days.
Pin For Later!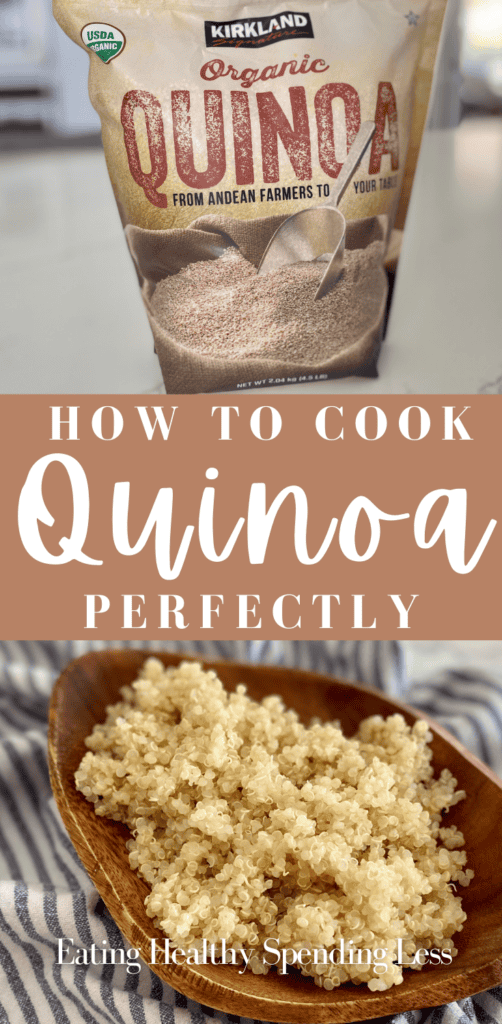 Please Note: The links in this post are affiliate links, and I will receive a small compensation when you use my links to make a purchase. I would appreciate your support, as this website helps support my family.