Recipes
Sourdough Bread Recipe Easy – No Stretch and Folds
We have made this sourdough bread recipe easy because there are no stretch and folds and it's quick to throw together on busy days. Simply mix together the sourdough starter with water, flour, salt, and honey, and bake the next morning.
How To Make This Sourdough Bread Recipe Easy
You all know my love for sourdough bread. I have videos on YouTube explaining how to make a sourdough starter, and how to make a traditional sourdough bread recipe. However, I needed a quick sourdough bread recipe easy enough for me to make on busy days. I took all the experience that I have and created this really delicious easy sourdough bread, and I added honey to it to give it a mild sweetness that my kids just love.
To start, the night before baking simply mix together sourdough starter, water, flour, salt and honey. Knead the dough for a few minutes to get it well incorporated. Then simply let it rest over night. The next morning you will shape the dough and bake it.
My husband says this bread is slightly more dense than traditional sourdough, but it doesn't bother us when we're using it for sandwiches.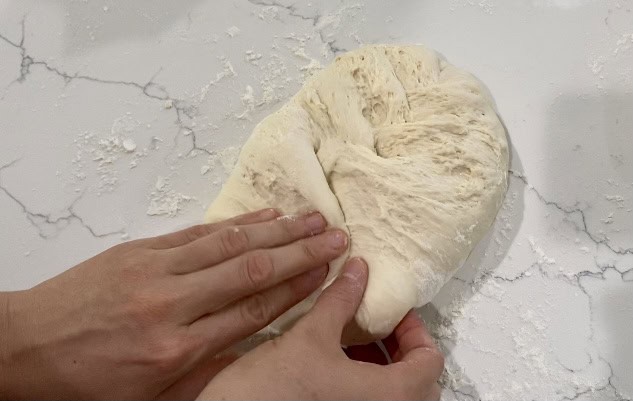 What Kind of Flour To Use For Bread Making
Any all purpose flour will work for making bread. I prefer using a high quality unbleached organic flour since my husband and I have gluten sensitivities. Arrowhead or Bob's Red Mill makes a great flour, but another option is purchasing flour in bulk through Azure Standard. Azure Standard has a large selection for making this sourdough bread recipe easy and delicious.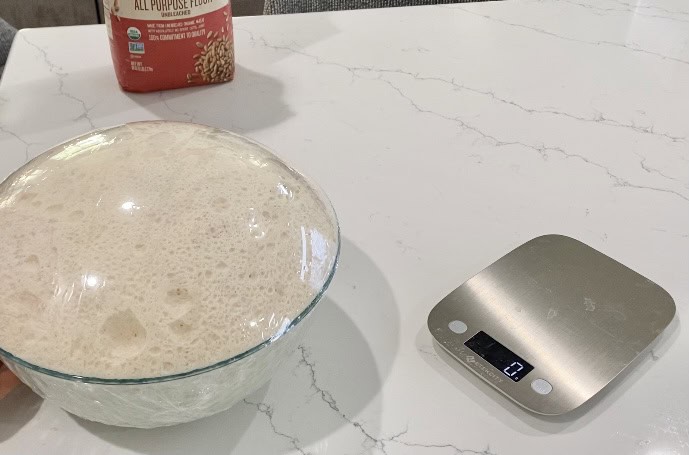 Ingredients For Making Sourdough Bread
To Make The Best Sourdough Bread Recipe easy you just need a few basic ingredients. You'll need an active sourdough starter, flour, water, salt, and honey.
Sourdough Starter:
To make a sourdough starter definitely check out my blog post explaining in full detail how to make a sourdough starter. It's simply flour and water, that's it!
Flour:
I prefer using an unbleached all purpose flour, preferably organic. Any all purpose flour will work for this recipe.
Water:
Any kind of water should work, however, I have heard through many sourdough friends that filtered water is best. Water that contains high levels of chlorine or hard water may affect the results of your bread.
Salt:
I purchase the pink Himalayan salt from Costco, but inexpensive table salt will work. I would stay away from a coarse salt and stick with a fine version for the best results.
Honey:
Honey gives this sourdough bread recipe a delicious hint of sweetness. The recipe calls for between 80-160 grams on honey and it all depends on how sweet you'd like it to be. I typically use honey that I've purchased through Azure Standard. It's a mild wild berry honey that is just delicious.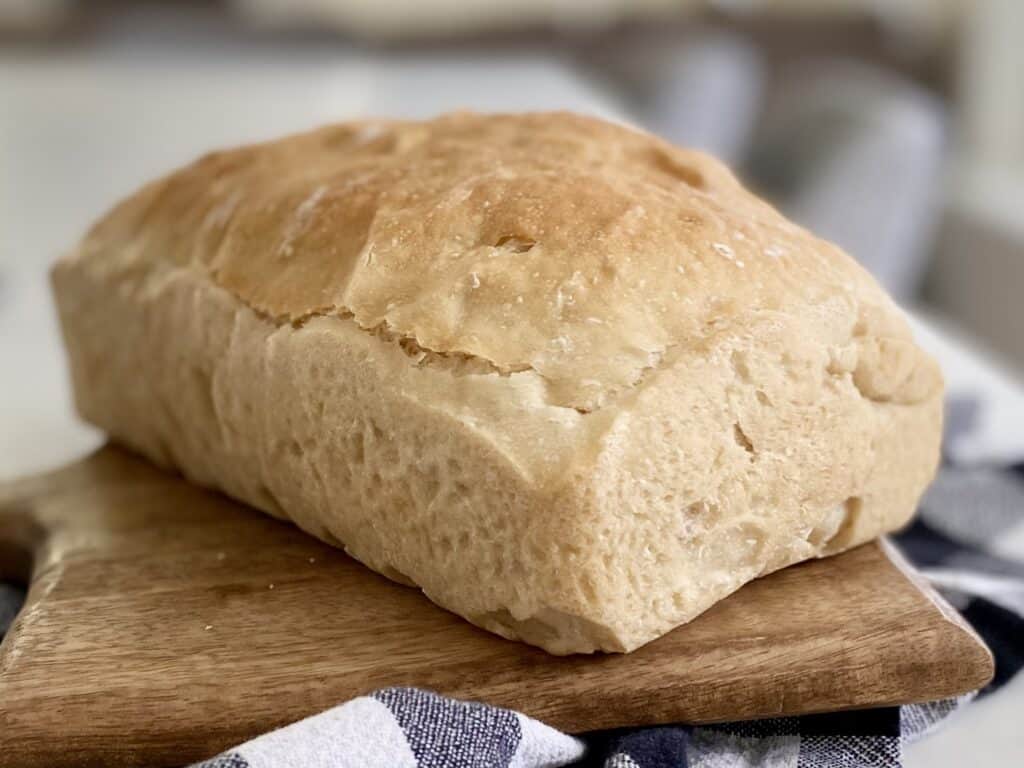 You can see in the picture above that this bread does not get big and puffy like my traditional sourdough bread, but do not be fooled. This bread is so flavorful and delicious! I love both recipes so much, but I just love how easy this is to make.
This school season has been a busy one, but I always want to make sure we have sourdough bread on hand for quick sandwich making. I use an electric knife to cut the bread. We have yet to buy bread this year because of this recipe. I am able to keep fresh baked bread in the house at all times thanks to this easy sourdough bread recipe.
Other Recipes You Might Enjoy:
Easy Sourdough Bread – No Stretch and Folds
We have made this sourdough bread recipe easy because there are no stretch and folds. Simply mix together the sourdough starter with water, flour, salt, and honey, and bake the next morning.
Ingredients
300

grams

active sourdough starter

fed within the last 8-10 hours

600

grams

lukewarm water

1000

grams

flour

2

tsp.

salt

80-160

grams

honey, depending on how sweet you want it

(totally optional and not necessary)
Instructions
The night before, make the dough. Measure out all ingredients in a large mixing bowl, then use a wooden spoon to incorporate the ingredients.

Once the dough becomes slightly stiff, stop and empty the bowl onto a clean work surface.

Knead the dough for 3-5 minutes. The dough will be quite sticky, so have a bowl of flour nearby to sprinkle flour onto the dough. The goal is to knead together a dough that is not sticky at all.

Once the dough has come together nicely, place the dough back into the bowl and cover the bowl. I like using 2 layers of clip wrap.

Set the bowl aside for the night. If your house is cold, you can place an oven mitt under the bowl and lay a dish towel over the top.

The next morning, using a bench scraper, scrap the dough out onto a well floured surface. Depending upon the heat in your home, the dough might be a bit stick again, that's okay.

Divide the dough in half. Use a kitchen scale to measure out the dough into equal halves, or just eyeball it.

It's time to do your PRE-SHAPING.

Starting from the North side, grab the dough and fold it into the center. Now take from the South side and fold that end of dough into the center. Now the sides, then the corners, always working from opposite sides.

Make sure the underside is floured, but do not flour the top side, or the pieces of dough will not stick to each other.

The goal now is to create tension on the under side. To do this you pick up the dough and place it on its side and tuck the dough under. Continue this process of tucking the dough all the way around. Now place the dough tucked side down, with the nice smooth side facing up.

Use your hands to turn the dough ball in a circle cupping the dough with your hands and tucking any loose ends under.

Repeat the process with the second half of the dough.

Place a piece of cling wrap and a dish towel over the 2 dough balls and let them rest for 20 minutes.

Once the timer goes off, it's time for the FINAL SHAPING. Take a dough bowl, flip it upside down, and place of a well floured surface.

On the North side of the dough, fold down the top piece with your hands about ⅓ of the way down. We are going to now fishtail braid our bread. Take a piece from the left side and fold it into the center. Then, take a piece from the right side and overlap the first piece. Continue this process until you are down and the bottom.

Lightly flour your hands at anytime if it gets sticky.

Now it's time to take the bottom piece and fold it up about ¼ of the way, and roll the dough like a cinnamon roll.

We use this bread for sandwiches, so I prefer zero big holes. So I roll the bread tightly.

Now place your bread in your desired loaf pans. I use silicone loaf pans, but if using metal pans, I recommend lining them with parchment paper.

Place that same piece of cling wrap on top of the loaves with a towel, and let rest for 1 hour. This gives the dough time to rise a bit.

Preheat oven to 400 degrees, and place a metal baking dish filled ¾ of the way with water on the bottom rack of your oven.

Cook sourdough bread in the 400 degree oven for 10 minutes, then lower the heat to 375 degrees and bake an additional 30 minutes.

Let the bread cool for 10 minutes before removing from the loaf pans.

Let bread completely cool before slicing it. I use an electric knife to get thin sandwich style slices.

Store bread in a bread bag on the counter for 3-4 days, or longer in the refrigerator. Sourdough bread freezes well too and will keep in the freezer for 2 months.
Notes
Want to make this in a stand mixer? Here's how:
Increase your flour weight to 1100g total.
Mix all ingredients together in a stand mixer for 3-4 minutes.
Place dough in a separate bowl, or use your stand mixing bowl. No need to knead the dough any further.
Proceed with recipe.
Pin For Later!
Please Note: The links in this post are affiliate links, and I will receive a small compensation when you use my links to make a purchase. I would appreciate your support, as this website helps support my family.