$5 Dinner Recipes
Texas Hash – Cheap Dinner
Texas hash is one of the cheapest dinners my grandma taught me to make using her church cookbook. This easy weeknight dinner recipe uses cheap ingredients to create a spectacular meal.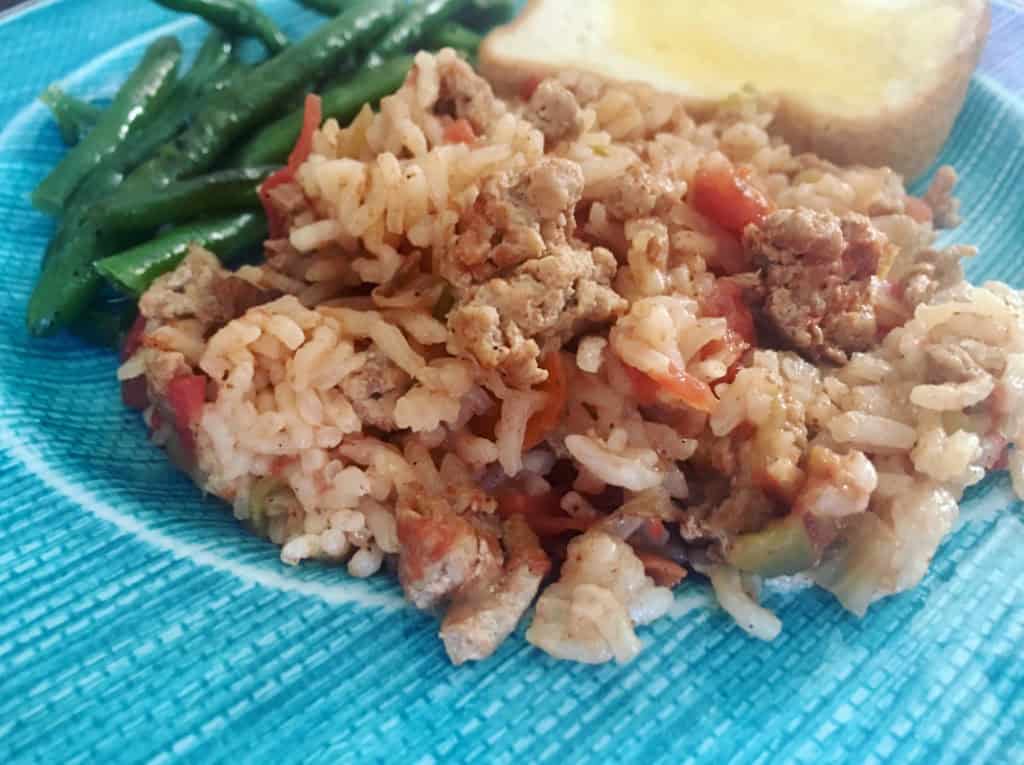 Texas Hash – Cheap Dinner
This recipe came out of one of my grandma's church cookbooks. These are cookbooks that I treasure with my whole heart. And even though this recipe does not come from my family, it comes from a sweet Christian lady, named Bobbie Dupuy, and to me that's still exciting!
I am since then passed on the cookbook to another home. I wish so badly I would have snagged a picture to share with you. My grandma remembers Bobbie Dupuy, but wasn't close to her. This recipe though, is cheap and a fabulous addition to our recipe keeper.

The only big changes I made was that I doubled the rice and liquid. I knew 1/2 cup rice was not enough. So I hope you will enjoy this recipe as much as my family did. It really is easy and delicious!
Cost Breakdown to make Texas hash:
Ground turkey or beef – $2.50
Rice, 1 pound – $1.00
Canned tomatoes – $.50
Canned Rotel, store brand – $.50
Onion – $.50
Total cost: $5.00 to make Texas Hash. The cost for the seasonings is not included since I already had them on hand.
How To Make Italian Flavored Texas Hash Using Brown Rice:
1 pound ground beef, pork, or shredded chicken
1/2 onion, diced
2 zucchinis, diced
1 can diced tomatoes
2 1/2 cups chicken broth
1 1/2 cups brown rice, uncooked
1 Tbsp. Italian seasoning
2 tsp. garlic powder
1 tsp. salt
Follow directions below, except you will extend the cooking time to 90 minutes.
If you liked this recipe, you might also like:
Texas Hash
Ingredients
1

pound

ground turkey or beef

1

onion

diced

1

small

can of diced chilies

mild

1

16oz

can of diced tomatoes

1

can

water

use tomato can and fill with water

1

cup

uncooked white rice

2

tsp.

salt

1

tsp.

chili powder

1/2

tsp.

black pepper
Instructions
Preheat oven to 350 degrees. Grease a 9X13 baking dish.

In a large skillet, cook onion and meat together under meat is cooked through.

Drain off any fat, then in a mix bowl add all ingredients together.

Pour into the baking dish, cover with aluminum foil, and bake for 1 hour.
Pin for later!
Please Note: The links in this post are affiliate links, and I will receive a small compensation when you use my links to make a purchase. I would appreciate your support, as this website helps support my family.