Main Dishes
Chili Queso Mac | Dairy-Free and Meatless
This chili queso mac is a crowd pleaser for sure, and made with healthy vegetables instead of the typical Velveeta and canned chili recipe.
Vegetables Instead Of Processed Foods
One of the biggest culprits to the American diet and an increase in chronic disease is processed foods. Lets eliminate processed foods and make delicious, kid friendly recipes using vegetables! I know, you're thinking, if only my kids would eat vegetables, then I could do that. Well, lets make vegetables taste good and get our kids excited about them.
One of the best vegetables to eat that kids really enjoy is sweet potatoes. Sweet potatoes are packed full of nutrients, and a lot of those nutrients are found in the skin. For this recipe, keep the skin on. You will be pureeing the vegetables anyways, so you might as well serve your kiddos a nutrient rich dish.
Keep The Dairy Away By Adding More Flavor
Typically in casserole dishes, you add sour cream, cheese, milk, and butter. In this dish you won't find any of those ingredients. Here's the deal, dairy products are culprits for inflammation. Inflammation from dairy often causes sinus problems, ear aches, auto-immune issues, and the list goes on. All kids tend to love cheese though, so we've got to make this sauce really creamy and delicious!
The Base To Make Queso Plant Based
2 cups diced sweet potatoes
1 cup diced carrots
3 cloves garlic, diced
2 cups vegetable broth
These are the 4 staple ingredients you need to make a great queso. The added spices are ingredients elevate the queso to chili queso.
There are 2 variations to this recipe because I wanted to offer a stove-top and an Instant Pot version. You will see the cooking specifications in the printable version.
After you puree the base ingredients, you want to add the additional ingredients and puree. If you don't want to use canned fire roasted green chiles, then a fresh jalapeno works too. It would be even better if you fire roasted it first on the stove!
How To Make Chili Queso Mac
Once you've created the velvety, creamy, and delicious queso, now it's time to pull the dish together. Cook the noodles, according to package directions, add the sauce along with the black beans, corn, and olives.
We like to use the fire roasted frozen corn from Trader Joe's, but feel free to use canned or another type of frozen corn.
This is a dish I know your family will love! We like to add guacamole on top when serving this meal. It breaks up the flavors a bit and gives the dish a wonderful topping. Enjoy!
Other Recipes You Will Enjoy:
Chili Queso Mac [Plant-Based]
Have you ever had chili queso mac made with Velveeta and a can of chili mixed together with elbow pasta? Well, I have a few times growing up, and this recipe is very similar, but it's made from vegetables! No Velveeta in sight!
Ingredients
2

cups

diced sweet potatoes

with the skins on!

1

cup

diced carrots

3

sliced garlic cloves

2

cups

vegetable broth

1

(4oz) can

fire roasted mild green chilies (optional)

or 1 jalapeno pepper deseeded and diced

2

Tbsp.

nutritional yeast

1

tsp.

salt

1

tsp.

smoked paprika

1/2

tsp.

cumin powder

1/2

tsp.

chili powder (optional if too spicy)

1

pound

elbow pasta

1-2

cans

black beans, drained and rinsed

1

cup

frozen corn

fire roasted is best

1

cup

sliced black olives (optional)
Instructions
On the stove in a large saucepan, add sweet potatoes, carrots, garlic, and vegetable broth. Cover with a lid. Bring to a boil, then cook on medium heat for 10-15 minutes, or until veggies are soft.

Once vegetables are done cooking, let them cool for 10 minutes before adding to a blender.

In addition to the cooked vegetables, add the canned chili peppers, nutritional yeast, salt, smoked paprika, cumin, and chili powder to the blender. Blend on high speed for 1 minute.

Your chili mac sauce is done.

Cook the noodles according the the package directions, drain, and add the canned beans, corn, olives, and chili queso to the noodles. Mix well to combine.

Add additional salt and pepper if needed, and serve.
Notes
***INSTANT POT INSTRUCTIONS: In step 1 of the recipe, instead of adding the ingredients on the stove, add them to your instant pot. The sweet potatoes, carrots, garlic, and veggie broth.
Cook on MANUAL high heat for 12 minutes. Allow mixture to naturally release or you can do a quick release 10 minutes after the timer has gone off.
Proceed with the recipe above from there.
Pin For Later!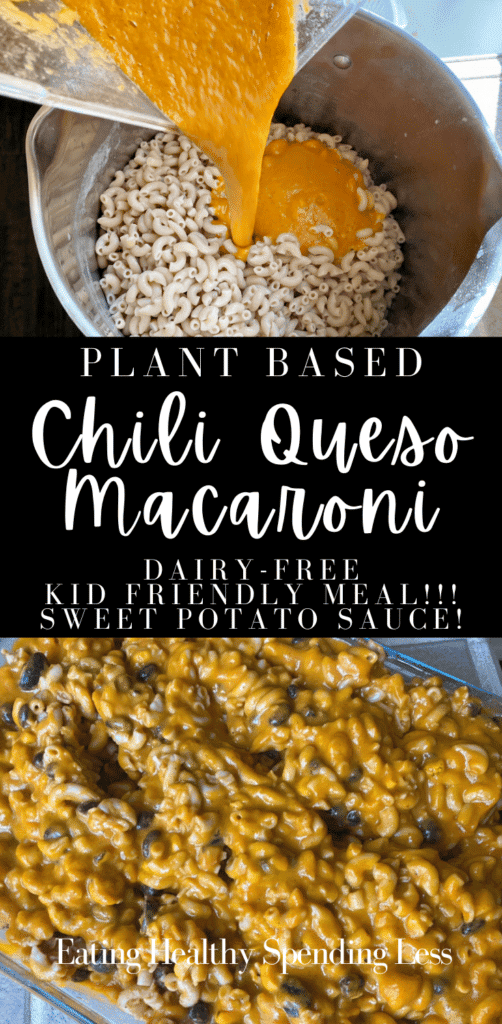 Please Note: The links in this post are affiliate links, and I will receive a small compensation when you use my links to make a purchase. I would appreciate your support, as this website helps support my family.