Dessert
Healthy Ginger Molasses Cookie Recipe | Gluten-Free
If you're looking for a healthy holiday cookie to take for a gathering this season, look no further because this healthy ginger molasses cookie recipe is something you can feel good about eating and enjoying with the ones you love most.
I grew up eating many different holiday cookies throughout the months of Thanksgiving and Christmas. I grew to love molasses cookies because of my dad. My dad's favorite food group is cookies, seriously! We were gifted cookie platters often, and I always remember looking for a ginger flavored cookies, I remember eating them the most. I'm so excited to share this delicious ginger molasses cookie recipe with you.
Ingredients In a Healthy Ginger Molasses Cookie Recipe:
old-fashioned rolled oats
almond butter (best price at Costco)
sucanant or other brown sugar
flaxseed meal
baking powder
cinnamon
ground ginger
ground clove
salt
milk (any kind)
maple syrup, or simple syrup
black strap molasses
vanilla extract
Health Benefits of Black Strap Molasses
Black strap molasses contains amazing vitamins and minerals like:
calcium
iron
magnesium
selenium
vitamin B6
Black strap molasses also can improve our healthy by helping with arthritis pains, and hair growth, strengthening bones, and is a great antioxidant. Though this molasses cookie recipe doesn't contain a lot of black strap molasses, it's enough to get your use to the flavor, which I have learned to really enjoy.
Most people use regular molasses to make these types of cookies, but we have the opportunity to use an amazing and affordable ingredient that can really boost our health. Black strap molasses is a vital ingredient in our health, and I purchase it from Azure Standard. There prices are amazing and I purchase several of my pantry staples from them each month.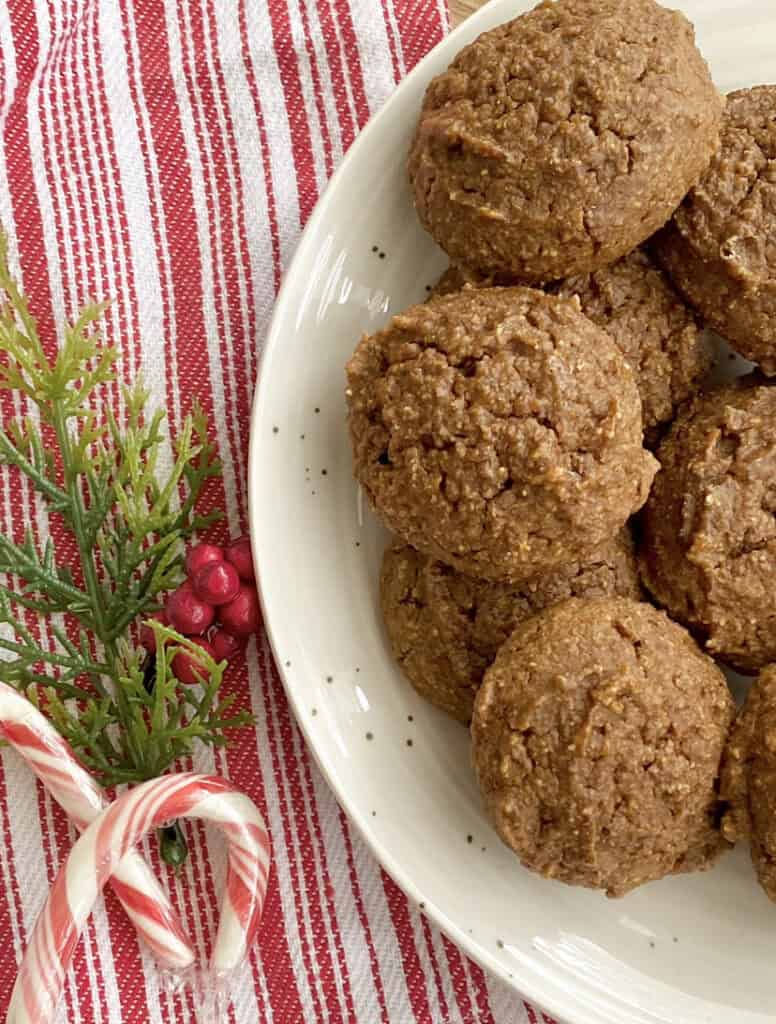 Other Recipes You Might Like:
Healthy Ginger Molasses Cookie Recipe | Gluten-Free and Vegan
These healthy ginger molasses cookies taste like a spiced cake, just perfect for the holiday season. These cookies are fluffy, moist, and very flavorful.
Ingredients
Dry Ingredients
3

cups

oat flour

1/2

cup

sucanat

or coconut sugar, or brown sugar

2

tbsp.

flaxseed meal

1

tsp.

baking powder

3

tsp.

cinnamon

2

tsp.

ground ginger

1/2

tsp.

ground clove

1/4

tsp.

salt
Wet Ingredients
1

cup

soymilk

1/4

cup

maple syrup

1/4

cup

almond butter

2

tbsp.

molasses, black strap

2

tsp.

vanilla extract
Instructions
Preheat oven to 350 degrees. Line a baking sheet with parchment paper.

First, grind the oats into flour, then add the the oat flour and the rest of the dry ingredients to a mixing bowl.

Next, mix all the wet ingredients together in a separate mixing bowl, then add them to the dry ingredients and mix the dough together.

You might think the dough is a little wet… that's normal. The oat flour will absorb a lot of the liquid. Let the dough sit for 3 minutes.

Now use a cookie scoop or spoon and scoop out about 2 Tbsp. of dough onto your parchment lined paper. The cookies don't spread, so you can put them pretty close together.

Bake the cookies for 8-10 minutes. If you cookies over bake they will dry out, so check them about 8 minutes.
Notes
***Store the cookies in an airtight container on the counter for 2-3 days, or in the refrigerator for up to 5 days. These cookies also freeze very well for up to 2 months.
Pin For Later!
Please Note: The links in this post are affiliate links, and I will receive a small compensation when you use my links to make a purchase. I would appreciate your support, as this website helps support my family.