Dessert
Recipe For Sugar Cookies | Gluten-Free and Vegan
I have never been more excited for this recipe for gluten-free sugar cookies. I have tried other sugar cookie recipes over the years, but these sugar cookies just make me dance, and there's no butter, eggs, oil, or bad stuff in them!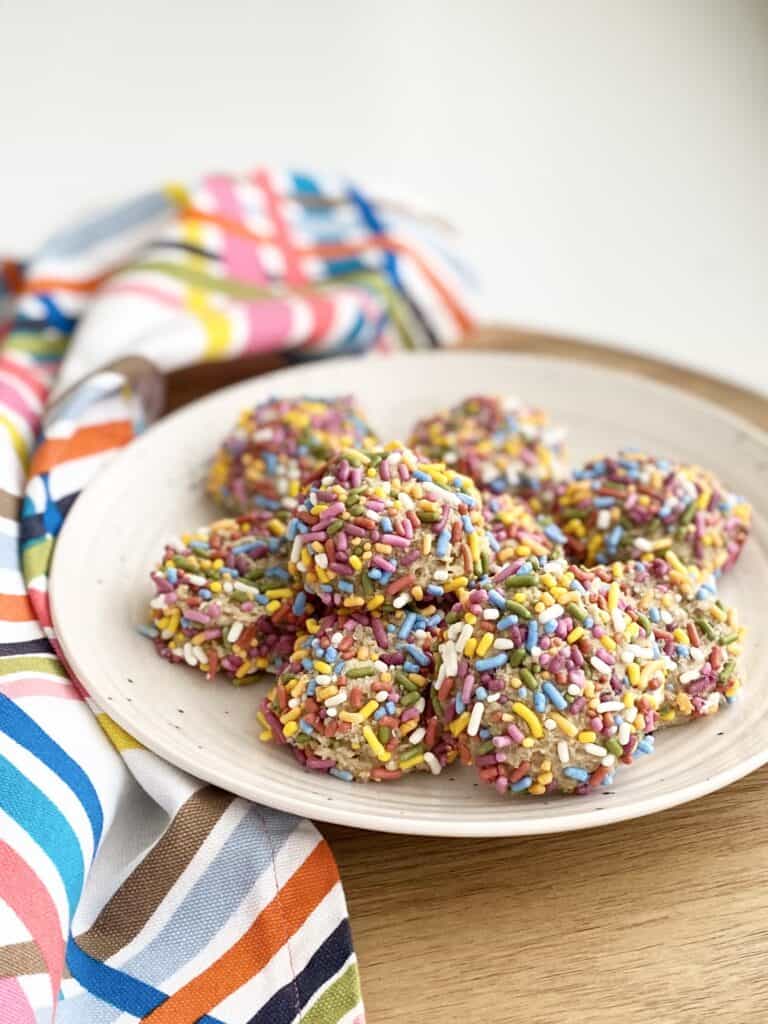 Is This Sugar Cookies Recipe Easy?
Making these cookies could sound complicated if you're not use to baking without butter and eggs. I have been baking gluten-free for 8 years and vegan for 3 years. I can tell you there is definitely a bit of practice that comes with gluten-free baking, but I have simplified it to my best ability to bring you the most delicious and moist recipe for sugar cookies.
This sugar cookie recipe is easy because we are using 2 basic flours, oat flour and tapioca flour. Oat flour is made just by taking oats and grinding them into a flour using a blender. Tapioca flour or starch is sold at most all grocery stores now, including most Walmart and Targets.
Ingredients In This Recipe For Sprinkle Sugar Cookies
old-fashioned rolled oats (quick oats work too)
tapioca flour/starch
ground flaxseed meal
baking soda
salt
sprinkles (optional)
cane sugar (optional)
cashews
milk (any kind will work)
honey
vanilla extract
Where Can I Purchase These Ingredients?
Many of these ingredients you most likely have on had to make this recipe for sugar cookies, but let me give you some of my best money saving tips. We purchase all of our grains in bulk, along with many other items, through Azure Standard. Purchase a 50-pound bag of old-fashioned rolled oats from them every few months, tapioca starch is at a great price when you purchase a 5/lb bag, and their berry/wildflower honey is my favorite and I purchase it by the 12/lb jug.
I prefer using cashew pieces in my cooking and baking because it's much cheaper to buy cashew pieces in bulk than it is to buy cashew butter. I also purchase large cashew pieces from Azure Standard. The price is fantastic and the quality is amazing. I store them in a reusable 1/2 gallon bag in my freezer.
If you're looking to purchase these no artificial dye sprinkles to make this sugar cookie recipe, I have seen them on Amazon, at Sprouts, and Target.
Other Recipes You Might Like:
Sprinkle Sugar Cookies | Gluten-Free and Vegan
Get ready to sink your mouth into the most delicious and moist sugar cookie you've ever had that you can actually be proud of eating! These sprinkle sugar cookies are full of fiber from the oats, and filled with wonderful nutrients from the cashews and honey. These cookies are naturally gluten-free and vegan. You will not miss the butter or eggs that traditional cookies have, promise!
Ingredients
Dry Ingredients
2

cups

rounded cups of oats, ground into flour

1/4

cup

tapioca starch

2

Tbsp.

flaxseed meal

1

tsp.

baking soda

1/4

tsp.

salt

1

bottle

Sprinkles

I use Watkins brand

1

Tbsp.

cane sugar

(optional)
Wet Ingredients
1

cup

cashews soaked in boiling water for 10 minutes

1/2

cup

honey, light colored

1/4

cup

oat milk

or any milk will work

1

tsp.

vanilla extract
Instructions
Preheat oven to 350 degrees.

Line a baking sheet with parchment paper and set aside.

Measure out 1 cup of cashew pieces in a heat proof bowl, and pour boiling water over them to completely cover the cashews. Let them sit for 10 minutes. (I like to fill my tea kettle with water and bring it up to a boil that way, but you can also boil water in the microwave.)

While the cashews soak, put 2 round cups of oats into a blender, and blend until you get a fine oat flour consistency. Pour oat flour into a mixing bowl.

In the mixing bowl add the rest of the dry ingredients (minus the sprinkles and cane sugar).

Once the cashews are done, drain them in a colander, then add them to the blender with the rest of the wet ingredients.

Blend the cashews until you get a creamy texture. This may take some time and you'll need to scrape the sides of the blender often.

Add the cashew cream to the mixing bowl and mix all the ingredients together.

I like to use a cookie scoop, a spoon can work too, to scoop out dough and then I drop it in a small bowl with the sprinkles and cane sugar. Make sure to coat each cookie on all sides, then carefully place the cookie dough ball on the baking sheet.

These cookies do not spread out, so you can put them pretty close together, about 2-3 inches apart.

Bake cookies for 10 minutes. I would check the cookies after 8 minutes to see if they are slightly firm on top. You do not want to dry out these cookies, and oat flour can dry out if it's cooked for too long. Just keep an eye on them 🙂

These cookies store best on the counter for 2-3 days, or in the refrigerator for up to 4 days. They also freeze very well for 1 month.
Notes
***You do not have to add sprinkles for this recipe to work. These sugar cookies are quite delicious with and without the sprinkles.
Pin For Later!
Please Note: The links in this post are affiliate links, and I will receive a small compensation when you use my links to make a purchase. I would appreciate your support, as this website helps support my family.