Dessert
Recipe For Hot Chocolate Snickerdoodles | Gluten-Free and Vegan
Warm cinnamon and hot chocolate snickerdoodles are the perfect combination for a holiday cookie. This gluten-free and vegan recipe for snickerdoodles are packed full of flavor with a soft and moist texture. For this reason, you'll never miss the butter and eggs in this recipe!
What Ingredients Do I Need For Hot Chocolate Snickerdoodles?
Each ingredient in this recipe for snickerdoodles is very important to achieve the perfect consistency. I love the flavor of these hot chocolate snickerdoodles and each ingredient is important! For this reason, please do not substitute any ingredients in this recipe for any other ingredients. I have tested this recipe a multitude of times, therefore I know this is the perfect ratio of ingredients.
Oat flour
Almond flour
Tapioca starch
Cocoa powder
Flaxseed meal
Ground Cinnamon
Cream of Tartar
Baking soda
Salt
Simple syrup or Maple syrup
Water
Vanilla extract
Mini chocolate chips
Cane sugar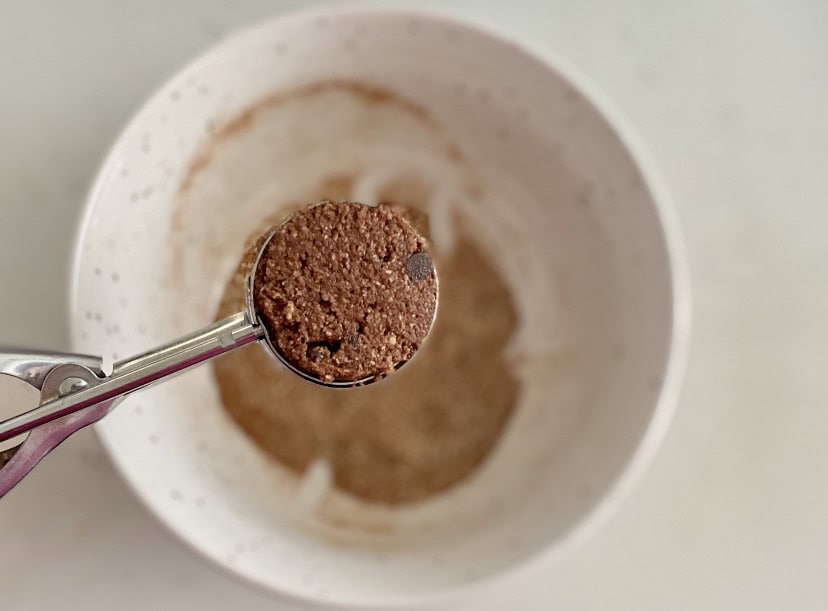 How To Make Simple Syrup
1/2 cup Water
1/2 cup Sugar – I use sucanant as my sweetener but any dry sweetener would work.
In a small saucepan, combine water and sugar. Next, heat the mixture on medium-low until sugar dissolves and stir often to keep the bottom from burning. This does not need to come to a boil. You just want the sugar to dissolve. This simple syrup is perfect in this recipe for snickerdoodles.
Where Can I Find These Ingredients?
All these ingredients can be purchased at Walmart for this snickerdoodle recipe; however, I love the quality of ingredients and price that Azure Standard offers most. Azure Standard is a faith based co-op that sells high-quality organic and non-organic items at unbeatable prices.
My favorite Azure Standard ingredients, in this recipe, are the organic oats that I purchase in a 50 pound bag and the organic cocoa powder. You will notice a difference when you use high quality ingredients, and it's even better when the prices are amazing for your budget.
My hope this holiday season is that you find joy baking these healthy and delicious cookies for your family and friends. We should all be given the opportunity to feel good about the foods we eat. In America, we have been brought up to believe it's okay to eat unhealthy desserts, but I'm here to say we can eat all the yummy desserts we want and stay healthy.
Other Recipes You Might Enjoy:
Hot Chocolate Snickerdoodle Cookies | Gluten-Free & Vegan
This recipe is easy to put together and simple to make. You will love the texture and flavor of this cookie and it's perfect for holiday gift giving. I use Enjoy Life mini chocolate chips, which works well in this cookie recipe compared to regular sized chips. Enjoy!
Ingredients
Dry Ingredients
1

cup

oat flour

1 round cup of oats, ground into flour

1

cup

almond flour

extra fine

1/2

cup

cocoa powder

1/4

cup

tapioca flour/starch

2

Tbsp.

flaxseed meal

1

tsp.

ground cinnamon

1/2

tsp.

cream of tartar

1/2

tsp.

baking soda

1/8

tsp.

salt

1/4

cup

mini chocolate chips

I use Enjoy Life brand
Wet Ingredients
3/4

cup

simple syrup or maple syrup

simple syrup directions in the notes

1/4

cup

water

2

tsp.

vanilla extract
Sugar/Cinnamon Mixture
3

Tbsp.

cane sugar

or another light colored sugar will work

2

tsp.

ground cinnamon
Instructions
Preheat oven to 350 degrees.

Line a baking sheet with parchment paper, or use a silpat.

In a mixing bowl, add all the dry ingredients, minus the chocolate chips. Use your finger to break up any clumps. You can sift the dry ingredients, but I find that using my hands works very well.

Add the wet ingredients including the maple syrup, water, and vanilla extract. Mix everything together, then add the chocolate chips and mix thoroughly.

The dough may seem a little too wet, but in a few minutes the oat flour will absorb a lot of the liquid.

In the meantime, add the sugar and cinnamon to a small bowl, and stir to combine.

I like to use a cookie scoop to get an accurate amount of cookie dough, but you can use a spoon and measure out about 2 Tbsp. of dough.

Drop the cookie dough into the cinnamon/sugar and toss until the cookie is completely coated in the sugar mixture. (I do not roll the dough in between my hands at all.)

Place each cookie dough ball on the baking sheet, about 2-3 inches apart.

Bake in the oven for 8-10 minutes, or until the tops of the cookies feel slightly firm. In my oven, 10 minutes is my golden number.

Let the cookies cool slightly (5 minutes), before placing them on a cookie rack to completely cool.

These cookies store well in an airtight container, on the counter, for 4 days. They can also be frozen for up to 2 months.
Pin For Later!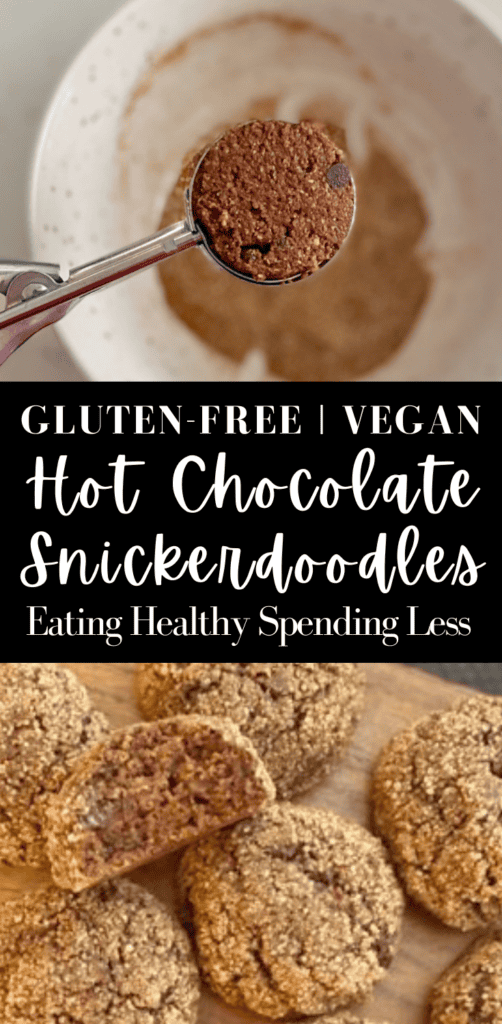 Please Note: The links in this post are affiliate links, and I will receive a small compensation when you use my links to make a purchase. I would appreciate your support, as this website helps support my family.