Recipes
Sourdough Dinner Rolls – Better Than Texas Road House Rolls!
Learn how to make these light and airy sourdough dinner rolls using healthy ingredients that will leave you more satisfied than Texas Road House rolls. These are perfect on their own, but also make delicious sourdough hamburger buns.
The first step to making delicious sourdough dinner rolls that taste better than Texas Road House rolls is making the dough the night before. It's best to allow the dough to ferment overnight, so you get all those good fermented health benefits from the sourdough starter.
This dough is completely plant based and has zero oils and eggs. This is very common in sourdough recipes, but these are just as tasty and even more beneficial to your health. Texas Road House rolls are filled with instant yeast (no health benefits) and buttery. Eating one can cause bloating and make you feel like you've eaten a brick. Sourdough allows those gluten's to break down living you feeling great after eating one.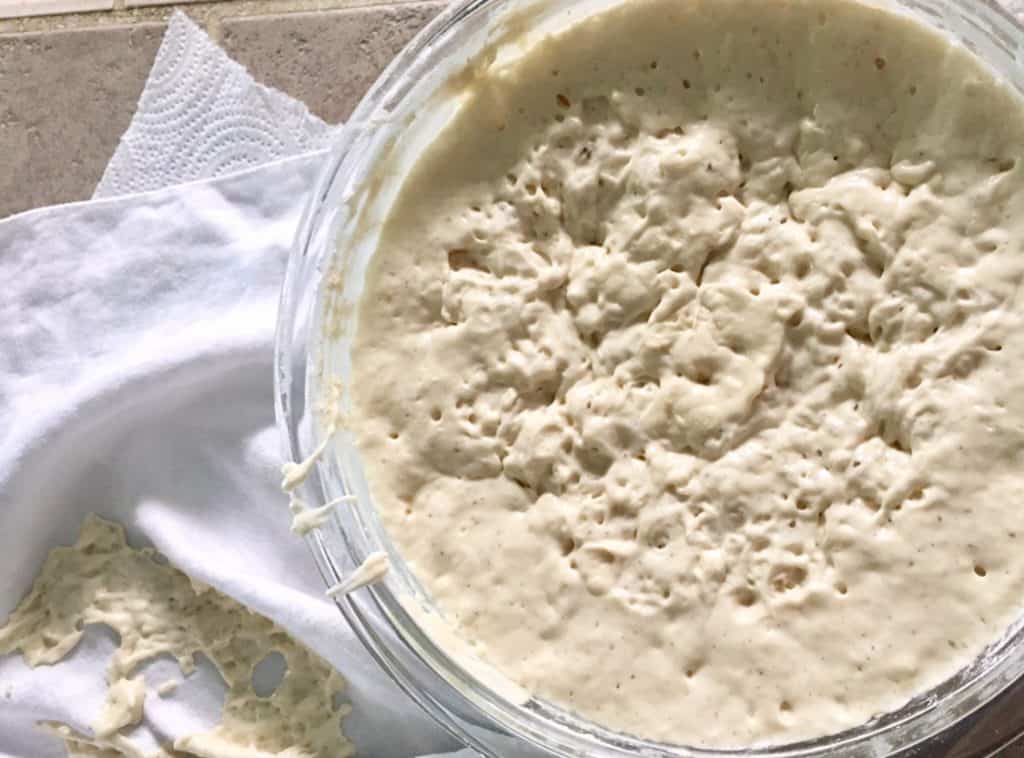 First You Need A Sourdough Starter
In order to make these rolls, you need a sourdough starter. Start with this recipe, then come back to make these amazing melt-in-your-mouth dinner rolls!
How To Make Sourdough Dinner Rolls – Better Than Texas Road House Rolls
First you need a sourdough starter, which is just water and flour.
To a bowl add starter, flour, water, and salt.
Mix all ingredients together, then dump on a counter and knead the dough until it is well incorporated.
After a few minutes, put the dough back in the bowl and cover with plastic wrap, and a dish towel.
Leave in a warm spot, near the dishwasher is great!
The next morning put the dough on a floured work surface and cut the dough into 12-16 pieces.
Use a kitchen scale to make sure each dough is the same size.
Form into dough balls and place in a greased or parchment lined baking dish. Cover with the plastic wrap and let the dough rest for 1 hour.
Bake in a 375 degree oven for 35-45 minutes.
The Easiest Sourdough Dinner Rolls Recipe Only Needs 4 Ingredients!
Sourdough starter (just water and flour)
Water
All-purpose flour
Salt
Sweetener optional, read notes
If you would like a sweeter roll, then you can add 100g of honey. Honey is a great sweetener and makes these rolls taste AMAZING! Texas Road House rolls are very sweet, so to make these sweet you just need honey, or maple syrup, simple syrup, agave nectar, or even just 80g of your favorite dry sweetener like Sucanat or coconut sugar.
How Does Sourdough Rise Without Yeast?
Back before you could buy dried yeast in packets to make bread like Texas Road House Rolls, people made sourdough bread. There is a fermentation process that occurs when you mix flour and water together and let it sit. During the "sitting" phase, the flour starts to break down because of wild yeast from the air and starts to grow in the dough causing the starches to breakdown and form sugar which is the fermentation process of sourdough. That fermented start will cause your bread dough to rise giving you pillowy sourdough dinner rolls!
For more information on the science of sourdough starter, check out THIS WEBSITE for more information.
Other Sourdough Recipes You Might Like: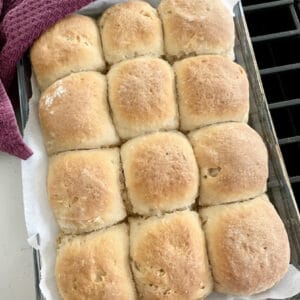 Sourdough Dinner Rolls
Learn how to make these light and airy sourdough dinner rolls using healthy ingredients that will leave you so satisfied. These are perfect on their own, but also make delicious sourdough hamburger buns.
Ingredients
300

grams

sourdough starter

600

grams

water

1000

grams

all-purpose wheat flour

2

tsp

salt

100

grams

honey (optional)
Instructions
The night before, make the dough. Measure out all ingredients in a large mixing bowl, then use a wooden spoon to incorporate the ingredients.

Once the dough becomes slightly stiff, stop and empty the bowl onto a clean work surface.

Knead the dough for 3-5 minutes. The dough will be quite sticky, so have a bowl of flour nearby to sprinkle flour onto the dough. The goal is to knead together a dough that is not sticky at all.

Once the dough has come together nicely, place the dough back into the bowl and cover the bowl. I like using 2 layers of clip wrap.

Set the bowl aside for the night. If your house is cold, you can place an oven mitt under the bowl and lay a dish towel over the top.

The next morning, using a bench scraper, scrap the dough out onto a well floured surface. Depending upon the heat in your home, the dough might be a bit stick again, that's okay.

Decide if you want to make 12 or 16 dinner rolls. If you want big beautiful dinner rolls, perfect to accompany a bowl of soup, then make 12. If you want to make sandwiches with them, then make 16.

Use your bench to separate the dough into 12 or 16 dough pieces.

(OPTIONAL) Measure out the dough pieces, using a kitchen scale to make each dough ball the same size. I like to do this, and I make sure I do when making for other people 🙂

(These are approximate measurements) For 12 dough balls, measure out 160 grams of dough. For 16 dough balls, measure out 120 grams of dough.

Take each dough piece and starting from the North side, grab the dough and fold it into the center. Now take from the South side and fold that end of dough into the center. Now the sides, then the corners, always working from opposite sides.

The goal now is to create tension on the under side. To do this you pick up the dough and place it on its side and tuck the dough under. Continue this process of tucking the dough all the way around.

Use your hands to turn the dough ball in a circle cupping the dough with your hands and tucking any loose ends under. Now place the dough tucked side down, with the nice smooth side facing up in a greased or parchment lined 9X13 baking dish. If making 16 dinner rolls, you will need to use an additional baking dish.

Repeat the process until all the dough pieces are formed.

Place a piece of cling wrap and a dish towel over the baking dish and let them rest for 1 hour.

Preheat oven to 375 degrees, and place a metal baking dish filled ¾ of the way with water on the bottom rack of your oven.

Cook sourdough dinner rolls to 35-45 minutes. 35 minutes for 16 rolls, and 45 minutes for 12 rolls.

Let the bread cool for 10 minutes before removing from the loaf pans.

Store bread in a bread bag on the counter for 3-4 days, or longer in the refrigerator. Sourdough bread freezes well too and will keep in the freezer for 2 months. Read notes for additional FREEZER DINNER ROLLS INSTRUCTIONS.

Dinner rolls are best served warm, but are delicious at room temperature. These rolls will dry out if left on the counter, uncovered for too long. Place a dish towel over the rolls if you want them to cool. If making these in advance, cover with plastic wrap after they have cooled.
Notes
*** FREEZER Sourdough Dinner Rolls Instructions:
These dinner rolls can be made in advanced, frozen, and baked later. When you get to the 14th instruction, you can wrap your dish of rolls and place them directly in the freezer. Do not give them time to rise! Do not bake them!
On the day of baking, take the rolls out of the freezer and let them sit on the counter for 4-6 hours. Bake the dinner rolls as the instructions above say. The texture of these rolls will be different. They will be chewier, and they are definitely a HUGE FAMILY FAVORITE!!! My husband loves when I freeze the dough first.
Pin For Later!
Please Note: The links in this post are affiliate links, and I will receive a small compensation when you use my links to make a purchase. I would appreciate your support, as this website helps support my family.