Grocery Hauls
Grocery Haul and Healthy Meal Plan – $700 Budget
It's the beginning of a new month, so it's time to share a huge grocery haul and our weekly healthy meal plan for our family of 6. This is the time my husband and I do a huge bulk buy of foods that we eat each month.
We are not only eating what is shown in these pictures for this week's healthy meal plan. In our refrigerator and freezers, we have a great stockpile of beans and rice right now due to our supply from stocking up from COVID-19 pandemic. Normally we do not have a stockpile like this, however, due to the pandemic we have felt a need to stay stocked.
We eat predominately whole food plant-based. My family does not eat plant-based all the time like me, though they support how I eat when we are home.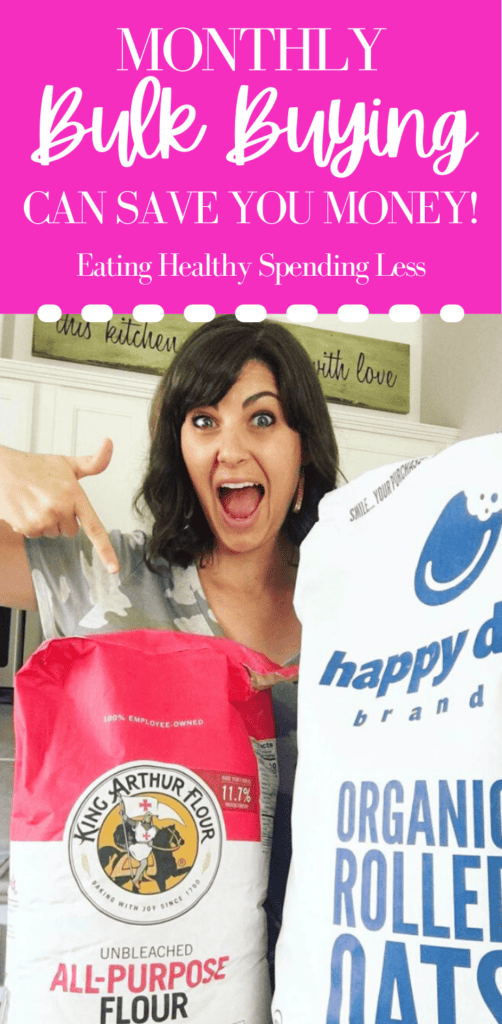 At the beginning of each month I do a large monthly bulk buying trip, which helps with our budget grocery haul and healthy meal plan. I prefer shopping this way right now because it makes weekly grocery shopping trips much more manageable for me. To learn more about my monthly bulk buying trips, tap the link below.
Best Grocery Stores To Shop At
I shop at many different grocery stores each week depending on what I'm wanting to buy to create a healthy meal plan. I live in the city though and we have lots of options within minutes from our home. Understandably, not everyone has that luxury, so do your best! If you are not able to bulk buy at a few stores, then look into Azure Standards. They make monthly deliveries and have many options, but for us right now our system works for us.
For bulk buying we stick to Costco, Winco, and Smart and Finals. For weekly shopping we like Albertsons, Walmart Neighborhood Market, Sprouts, Trader Joe's, and Aldi's.
My BIG Budget Grocery Haul
This month we chose a grocery budget of $700. I use part of that at the beginning of the month to purchase bulk items that we use almost everyday. To purchase these bulk items we always go to 3 stores.
Today, we actually went to 5 stores. I'm sure you think we are NUTS for doing this. It sounds nuts to me too. However, my husband went to 3 stores, and I went to 2 stores. All of these stores are within 10 minutes of our home. Normally we DO NOT go to this many stores in one day, but today we did for a YouTube video I filmed. Typically we purchase the oats and flour the following week.
Here's the cost breakdown of what we bought. Remember, fresh produce is NOT considered bulk items. The produce purchased is strictly for this week's healthy meal plan. We will purchase fresh produce each week this month.
Costco Shopping Trip – $120.00
Bulk Items:
(3) Peanut Butters – $9.99 each
(4) Pure Maple Syrups – $9.99 each
8ct Black Beans – $6.89
8ct Sliced Black Olives – $8.99
Total for bulk buying: $85.81 | Total for produce for the week: $34.19
Winco Shopping Trip – $55.02
Bulk Items:
25-Pound Bag Organic Oats – $26.78
(8) Pacific Oat Milks – $2.54 each
(4) Pacific Veggie Broths – $1.98 each
I love the convenience of having oat milk in the pantry. Yes, I could easily make oat milk and I have many times, here's a recipe if you'd like to try and make your own. However, this brand tastes really good and it's nice to have it on hand for when we need it. Oat milk is sweet, so we mostly just use if for breakfast.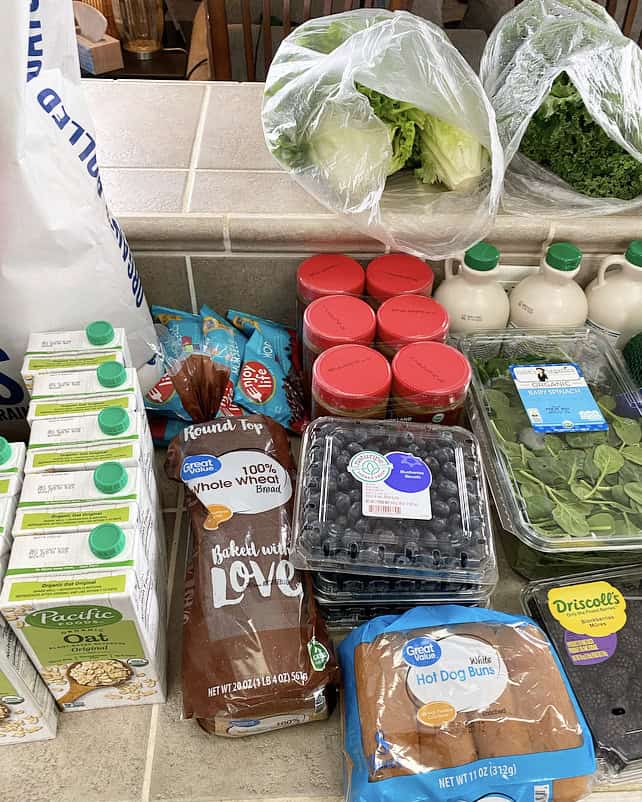 Smart and Final's Shopping Trip – $17.99
Bulk Item:
25-Pound Bag King Arthur's Unbleached Flour – $17.99
This is our favorite flour for making sourdough bread. I only use this flour to feed my starter and for all our sourdough needs. I have actually never fed our starter with another flour. You can purchase this flour at Winco, but not in the 25-pound bags.
Walmart Shopping Trip – $47.02
Bulk Items:
(4) Enjoy Life Chocolate Chips – $4.88 each
(1) Frozen Mango – $6.47
(11) Cans of Beans – $.48-.92 each
Total for bulk buying: $33.03 | Total for produce for the week: $13.99
Albertsons Shopping Trip – $8.15
I like to use the JUST FOR U app to get some extra savings by clipping their digital coupons.
Digital coupons used:
Frozen food items $1 off
Organic produce item $1 off
O Organics item $1 off
Albertsons has great organic produce, and sells Cal-Organics, which is local to us. This is where I purchase fresh kale and lettuce each week for our healthy meal plan.
How Much I Spent!
All in all I spent $191.85 on bulk food for the month! That gives me $508.15 for the rest of the month, of about $127 each week. This week I spent $56.33 on produce. That should has us through the week, but I do have money leftover if I need it.
This Week's Meal Plan On A Budget
Last night I sat down at my parents and came up with my meal plan for the week. It only took me about 10 minutes because I have such an easy system. Make sure you sign-up to receive my FREE ebook on how to save money NOW with your grocery budget, and learn how I meal plan!
Breakfasts
Breakfasts are typically the same each week, which keeps our grocery budget low and our mornings consistant. Our main focus at breakfast is eating oats and berries.
Store bought cereal and oat milk or soy milk with fresh berries
Soy yogurt, Simple Granola, and fresh berries
Lunches
Lunches are very typical as well week by week, and generally consist of leftovers, sourdough peanut butter and jelly sandwiches, and fresh fruit and veggies. The reason why I purchased a loaf of bread in my budget grocery haul was because I like making my kids freezer peanut butter and jelly sandwiches for a quick fix lunch. My kids prefer them on store bought bread, and I really like the convenience of them.
This Week's Dinner Healthy Meal Plan
Monday: Tofu Teriyaki Bowls (recipe coming this week!) – Here's one if you like eating meat – Sweet and Sour Chicken Meatball Bowls
Tuesday: Wet Burritos (recipe will be in my kitchen guide) – or fill a burrito with whatever you'd like and pour enchilada sauce over the top. Here's the easiest recipe – Homemade Enchilada Sauce
Wednesday: Plant-Based Lasagna, citrus salad, and sourdough garlic toast – lasagna recipe from the Engine 2 cookbook.
Thursday: Smoky Quinoa Salad with sourdough dinner rolls and plant-based burger patties. Salad recipe from the Engine 2 cookbook.
Friday: Sourdough Pizza at my parents. It's just 1 ingredient to make the crust, sourdough starter!
Saturday: Roasted Sweet Potatoes, Ranch Style Black Beans, Corn, and Broccoli
Sunday: Raw Oatmeal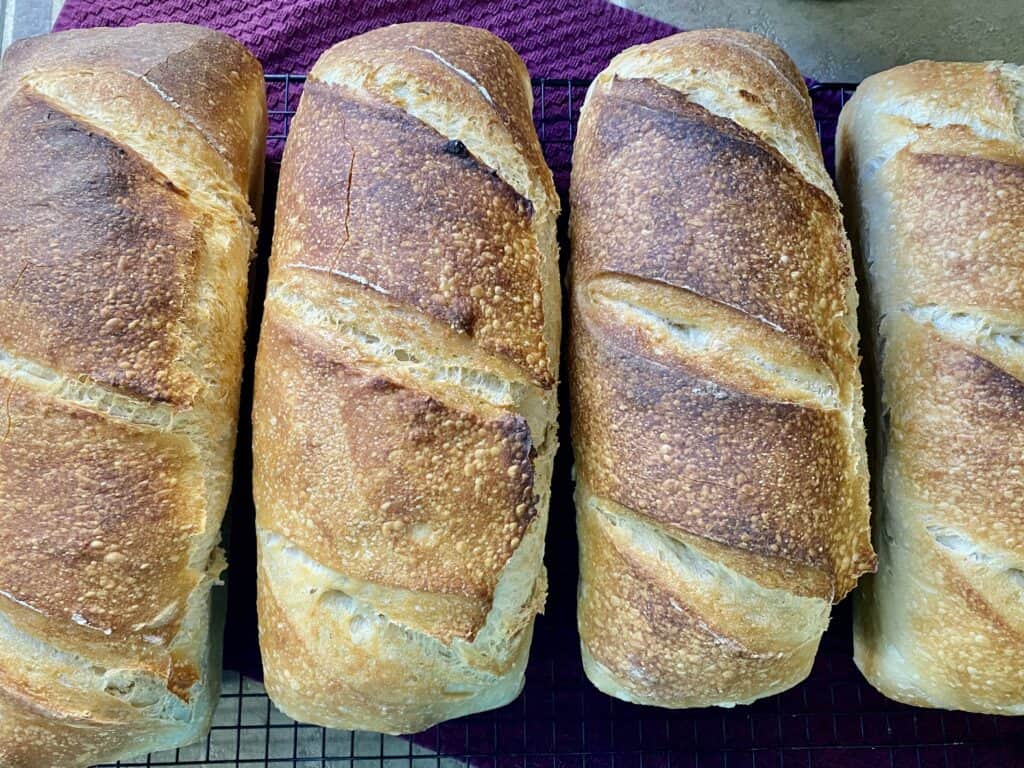 If you want to make freshly baked sourdough bread each week, check out my recipe here: How To Make Sourdough Bread
NEED HELP WITH YOUR GROCERY BUDGET AND MEAL PLANNING?
Pin For Later!
Please Note: The links in this post are affiliate links, and I will receive a small compensation when you use my links to make a purchase. I would appreciate your support, as this website helps support my family.