Grocery Hauls
Healthy Budget Grocery Haul and Meal Plan – $72.98
This healthy budget grocery haul and meal plan is how we eat each week for our family of 6. I eat whole food plant based 100% of the time, while my husband and kids are about 80% plant based during the week. This grocery haul reflects that.
We are not only eating what is shown in these pictures. In our refrigerator and freezers, we have a great stockpile of beans and rice right now due to our supply from stocking up from COVID-19 pandemic. Normally we do not have a stockpile like this, however, due to the pandemic we have felt a need to stay stocked.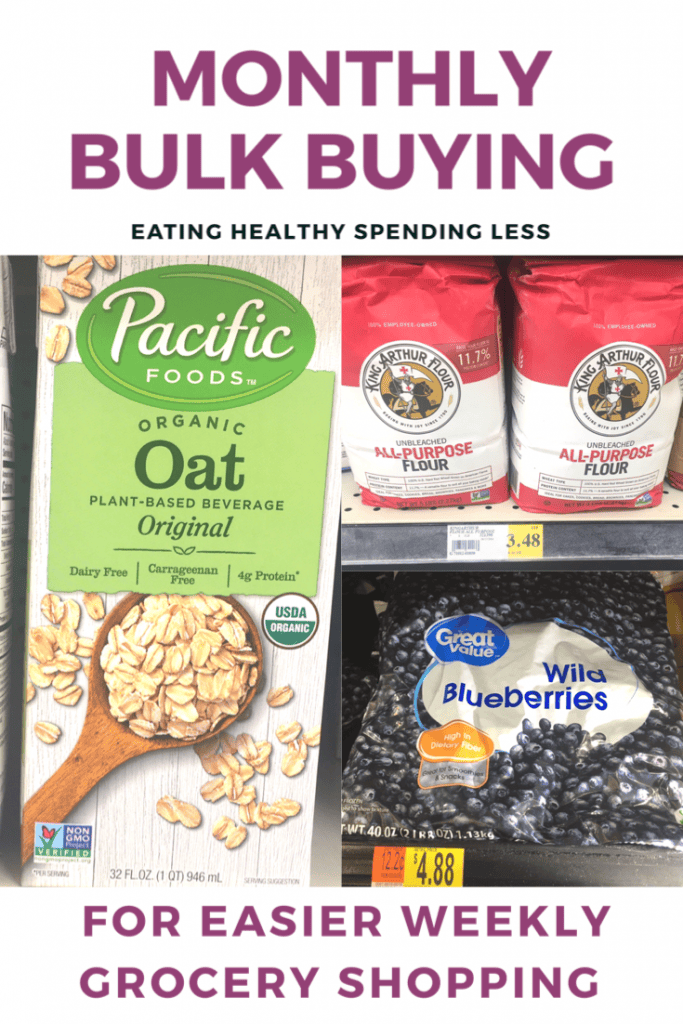 At the beginning of each month I due a large monthly bulk buying trip, which helps with our budget grocery haul. I prefer shopping this way right now because it makes weekly grocery shopping trips much more manageable for me. To learn more about my monthly bulk buying trips, tap the link below.
Best Grocery Stores To Shop At
I shop at many different grocery stores for my budget grocery haul, depending on what I want to eat each week. I have my favorite stores for buying certain items. For bulk grains and beans I head to Winco or Smart and Final's; and occasionally Sprouts.
When I buy fresh greens like kale and lettuces, I only buy them at Albertson's and Sprouts because they carry the Cal-Organic's brand, which is local produce for us.
For vegetable broth and soy milk I always head to Trader Joe's, if I decide to not make my own. I shop at different grocery stores weekly for our budget grocery haul, and I'm very fortunate to have that ability living in the city.
My Budget Grocery Haul
This month we chose a grocery budget of $700. I am down to $100 for the last week on January. Today I spent about $75 of my budget. I didn't need much, but we definitely were in need of fresh produce.
Albertsons Shopping Trip – $24.01
First, we went to Albertsons and spent $24.01 and used the JUST FOR U app to get some extra savings by clipping their digital coupons.
Digital Coupons Used:
FREE Rainbow Baby Carrots (personalized deal)
$1 off ANY Produce Item
$1.99 for 18oz package blueberries (limit 2) J4U price
Trader Joe's Shopping Trip – $48.97
Second, we went to Trader Joe's and spent $48.97. My purpose for going to Trader Joe's was because I really like their vegetable broth for $1.99 each (when I don't make my own), and I needed more nutritional yeast for this weeks dinners, priced at $2.99. I also needed gf pasta, and their brown rice pasta is only $1.99 each.
I also have a few recipes I will be testing this week, so I will be using the fresh herbs for that. Whenever I am recipe testing, I plan to add them to our weekly meals, so everything is being eaten. I am an advocate for #zerofoodwaste .
This Week's Meal Plan On A Budget
Each week we sit down as a family and plan out our menu for the week. Having these family meetings keeps us all on the same page and allows everyone to have a say on what we eat. It's best to have this family meeting prior to going grocery shopping.
Breakfasts
Breakfasts are typically the same each week, which keeps our grocery budget low and our mornings consistant. Our main focus at breakfast is eating oats and berries.
Store bought cereal and oat milk or soy milk with fresh berries
Soy yogurt, Simple Granola, and fresh berries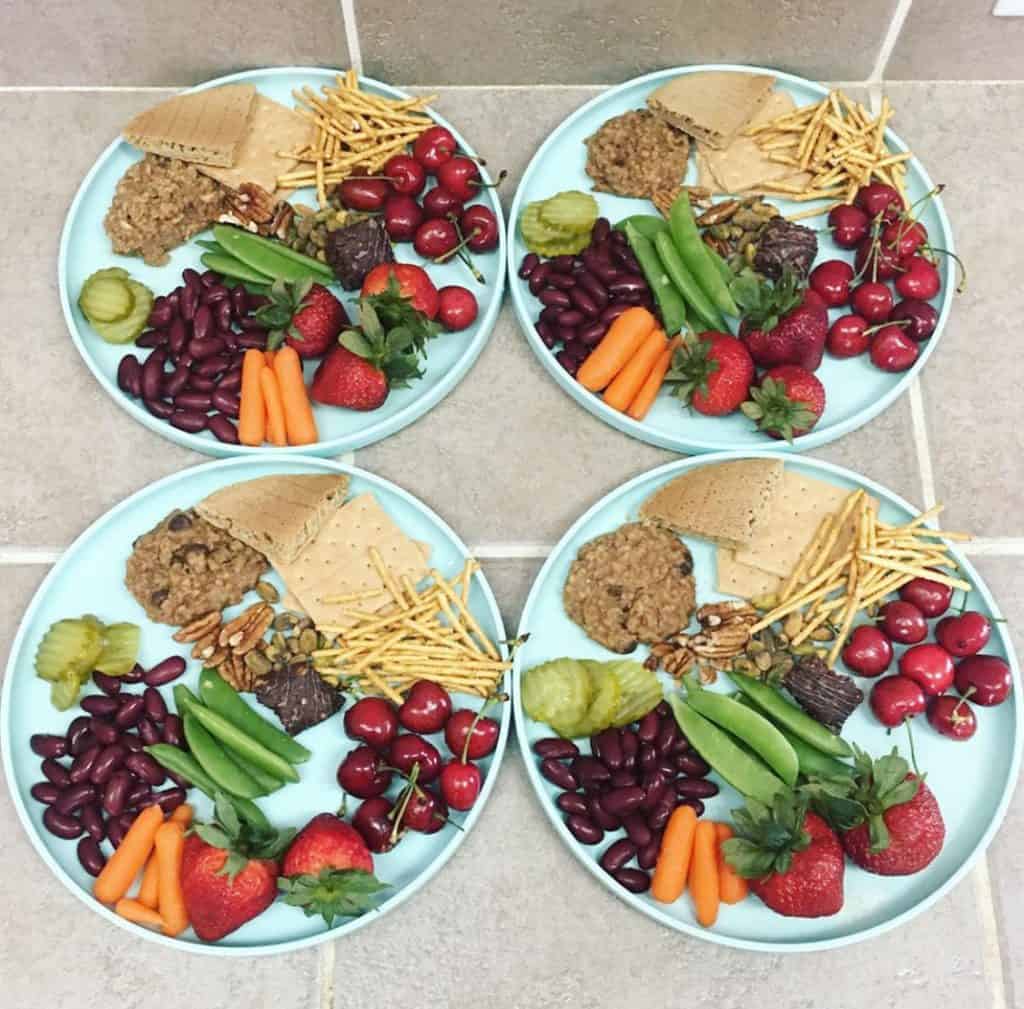 Lunches
Lunches are very typical as well week by week, and generally consist of leftovers, sourdough peanut butter and jelly sandwiches, and fresh fruit and veggies. The reason why I purchased a loaf of bread in my budget grocery haul was because I like making my kids freezer peanut butter and jelly sandwiches for a quick fix lunch. My kids prefer them on store bought bread, and I really like the convenience of them.
This Week's Dinner Menu
Monday: Sardinia minestrone soup with sourdough bread, and a side citrus salad. Soup recipe from BlueZones.com
Tuesday: Potato Tacos
Wednesday: Baked eggplant vegan-parm with a side of pasta. Baked eggplant is very easy to make. We cut the eggplant into chunks and dip them in a mixture of almond flour, nutritional yeast and seasonings. (RECIPE COMING SOON) The pasta will be simple and the sauce is my Easy Marinara Sauce .
Thursday: Recipe testing sourdough taco "hot" pockets with a side salad.
Friday: 1-Ingredient sourdough crusted pizza and salad.
Saturday: LEFTOVERS or smoothie and sandwiches. Our favorite smoothie: My Kid's Favorite Smoothie
Sunday: Oatmeal – Sundays are always for oatmeal. It's an easy dinner we all know will be served as we gear up for another week of school.
If you want to make freshly baked sourdough bread each week, check out my recipe here: How To Make Sourdough Bread
Need Help With Your Grocery Budget and Meal Planning?
Pin For Later!
Please Note: The links in this post are affiliate links, and I will receive a small compensation when you use my links to make a purchase. I would appreciate your support, as this website helps support my family.